Rahul Gandhi and Arvind Kejriwal: On Same Track to Different Destinations
The difference between Rahul Gandhi and Arvind Kejriwal is seen in the way they lead their parties. Rahul operates with "velvet glove", hinting to the old guard that they are valued and that the old and new can co-exist, whereas this has not been Arvind Kejriwal's motto.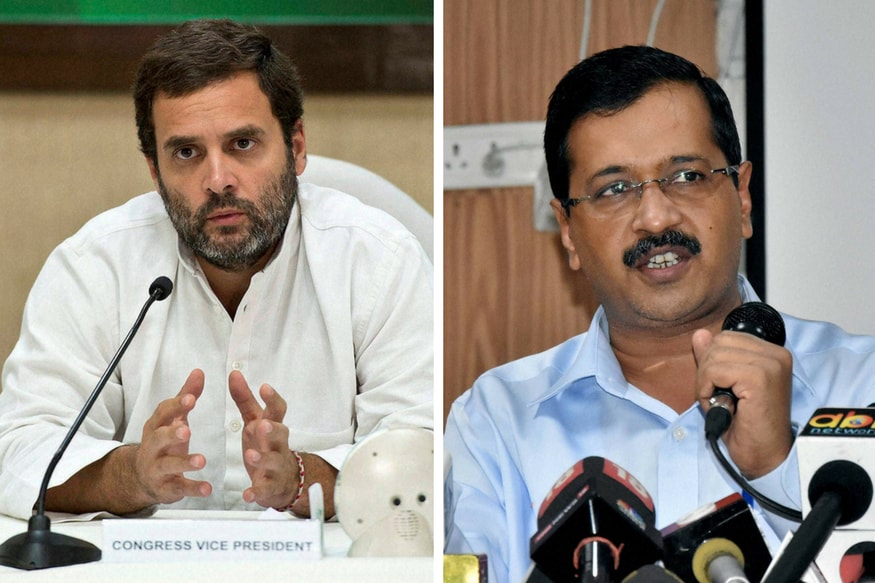 File photo of Rahul Gandhi and Delhi CM Arvind Kejriwal. (PTI)
New Delhi: Rahul Gandhi appears to be less angry. He doesn't strut and fret much. He doesn't fold his kurta sleeves as much. His pinned tweet gives the impression of an ordinary Twitterati who is making light of PM Narendra Modi's tweet asking for ideas for his monthly Mann ki Baat radio address. He raises questions on the Nirav Modi scam and Rafale fighter planes deal. "You ask for ideas when in your heart you know what every Indian wants to hear you speak about," he says.
But what do Indians really want to hear? Is Rahul Gandhi actually being heard or is the impact of his words only limited to social media and news headlines? Is he moulding his politics on the lines of the Arvind Kejriwal of 2015-2017, picking noise over substance?
Arvind Kejriwal borrowed a leaf from Narendra Modi's social media playbook, and now so has Rahul Gandhi. From aggressive Twitter usage to puns and Pidi videos, Rahul has been grabbing eyeballs, but has failed to convert the interest into votes. Like Kejriwal in Punjab, Rahul suffered defeat in Gujarat. This, ironically, when the BJP seems to be slipping on the virtual platform where it had the first-mover advantage.
Sanjay Kumar of the Centre for the Study of Developing Societies feels there is a difference in the noise being made by Rahul and Kejriwal. "I don't see any similarity in Rahul Gandhi's politics and Arvind Kejriwal's politics. Kejriwal has always tried to create noise by making allegations, even if there was no evidence. I think Rahul Gandhi is also trying to create noise, but by asking more relevant and carefully crafted questions. Kejriwal seems to be in haste all the time, but Rahul seems to be the opposite."
His sharp questions on the Rafael deal did send the BJP scurrying for cover.
The differences between the two leaders can also be seen in the way they lead their parties. In January 2013, when he was anointed as the party vice-president, Rahul showed an infectious impatience to cut the Congress to size. Four years on, he has slowly worked his way to effect changes, appointing general secretaries in states, but not going in for a shock overhaul of the Congress Working Committee.
Appointing Ashok Gehlot as election in-charge in Gujarat and little-known Avinash Pandey in Rajasthan, infusing new blood in Mahila Congress with Shobha Ojha and Sushmita Dev were Rahul's choices. A Congress source said Rahul is operating with a "velvet glove", hinting to the old guard that they are valued and that the old and new can co-exist.
This has not been Arvind Kejriwal's motto. He went in for the kill by throwing out AAP co-founders Yogendra Yadav and Prashant Bhushan.
It'll be interesting to see what shape Rahul gives to the Congress Working Committee in the party plenary next month. After the debacle in Delhi Assembly Polls in 2013, Rahul had said that the Grand Old Party needed to learn a thing or two from Kejriwal.
Image guru Dilip Cherian, too, feels the two leaders are "diametrically opposite". "Rahul's political imagery is that of someone who is not focused on political change, but on internal change. He is showing far greater patience in immediate political outcomes, and the process is far more important for him. Kejriwal's approach has been that of 'get the political change first and the process will follow'. They are diametrically opposite," said Cherian.
While the urgency and impatience dented AAP's electoral fortunes outside Delhi, the lack of it may prove detrimental to the Congress.
Rahul did emerge as Narendra Modi's challenger in Gujarat, awakening a comatose Congress machinery with his temple yatras. But these temple runs yielded limited dividends. The Congress tally increased to 77 Assembly seats from 61 seats in 2012, but the BJP retained power for the sixth consecutive term in Modi's home state.
While it may be alright for Rahul to claim moral victory to boost cadre moral, sooner or later he has to conjure up a BJP-like hunger for victory.
"Does Rahul Gandhi have the political instinct to build up the organisation? Without an organization, you cannot win elections. Politics is not about rallies. Politics is about winning elections," a Congress leader, who did not wish to be named, said. The leader added that Rahul must, like his grandmother Indira Gandhi, look at everything from an electoral point of view.
Political scientist AK Verma sees Rahul Gandhi as a natural competitor to Modi, but says the former's leadership style "isn't convincing". "Rahul Gandhi is into the jibe game like Kejriwal. He is making things light. He is pursuing a negative politics."
Different as they may be, Rahul and Kejriwal face a common question — what is their agenda and model of governance?
The Congress is ruling just two big states today — Punjab and Karnataka. Poll-bound Karnataka registered the sharpest jump in farmer suicides from 321 in 2014 to more than 1,300 in 2015, the third-highest among all states. Capital Bengaluru could go thirsty any day. The infrastructure in the state is bad and power cuts of 8-9 hours are normal. In Punjab, Captain Amarinder Singh is yet to give shape to his nine-point remedy to problems of drug addiction and unemployment.
These are the same issues Kejriwal faced. While putting out attacking tweets against Modi did position him as a potential challenger, that alone was not sufficient to win in Punjab and Goa.
"After Punjab elections, Kejriwal realised that he was not unpopular by himself. He invited social media abuse from the middle class when he directly criticised Narendra Modi in terse terms," an AAP leader close to Kejriwal said.
Kejriwal since seems to have mellowed down. A study of his tweets by news agency IANS shows the former IRS officer has used 'Modi' in his tweets in 11 months. In 2016, he had mentioned 'Modi' 124 times and 33 times in 2017.
While he has kept up his Twitter attack on Modi, Rahul is yet to spell out his model of governance. All regional leaders have some sort of a model — Nitish Kumar talks about a collegial model, Mayawati displays a bureaucratic model parallel to Modi, Akhilesh Yadav showed a watered-down family model, while Sharad Pawar is an old school-agrarian engine in financial packaging.
In comparison with the regional satraps, Rahul faces the dilemma of shedding multiple images associated with him. He maybe positioning himself well for 2019, but faces an uphill task. "The Congress is currently at 44 seats (in Lok Sabha) and has to win over 200 seats in 2019 to come to power. Even if we lose 100 seats, we will still be forming the government in 2019," said a BJP leader.
Get the best of News18 delivered to your inbox - subscribe to News18 Daybreak. Follow News18.com on Twitter, Instagram, Facebook, Telegram, TikTok and on YouTube, and stay in the know with what's happening in the world around you – in real time.
| Edited by: Puja Menon
Read full article