Congress MP Saw Jaitley-Mallya Hold Elaborate 15-20 Minute Meeting, Check CCTV: Rahul Gandhi
The Congress president asked why Jaitley didn't inform investigating agencies about his meeting with the fugitive liquor baron.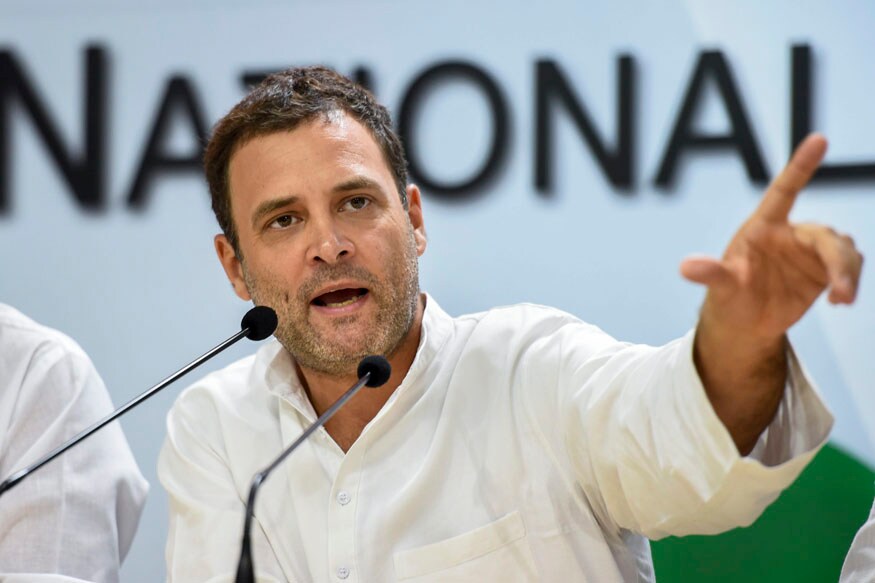 Congress president Rahul Gandhi addresses a press conference in New Delhi. (PTI File Photo)
New Delhi: Congress president Rahul Gandhi has accused Finance Minister Arun Jaitley of not informing the investigating agencies of Vijay Mallya's plans to flee the country despite meeting the fugitive businessman during the Budget session of Parliament in 2016.
"The Finance Minister is lying. If an absconder told Mr Jaitley he is going to London, why did the FM not disclose this to the investigating agencies?" Gandhi said during a press conference at the party headquarters in Delhi.
He also trained his guns on Prime Minister Narendra Modi, asking, "Why did Jaitley allow Mallya to escape, or was it an order from the prime minister?" "This is a clear-cut case of collusion. There is some deal between them. Finance Minister Jaitley must resign and this should be investigated," he said.
The Congress chief said party MP PL Punia saw him sitting with Mallya in the Central Hall of Parliament on March 1, 2016 and held an elaborate 15-20 minute meeting with him.
"I was sitting in the central hall when I saw them (Jaitley and Mallya) standing in the corner and talking. The meeting lasted 15-20 minutes. And you can check all the media records wherever I have spoken on the issue after Mallya's escape, I have mentioned having seen the two speaking to each other," Punia claimed.
"I have clearly stated about this in each of my interview with media. There are CCTV cameras, we can all see that for proof. If I'm wrong I'll resign from politics," he said.
Citing Punia's statement, Rahul asked why "the FM did not disclose his meeting with Mallya". He challenged Jaitley to get CCTV footage of March 1.
"Absconder tells FM that I am going to London, but FM doesn't inform ED, CBI. Arun Jaitley needs to come clean whether he did this on his own or at the behest of the man at the very top," the Congress president said.
He added that the arrest notice issued for Mallya was changed to the 'inform' notice. "No one can do this other than CBI. They should clarify if they did this on their own or were orders given to them?" he asked.
Coming out after the extradition hearing at the Westminster Magistrates' Court on Wednesday, Mallya claimed he had met Jaitley before leaving the country. Jaitley immediately issued a statement to deny his claims.
"I left India because I had a scheduled meeting in Geneva. Before leaving, I met the Finance Minister and offered to settle (the issue with the banks)," Mallya said, without naming the minister.
Mallya's claims invited a sharp reaction from Jaitley, who said the statement is "false". In a Facebook blog post, Jaitley wrote: "My attention has been drawn to a statement made to the media by Vijay Mallya on having met me with an offer of settlement. The statement is factually false in as much as it does not reflect truth (sic)."
Senior Congress leader Randeep Surjewala also tore into the government's claims, saying it was "running a 'fleece', 'fly' and 'settle abroad' travel agency".
"There is an established principle in criminal law called 'last seen evidence'. When Nirav Modi fled the country, he was last seen photographed with PM Modi, Mehul Choksi too was last seen with PM Modi. Now Mr Mallya was last seen with the Finance Minister before fleeing the country," Surjewala said, adding that the CBI or the ED were not alerted when "Mallya fled the country within 24 hours of meeting Jaitley".
Read full article