Rahul Gandhi Banking on Big Data's 'Shakti' for Gains in 2019 Elections
Highlighting the new application's drawback, a Congress worker said, "If you float a question on Shakti and ask if XYZ is a winnable candidate, he or she will probably win the poll because that candidate will stack only his own people on app. All the people that have been enrolled are already loyal to him. People with more muscle power can rig any internal poll."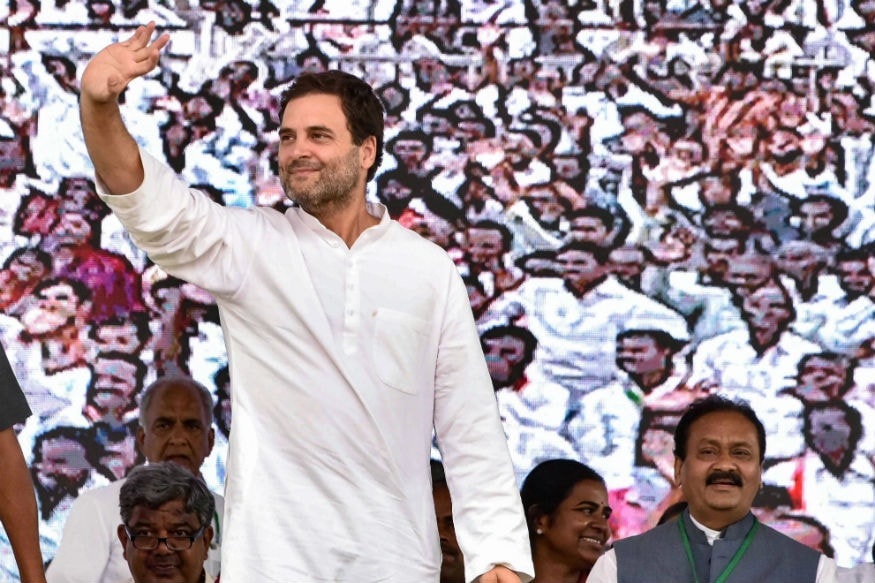 File photo of Congress president Rahul Gandhi. (Photo PTI)
New Delhi: In February this year, Congress President Rahul Gandhi was shown a startling statistic – if the Congress party had just focused on effectively managing polling booths across the country, its vote share would have increased by 4 %. The 44 seats it won in 2014 would have been at least 90. The party had to move with the times, Gandhi was told, and use big data to identify problem areas. Numbers don't lie and the writing was on the wall — the Congress had become a top-heavy party with weak booth-level management.
Gandhi then put together a team of data analysts, headed by Political Economist Praveen Chakravarty, to crunch the numbers and devise a way forward. The team, which became the All India Congress Committee's (AICC) Data Analytics Department, came up with 'Project Shakti' – an internal digital platform that would use big data with an aim to link each and every Congress worker across India with Rahul Gandhi, the man at the top. For the Congress, 'Shakti' has become a database, a communication tool, a feedback mechanism, an appraisal platform, a polling platform all rolled into one. The AICC can directly communicate with workers in a particular booth in a particular district or poll the workers of a certain state on a decision that the PCC wants to take.
When asked to describe 'Project Shakti', Chakravarty, now the Chairman of the AICC Data Analytics Department, said, "There is no one way to describe 'Shakti'. It is an idea. Or as Mr. Rahul Gandhi described it, a political platform. And this platform is unlike any other. It is more than just a computer program."
In April, 'Shakti' began as a pilot project in Rajasthan, which goes to polls at the end of this year. AICC General Secretary in-charge for Rajasthan Avinash Pande told News18, "We have concluded Project Shakti enrollment in Rajasthan with great success. In Rajasthan alone, over 5.5 lakh workers have been enrolled on to the platform."
After the "success" in Rajasthan, 'Shakti' was rolled out in nine other states in addition to Rajasthan. According to the party, over 25 lakh workers are now on the platform. Members were asked to send their voter ID numbers to a particular phone number via SMS. After verification of their voter ID number, the Congress officially sent them a message from Rahul Gandhi, welcoming them to the party and asking them to accept a role in the Congress party in a particular district.
Members of 'Shakti' have been classified into six categories – voters, sympathizers, workers, active workers, office bearers and leaders. A section on the platform called 'ank' (numbers) ranks workers based on a point system. The more active they are in carrying out party work, the higher they end up on the point scale. This appraisal system helps the party identify which worker is more active and which areas require more focus.
"This also distinguishes our system from the BJP's sham missed call enrolment drive. That was utter nonsense. Today, if we want to know how many workers we have in booth number 41 of Bastar district in Chhattisgarh, I just have to type it on the platform. We will have the demographics and the level of participation of each and every worker on that booth," a Congress source privy to the functioning of 'Shakti' told News18.
Proponents of 'Shakti' argue that it helps the Congress break out of its "inner-circle, coterie" style of politics and takes decisions directly to the average. "In June, when Delhi Chief Minister Arvind Kejriwal sat on a dharna against the Lieutenant Governor, we asked all 'Shakti' members in Delhi to reply to a question – should the Congress party stand with Arvind Kejriwal in his dharna? We have started to take the workers' views and wishes into account in every big decision. This has made the Congress more democratic," a source said.
Specific booth and district level data ensures that the party can conduct surveys on the "winability" of a candidate in his or her constituency, effectively making this like a primary election in an American-style system. Workers will be encouraged to provide constant data on the changing caste, religious, gender and age demographics of a particular booth.
Anil Dangi has been a Congress worker in Rajasthan's Bhilwara for over two decades. According to Dangi, there is no substitute for good old fashioned legwork. "I personally ensured that around 12,000 people in my area joined 'Shakti'. It is a great way for the leadership to communicate with us, but I think we need to focus more on going to newer voters, engaging in door-to-door campaigning. Most of the people who have engaged with 'Shakti' have already been Congress workers for some years."
Sources said Rahul Gandhi described 'Shakti' as the "fulcrum on which the future drive of the Congress party rested". Many leaders close to Gandhi, including AICC General Secretary Ashok Gehlot, have put their weight behind the program. Yet, there are many detractors. A Congress leader said, "I don't think it will help break inner circles. If you float a question on Shakti and ask if XYZ is a winnable candidate, he or she will probably win the poll because that candidate will stack only his own people on Shakti. All the people that have been enrolled are already loyal to him. People with more muscle power can rig any internal poll. This changes nothing."
A Congress worker from eastern Rajasthan said, "My neighbour is an RSS worker. He was recently sent by his organisation to Odisha to campaign for a month. In contrast, I have had to pour money from my own pocket only because I believe in the Congress party. All this technology is useless if my party can't give us money to campaign."
However, Congress leaders said this is a much-needed start. "We were ahead on the issues, Rahul Gandhi was gaining popularity, there was anti-incumbency and yet, we lost in Gujarat. This is simply because Amit Shah is a master when it comes to handling booth-level management. In Gujarat, he had 'page pramukhs'. In Rajasthan, he is introducing 'half-page pramukhs'! We are doing well in the poll-bound states but we have to up our game if we need to seal the deal."
According to Chakravarty, 'Shakti' is far from finished. "My brief is to ensure that we use big data to ready our ground force ahead of the 2019 elections. To win an election, you need to know who your workers are, which workers are active and what the issues that move them are. I believe 'Shakti' will help the party on all those counts," he said.
Get the best of News18 delivered to your inbox - subscribe to News18 Daybreak. Follow News18.com on Twitter, Instagram, Facebook, Telegram, TikTok and on YouTube, and stay in the know with what's happening in the world around you – in real time.
Read full article