GET Stock

Quotes


Rahul Gandhi Banking on Old Guard Before Elevation as Congress Chief
Rahul has been drawing some traction with his witty tweets and aggressive campaigns but when it comes to realpolitik and building a second rung of leadership he has failed so far.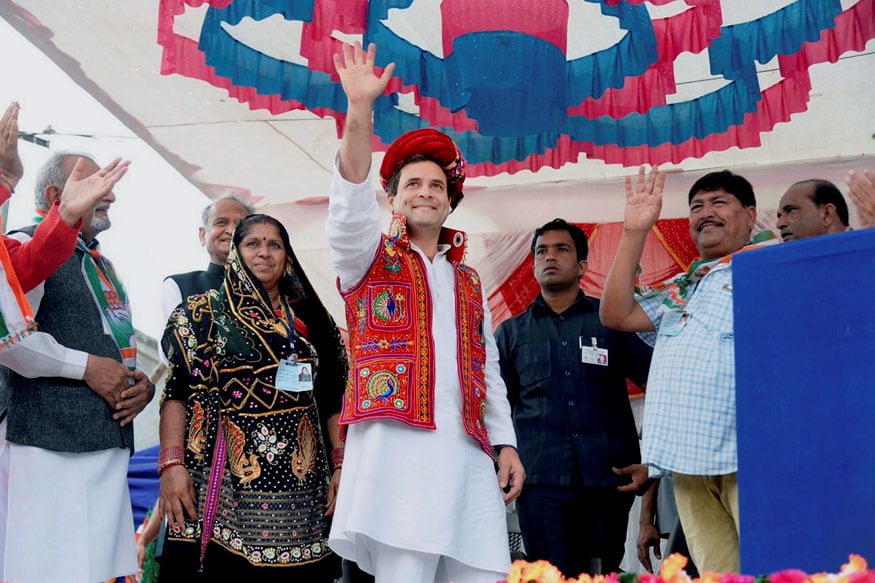 Congress Vice-President Rahul Gandhi at a public meeting in Jamnagar, Gujarat. (PTI photo)
New Delhi:
Congress Vice-President Rahul Gandhi seems to have opted for a change in strategy before his elevation to the top party post. Call it realpolitik, Rahul who once seemed to favour the young turks, now wants to work with the old guard and sees winnability as a key factor.
A case in point is Virbhadra Singh's appointment as chairman of campaign committee for the Himachal Pradesh Assembly elections. This development underlines the fact that while the Congress is preparing for a generational change, it can't let go of the old guard yet.
Rahul has been drawing some traction with his witty tweets and aggressive campaigns but when it comes to realpolitik and building a second rung of leadership, he has failed so far.
So while Rahul is ready to take over as the next president of the party that is fighting for survival, he isn't being assisted by a strongman. There are capable and bright young leaders around him like Sachin Pilot, Jyotiraditya Scindia, RPN Singh, Ramya, Jitin Prasada and Milind Deora but they are yet to master the tricks of the trade.
In the recent Rajya Sabha polls, the wily Ahmed Patel showed the juniors that they have still a lot to learn to checkmate their opponents.
News18 has learnt that while Rahul is putting a young team in place, he has decided to fall back on the old guard in the crucial upcoming polls.
Journalist Rasheed Kidwai, who has written several books on the Congress, said Rahul needs to understand that leadership has little to do with age.
"Virbhadra Singh won Himachal in 2012 at the age of 78 when the popular tide was turning against the Congress. Captain Amarinder Singh, who won Punjab for the party, is 75. Mahatma Gandhi returned to India when he was 45 and peaked over the next three decades. Jaiprakash Narayan was also old when he led the JP movement against Indira Gandhi. V P Singh and Anna Hazare are some other examples," said Kidwai.
A classic case of the old guard still being relevant is Rajasthan. Sachin Pilot, who is close to Rahul, was made the state chief and has been parked in the state for over a year. Pilot has been travelling across Rajasthan to ensure that the party has a fighting chance in the 2018 Assembly elections.
But the Ashok Gehlot factor cannot be ignored. To ensure that Gehlot doesn't meddle he was made Gujarat in-charge. But sources say Gehlot maintains his hold over Rajasthan. Gehlot has the clout, the men and the caste combination that means Rahul may have to rely on the old warhorse to ensure a win.
In Karnataka, too, the party has decided to stick to Siddaramaiah. Chances are Rahul might officially announce his name as the CM face once the campaign picks up.
The picture is hazy in Madhya Pradesh and has been kept so intentionally. It's a state where the Congress has many groups and is deeply divided. While Digvijaya Singh has seemingly withdrawn from the race, his 'Narmada Yatra' is seen as his way of showing how he is still relevant in MP politics.
Kamal Nath has made it clear that he is not in the race for the CM's post which leaves Scindia in the pole position. But with less than a year to go for the Assembly elections, the party doesn't want to antagonise anyone and risk its chances. So, it is still dragging its feet in announcing Scindia's name.
A senior leader said, "Yes we need a generational change but has anyone bothered to train the young ones. Congress today is fighting for existence and relevance and we cannot take chances. So the seniors are the best bet."
A fact acknowledged by Rahul himself while he was in US recently when he said "we need the experience of the seniors as well."
It's clear the Congress is not ready to break from the past yet.
| Edited by: Sanchari Chatterjee
Read full article
Countdown To
Elections Results
To Assembly Elections 2018 Results