Rahul Gandhi Missing From Action in Amethi as Smriti Irani Expands Footprint
Congress vice-president Rahul Gandhi was last seen in Amethi during the Uttar Pradesh Assembly elections. Union minister Smriti Irani, however, has been making regular visits to the Congress bastion from where she lost in the 2014 Lok Sabha elections.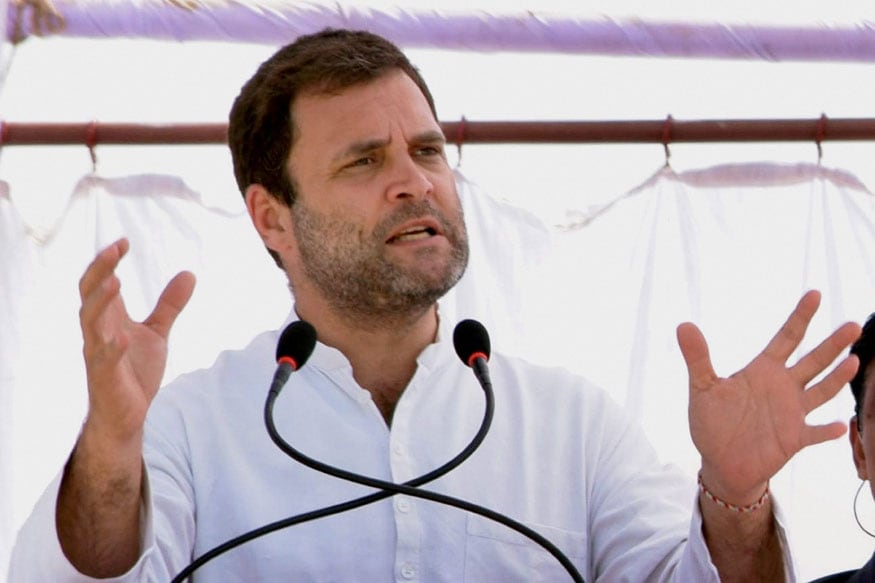 File photo of Rahul Gandhi. (Image: PTI)
New Delhi: While Rahul Gandhi was attacking Prime Minister Narendra Modi at a farmers' rally in Banswara, Rajasthan on Wednesday, a group of young boys from Amethi came to Parliament House, in hope of meeting their MP whom they refer to as 'bhaiyya'.
No one had told them that Rahul was in Rajasthan and they had to return disappointed. Ever since UP Assembly polls came to an end, Rahul Gandhi has not visited his constituency. He was last seen in Amethi during the UP election. His sister Priyanka, too, has not visited the constituency.
One of the young men who had come to meet 'bhaiyya' said his absence was a big cause of worry. "Smriti Irani is a big minister now. She will make things difficult for Rahul bhaiyya," he said.
Indeed, Irani's rise should be a cause of worry for the grand old party. Irani has been making regular rounds of Amethi — almost every month. She was there on the first anniversary of her fight from there.
"Earlier people would go to Munshiganj guest house even when Rahul Gandhi was not in Amethi. Now they go to Smriti Irani's office in Amethi. The people know that if they just drop their message at her office, their work will be done," the youth told News18.
A close aide of Irani told News18 that the minister was just doing her job. "Rahul hasn't been there in over a year. Irani has not become a minister to oust him. She's working, while he's not," the aide said, on condition of anonymity.
It's this discontent which could make things difficult for Rahul Gandhi. The young delegation which has come to Delhi hope to meet Sonia Gandhi and request her to come to Amethi and also ask her son to come more often.
Irani targeting a win in Amethi is a known fact. This along with the fact that Congress is neither in power at the state or the central level can make things worse for the Congress scion to get work done in his family's bastion.
"Rahul Gandhi's charisma and legacy is powerful but people want more," Rajya Sabha MP Sanjay Singh told News18.
Interestingly, no new projects have taken off in the region and the existing ones are on precarious grounds.
Other than Irani's stupendous rise, the disillusionment in the party workers in Amethi is another a major hurdle for Gandhi. Many in the party are aware that sticking to the party would not get them any dividends, but continue to do so because of ideological reasons. Take Ameeta Singh for instance.
Singh, whose marital status with Sanjay Singh has raked up enough controversy, contested as MP but lost to her 'husband's' first wife Garima Singh. Ameeta, now, feels ignored by the party. The feeling of ignorance is rampant among the young workers who have not seen Rahul Gandhi in four months.
"He doesn't even know the names of all workers. He's a nice person but we would like him to be more involved," said one of the party members.
So, is Amethi no more a Gandhi bastion? While it's still early to conclude, it's sfe to say the Gandhis are at a disadvantage.
"People of Amethi are under no compulsion or obligation to vote for Gandhis. One must not forget when Indira Gandhi lost in 1977," said political expert Rasheed Kidwai.
Rahul's grandmother had lost to Raj Narain, but the latter was also quick to disown the people who voted him to power.
Legend has it that Narain, after the win, had thanked the voters and in his address told them to not count on him for getting work done. "Don't come to Delhi expecting me to work for you. If you can make Indira lose after she worked so hard for you, I know you can never be loyal to me," he had said.
Narain's words hit Amethi hard and since then it has always been about Gandhis. Until now. If there's anything that Rahul Gandhi must look to protect, his family's legacy should definitely be on priority.
Get the best of News18 delivered to your inbox - subscribe to News18 Daybreak. Follow News18.com on Twitter, Instagram, Facebook, Telegram, TikTok and on YouTube, and stay in the know with what's happening in the world around you – in real time.
| Edited by: Swati Sharma
Read full article