Rahul Gandhi's Coronation Imminent. Will He be Up to the Task?
The anointment would most likely take place at an All India Congress Committee (AICC) plenary before Gujarat goes to polls.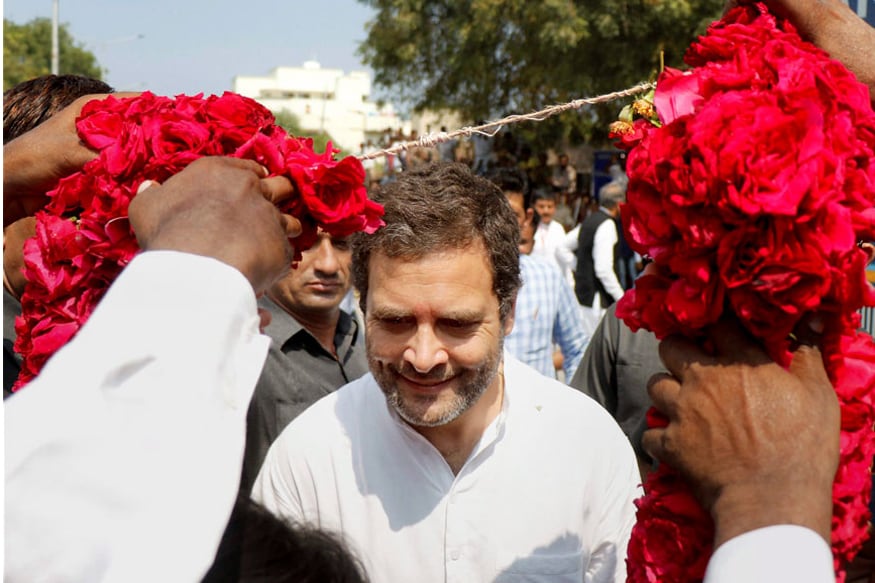 File photo of Congress president Rahul Gandhi.
The Congress Working Committee (CWC), its highest decision body, is set to meet on Monday and officially start the process of elections for the post of party president, clearing the decks for the coronation of Rahul Gandhi.
The body will announce the much-awaited election date to complete the prolonged election procedure. The CWC will approve the schedule prepared by the party's central election authority. Once the dates are approved, the process would be over in about 10 days.
Rahul will be filing his nomination for the post. If no other party leader files nomination till the last date, he would be elected unopposed. Many state units have already passed resolutions endorsing Rahul's candidature.
The anointment would most likely take place at an All India Congress Committee (AICC) plenary before Gujarat goes to polls.
His taking over the reins would be a generational shift in the party, but would a Rahul-led Congress working committee be reflective of that? Or would he edge out the old to make place for the new? Earlier this year, at the University of Berkeley, the Gandhi scion said party needs both the new and the veterans to move forward.
There would be several challenges before the Congress vice-president in his role as the party boss. He would be saddled with the task of resurrecting the party that has only been going downhill post 2014. It couldn't make a mark in any state barring Punjab. Himachal Pradesh has voted. Gujarat, the home turf of both Prime Minister Narendra Modi and BJP president Amit Shah, is anything but a cake walk.
But the interesting bit is that Rahul Gandhi has not shied away. The belief or at least the hope is that with him taking over, the party would see new vigour. But would that translate to votes?
Veteran journalist Vir Sanghvi said the challenge lies in reaching out to the youth in the country. "Rahul Gandhi has to capture the aspirations of youth to stand a chance against the Modi-Shah duo."
The party also admitted that a lot of work needs to be done. "There is much work needed at the grassroots level. A different strategy is needed at national level, state level, and for rural and urban audiences. But we believe all that will be achieved under Rahul Gandhi", said Sushmita Dev, Silchar MP and close confidante of Rahul Gandhi.
Journalist Gautam Lahiri said the task at hand is an uphill one. "I think what former president Pranab Mukherjee had said in a memorial lecture should be a lesson for the young leaders. Firstly, he has to interact with party workers and the sympathisers at regular intervals. He should institutionalize the mechanism for interactions as Indira Gandhi did with party workers as well as think tanks."
Yet another challenge for Rahul Gandhi would be factionalism. State units are in disarray and the infighting would force him to constantly do the balancing act. For example, in Madhya Pradesh, veterans like Kamal Nath and Digvijay Singh would not want to be sidelined but Jyotiraditya Scindia too has to be accommodated.
Rahul's elevation would also generate a lot of interest from outside the party. The BJP continues to dismiss him as a non-entity but doesn't cease to counter him at every opportunity.
As leader of the Congress, Rahul would have to play a very important role in stitching together an anti-BJP and anti-Modi front for 2019.
He continues to bond with gen next as evidenced by his lunches with Tejashwi Yadav and support from Samajwadi party in Gujarat despite the debacle in Bihar and UP. All of this is reflective of his eagerness to bring others on board, knowing fully well that he will need a lot of work to rock Modi's boat.
Lahiri said it would be tough for Rahul to replicate what his mother did. He sees Sonia playing an active role even after Rahul takes over. "Sonia Gandhi has to play a role for cementing allies and it is she who can make Rahul acceptable to others. For example, before finalising presidential and vice-presidential candidates, she had to preside over a meeting of the allies. Later she formed a committee of all alliance partners and Rahul was not even a member of this committee."
He said that only electoral success can make him acceptable to allies like Mamata Banerjee and Sharad Pawar. "At the moment he may not be acceptable to other like-minded parties as most of their leaders are veterans and electorally successful in their states."
On GST and demonitisation, Rahul has recently attacked the Modi government where it hurts the most. Employment generation is another issue which Congress would want to rake up before next general elections. But the question is to what extent Rahul and the Congress be able to cash in on that. The BJP, as an election-winning machine, is well oiled and battle ready and the Congress has a long way to go.
Image guru Dilip Cherian said, "Rahul's success or failure will not be determined by his being a scion, but how effectively he can capture the imagination of the voting public in India. His success will also depend on who his political advisers are and how well they work with him."
Get the best of News18 delivered to your inbox - subscribe to News18 Daybreak. Follow News18.com on Twitter, Instagram, Facebook, Telegram, TikTok and on YouTube, and stay in the know with what's happening in the world around you – in real time.
| Edited by: Bijaya Das
Read full article