Amid Shehzad's Rants, Rahul Gandhi to Kick Off His Coronation Today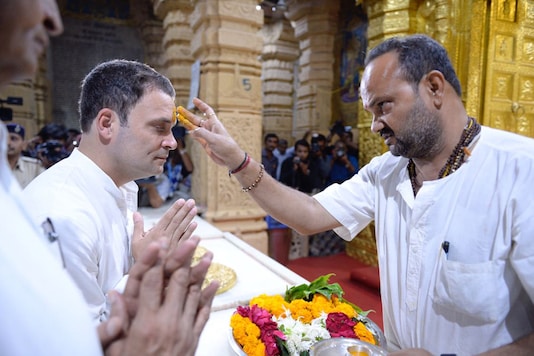 Rahul Gandhi at the Somnath Temple on November 29. (Image: INCIndia/Twitter)
Congress chief Sonia Gandhi and former prime minister Manmohan Singh will be among the proposers for Rahul Gandhi's candidature.
Last Updated: December 04, 2017, 09:34 IST
Edited by: Nitya Thirumalai
FOLLOW US ON:
New Delhi: Congress vice-president Rahul Gandhi is set to file the nomination papers for elections to the party's top post on Monday, taking the first step towards the much-awaited elevation and setting the stage for a contest with versus Narendra Modi in 2019 Lok Sabha elections.
Congress chief and his mother Sonia Gandhi and former prime minister Manmohan Singh will be among the proposers for his candidature.
There was much apprehension and debate within the Congress in the run-up to this day given the countdown to Gujarat elections. A poor showing in the upcoming polls would once again put a question mark on Rahul's ability to lead.
But Sonia and the Gandhi family have insisted that this is the right time for Rahul's elevation and any delay would give credence to the impression that the Congress scion was shying away from taking up the big role.
The elevation comes with a fair share of drama given Shehzad Poonawalla's last-minute, and shocking, allegations that the party elections are rigged. Shehzad is the secretary of Maharashtra Congress and the brother of Tehseen Poonawalla who is married to Robert Vadra's cousin.
The Congress had been measured in its response to Shehzad, but problems cropped up when PM Modi mentioned the controversy at a rally in Gujarat.
"Those who have no internal democracy can't work for the people. I want to tell this youngster Shehzad — you have done a brave thing, but this is sadly what has always happened in the Congress," Modi had said on Sunday.
The Congress was quick to question the PM on democracy within the BJP, which, it said, had sidelined senior leaders like LK Advani and Arun Shourie.
The damage, however, has been done with oft repeated allegations of dynastic politics returning to haunt the party. This time they were triggered by one of their own.
Rahul had recently defended such allegations in University of California, Berkeley, claiming "this is what happens in India" and that corporates and Bollywood work on this principle. Statements like these and the chaiwala jibes by his party men against Modi have not worked too well for the Congress, especially ahead of Gujarat polls.
If there is no other contender, Rahul Gandhi will be declared the winner immediately. He will be the fifth Congress chief from the Nehru-Gandhi family, taking over from his mother Sonia Gandhi who has held the post for 20 years.
Next Story