Rajini, Kamal Share Spotlight in Kuala Lumpur, Malaysian PM Hopes to Cash in on 'Casting Coup'
For the first time in many years, the two biggest stars of Tamil cinema Rajinikanth and Kamal Haasan shared a stage at a Nadigar Sangam organized event in Malaysia this weekend.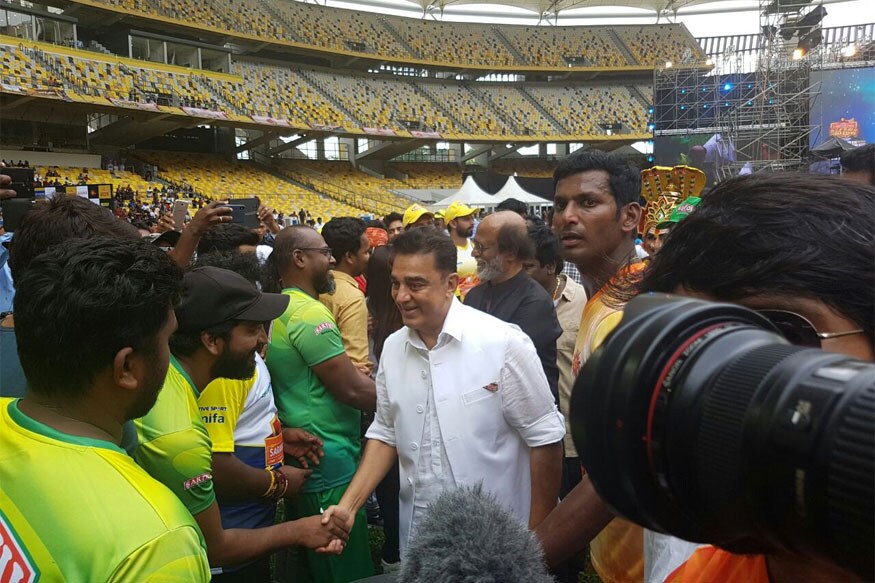 Kamal Haasan greets fans before the event in Kuala Lampur on Saturday. (Photo: CNN-News18)
New Delhi: For the first time in many years, Rajinikanth and Kamal Haasan, the two biggest stars of Tamil cinema, shared a stage at an event organised by the influential Nadigar Sangam or Artistes' Association in Malaysia.
The moment also marked the first time the two heavyweights are seen in public since announcing their respective political debuts.
The fact that Rajini and Kamal came together for a film event after so many years was in itself a catch for the organisers. That too at an event by Nadigar Sangam whose politics is legendary in itself. It will be interesting to see what both these filmstars-turned-netas say in faraway Malaysia.
It's clear that Rajini and Kamal have pitched their politics (in whatever little they have said so far) as the polar opposite of each other. Rajini has said he will practise "spiritual politics', but did not define what he means by it.
Everyone in Tamil Nadu knows that Rajinikanth is almost like a monk, ready to shun worldly fame and money that he has acquired in abundance in his 30-year film career. While the jury is out on what 'spiritual politics' means for Muslims, Christians and other minorities, it is a clear break from the rational politics of Dravidian parties, which has been a cornerstone in Tamil Nadu for the last 40 years. This perhaps explains why the BJP's variety of Hindutva never really caught on in Tamil Nadu.
Kamal, on the other hand, is a well-known rationalist and atheist and doesn't shy away from his beliefs. Born to a Brahmin family, he shunned his caste a long time ago. For long, he has idolised and worshipped Dravidian movement founder Periyar and the DMK's founder and first chief minister CN Annadurai. Kamal is also close to Kalaignar Karunanidhi and is perceived to be one of the few actors with an intellectual heft whether it be in politics, philosophy, literature or history.
Getting both these doyens was a bit of a coup for the organisers. The Nadigar Sangam was for the longest time controlled by actors who had vested interests and were simply doing so either for a political benefactor or to further their own political ambitions.
In the early 2000s, actor Vijayakanth was the head of the Nadigar Sangam. The association was crores of rupees in debt which Vijayakanth helped clear to some extent with star-studded shows.
In 2006, when Vijayakanth formed his own political party, he stepped down, but the real power in this cozy club was always wielded by people like Sarath Kumar and Radha Ravi, who, incidentally, are brothers-in-law.
After Vijaykanth stepped down, Sarath Kumar took over the reins of the Sangam. Hailing from a powerful political and media family in Tamil Nadu, Sarath Kumar went on to start his own party and even became an MLA.
But his controversial decision to demolish the Nadigar Sangam building and give it on lease to a private company was questioned by some actors like Vishal and Nasser. Eventually, in the 2015 elections, the group led by Vishal and Nasser prevailed over the group led by Sarath Kumar and Radha Ravi. The event with Rajini and Kamal is the first one organised by the Sangam since that acrimonious election of 2015.
The fact that it is being held in Malaysia and that too just three months before it goes to polls adds yet another dimension to the political story. Malaysian Prime Minister Najeeb Razak had come to Chennai last year and met Rajini at the actor's Poes Garden residence. Ostensibly, Rajini had invited Razak when he shot his last film Kabali in Malaysia.
In the last year or so, several corruption allegations have surfaced against Razak. He also faces a very strong challenge from his one-time mentor and the longest ruler of Malaysia, Mahathir Mohammad, who is now, ironically, leading an opposition grouping.
The 20-lakh strong Tamil population in Malaysia could be a crucial swing vote in the elections. By bringing together two of Tamil cinema's biggest stars on one platform, Razak is hoping he can lock in the Tamil vote since the event is being co-organised by Malaysia's Tourism Ministry.
The hotel stay and air tickets for all the stars is reportedly being taken care of by Malaysia. If this event passes off successfully and helps Razak win the upcoming election, then surely budding politicians Rajini and Kamal have a thing or two to learn from their host in Malaysia.
Get the best of News18 delivered to your inbox - subscribe to News18 Daybreak. Follow News18.com on Twitter, Instagram, Facebook, Telegram, TikTok and on YouTube, and stay in the know with what's happening in the world around you – in real time.
| Edited by: Ananya Chakraborty
Read full article