Re-elect or Reject: Why This Election in Rajasthan is About Vasundhara Raje
With the Congress having refused to name one, there is only one chief minister candidate in Rajasthan this time. Vasundhara Raje Scindia.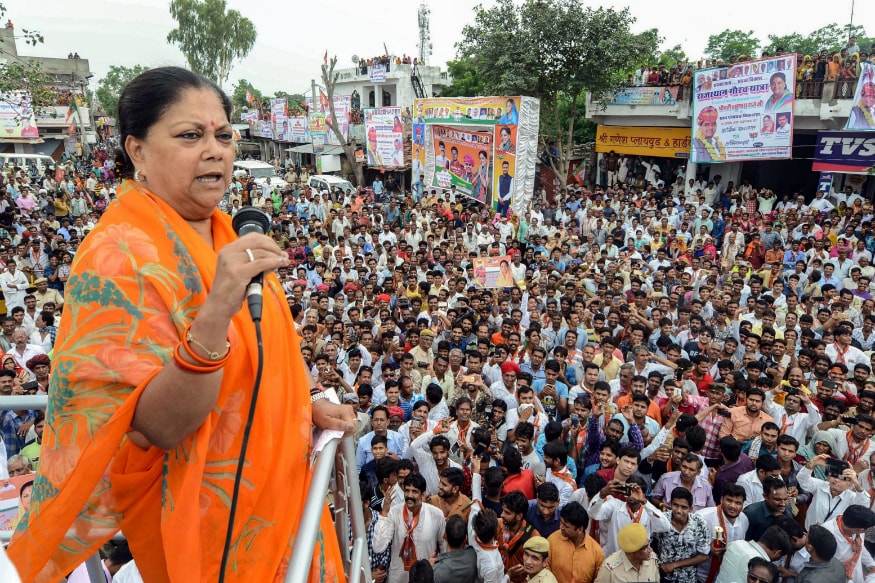 File photo of Rajasthan chief minister Vasundhara Raje
Jaipur: After making proper enquiries about name and whereabouts, Shyam Sunder Parikh offers a chair inside his rickety tea kiosk. Half a dozen villagers are basking in the morning sun outside are discussing the lead story in the morning paper. While the others slurp tea in glass tumblers, he looks around and whispers pursing his lips, "Aap to apne hein. Aap se kya chupana." Parikh says he will vote for kamal ka phool. That's what he has done since becoming eligible to cast his franchise—he says as a matter of fact. A fait accompli.
"But the issue in this election is something else. The issue is whether to give another term to the chief minister," he adds.
With the Congress having refused to name one, there is only one chief minister candidate in Rajasthan this time. Vasundhara Raje Scindia.
And this election, the willy-nilly is crystallising around this one factor: to reelect or reject her.
That is the nature of Rajasthan politics which has bucked trend in every other BJP ruled states in west and central India. Raman Singh in Chattisgarh and Shivraj Chouhan in MP are completing three consecutive terms in office. The BJP has ruled Gujarat for more than two decades now.
Raje, first elected in 2003, has since been in and out of power every alternate election.
That Rajasthan has been different from MP and Chattisgarh for the BJP is also bourne out by the un-comfortable relations Raje has had with the party leadership in Delhi.
"Unlike in Haryana where party said categorically that Manohar Lal Khattar was here for stay, questions on Raje's continuance in office were allowed to fester creating an element of prolonged uncertainty in the state," says a BJP leader not wanting to be identified.
The uncertainty in Rajasthan only helped opposition to build a sustained campaign against the CM. She was accused of being 'arrogant'. Congress leaders called her 'maharani'.
In politics, perception is the reality. And once the charges stick, they stay there for long.
Raje also had her share of run-ins with party's ideological fount, the RSS. For a very long time in her second term in office, the BJP and the RSS did not depute an organisation general secretary in Rajasthan. The full time RSS pracharak working for the BJP is the point person and the key interface between the party and government in BJP ruled states
The uneasy calm between the central and the state leadership stretched till Alwar and Ajmer bypolls held in February this year. The party' comprehensive drubbing in the elections stoked fresh speculations of leadership change. Despite differences the BJP had to concede and appoint Raje's nominee as the state president. Raje also had her way in ticket distribution as well.
Known for its organisational prowess, the BJP in Rajasthan is relying a bit on divisions and differences in the opposition camp for leadership issues. And in the final lap, to mitigate local anti-incumbency, it is banking on Prime Minster Narendra Modi for a turn around.
BJP national spokesperson Sudhanshu Trivedi camping in Jaipur since Diwali however feels party has gained a lot of ground in the last one month. "We have said who would be our CM if people elect us. If Congress is so confident why isn't it telling people who their leader is," says Trivedi.
Those who have worked closely with the chief minister say she has been a victim of perceptions stoked by inherent biases in a patriarchal society.
While some others blame the lower bureaucracy for the not being able to deliver the goods to the people. "If tehsildar or doctors are not receptive to problems faced by the people, the blame falls straight on the chief minister's office," says a senior leader.
Any whichever way one looks at it, the perceptions were allowed to take concrete shape.
"She has a hands-on approach. But quite unlike other politicians she does not hanker for publicity," says a leader in Jaipur who has been associated with Raje.
In Rajasthan's aspirational politics, caste blocks vying for a share in power have tended to shift allegiance en-masse from one party to other every alternate elections. For more than two decades now, the Congress and the BJP have had to hand over baton to the other party every five years.
"If we had got 120 and not 160 MLAs the last time, things would have been better. MLAs could at time get their work done. The blame was put on the CMO for whatever was left pending," says another.
In Rajasthan with Vasundhara Raje as CM for two terms, the BJP could probably have carved a separate constituency across caste lines. A women constituency that is.
"It may have happened to some extent in Bihar or MP but not in a highly patriarchal society here where community and family preference override everything else," says a senior journalist.
At a public meeting last week, BJP president Amit Shah admitted the Rajasthan government could not publicise the good work done in five years of its rule. That includes many social sector schemes.
However in politics, perceptions do matter. In fact, for the voter out there, perception is the reality.​
Get the best of News18 delivered to your inbox - subscribe to News18 Daybreak. Follow News18.com on Twitter, Instagram, Facebook, TikTok and on YouTube, and stay in the know with what's happening in the world around you – in real time.
| Edited by: Mayur Borah
Read full article