GET Stock

Quotes


Reasons behind JDU-RJD-Congress Mahagathbandhan's massive win in Bihar elections
The Mahagathbandhan saw not only a synergy between the top leadership but also among the foot soldiers.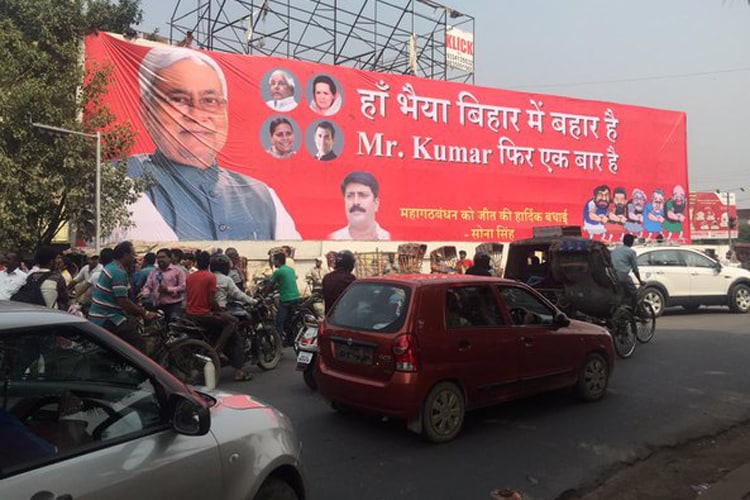 The Mahagathbandhan saw not only a synergy between the top leadership but also among the foot soldiers.
It has been a massive victory for the Janata Dal United-Rashtriya Janata Dal-Congress Mahagathbandhan in Bihar Assembly elections. Even a high-decibel campaign by Prime Minister Narendra Modi could not stop the rout of Bharatiya Janata Party-led National Democratic Alliance.
NDA had swept Bihar in the 2014 Lok Sabha elections winning 31 seats out of the 40 and was confident of decimating the Mahagathbandhan. But Bihar voters have given a decisive mandate in Mahagathbandhan's favour and Nitish Kumar is all set to continue his reign as the chief minister.
But how did the Mahagathbandhan which was mauled about 19 months ago, although its partners were not on one platform then, bounce back with a resounding win?
The reasons are below:
1) Brand Nitish: He is the mascot for the turnaround Bihar underwent in the last 10 years. Credited with bringing back Bihar back on track following his win in the November 2005 elections, Nitish Kumar ensured better law and order, built roads and bridges, improved electricity supply dramatically, empowered women by 50% reservation in panchayats, launched the cycle scheme for girls in high school which was later extended to boys too. His support base cuts across the caste lines and it is much more entrenched among the women who came out in his support in large numbers.
2) Lalu Prasad: While Nitish was the development face, the RJD chief was the man who brought a dedicated and aggressive vote bank of Yadavs and Muslims. Lalu had been debarred from contesting after his conviction in a fodder scam case and his hold over the MY vote bank was under threat. But the quintessential Lalu knew it was must win situation for him. A loss would have ensured the end of his political career as well as his party. With a great deal of help from RSS chief Mohan Bhagwat, Lalu resurrected his fortunes by turning the election into a forward versus backward battle. His rallies saw huge attendance and he certainly proved to the biggest vote catcher of the election.
3) Mohan Bhagwat's comment on reservation: It most probably September 20 which decided the fate of elections when Bhagwat commented that there is a need to relook at the reservation policy for other backward castes, scheduled castes and scheduled tribes. Mahagathbandhan leaders turned it into a major election issue and NDA was always on the backfoot and defending it.
4) Alliance of the leaders as well as cadres: The Mahagathbandhan saw not only a synergy between the top leadership but also among the foot soldiers. Vote transfer was a flawless affair with those wanting Nitish as CM voting for RJD or Congress candidates despite fearing Lalu's return. It was the same with RJD voters particularly Yadavs. Even as they distrusted Nitish, they knew that it was their best shot at enjoying power and they came out wholeheartedly in support of Nitish. Even though Congress has been reduced to a marginal role, yet in a close battle every vote counts and it proved to be decisive in the ultimate analysis
5) Muslim voters and no polarisation: Muslims were in no dilemma who to vote for in Assembly elections as Mahagathbandhan was the only option. Leaders like Rajesh Ranjan alias Pappu Yadav and Asaduddin Owaisi were seen as "vote katwas" (vote splitters). The Hindu votes did not counter polarise unlike the Lok Sabha elections.
6) Candidate selection: The list for 242 seats by Mahagathbandhan was released at one go in Patna with only Rajgir candidate being announced later as he was still in government service. This sent a clear message of unity and bonhomie to the cadre as well as voters unlike the NDA where it was a messy affair. Nitish and Lalu closely monitored and vetted each candidate before finalising on the name.
7) No CM face from NDA: NDA fought the election using Narendra Modi-Amit Shah as the face. Neither of them could be the CM and Mahagathbandhan made it a big issue. When compared with Nitish, who despite joining hands with Lalu was praised even by those not voting for him, the NDA leader board looked bare.
8) Modi's campaign: It was a directionless campaign. He started with development, then targeted JDU and RJD for trying to bring back "jungle raj", coined several acronyms to describe them, then moved to caste and finally communal polarisation. None worked. Modi's speech writers and campaign managers failed to pick up the right issues. Targeting Nitish on electricity clearly did not work. Most towns and cities get more than 20 hours of power and even in villages it is for nearly12-15 hours. It is a problem in some areas but can only be treated as a local campaign issue and not a state level issue. His rallies were almost flops with just a few witnessing big crowds even though they were held at district level. Three rallies that I attended in Siwan, Hajipur and Purnia had not more than 5000-7000 people and even for them the bigger attraction was the IAF helicopter.
NDA leaders were taking pot shots at each other throughout the campaign, seat sharing was not a smooth affair, there were many rebels in the fray. Even local BJP leaders were not on the same page. A top leader like Nand Kishore Yadav addressed just 82 rallies in the state. Except LJP, the other partners RLSP and HAM had no dedicated vote bank and were a liability. Their candidates were weak and they failed to get votes from their own community.
9) Highly professional campaign by IPAC: A group of youngsters, many of whom were part of the Narendra Modi team during the 2014 Lok Sabha , joined Nitish Kumar for the Assembly elections. The Indian Political Action Committee (IPAC) presented him in a new light, reinforced his image as a development man with no option in Bihar, coined some catchy slogans and posters and ensured neutral feedback to the Mahagathbandhan. Their initiatives like "parcha per charcha", "jumla babu", Phir se Nitishe, Bihar Mein Bahar Ho, Nitishe Kumar Ho", branded cycles and campaign boys and girls were a huge success.
10) Difference between state and national election: The politically astute and aware Bihari voter was very clear in his mind that this was a state election to elect a CM. Many who voted for NDA in 2014 had even then said they will vote for Nitish in Assembly elections. NDA failed to gauge this important fact and paid the price.
Read full article