Refused to Contest in 2007, Wanted to Rise on my Own: Pankaj Singh
Pankaj Singh, son of Union Home Minister Rajnath Singh and the BJP candidate from Noida, has rejected the criticism of pariwarwad (dynasty rule) when asked if he got the ticket because of his father.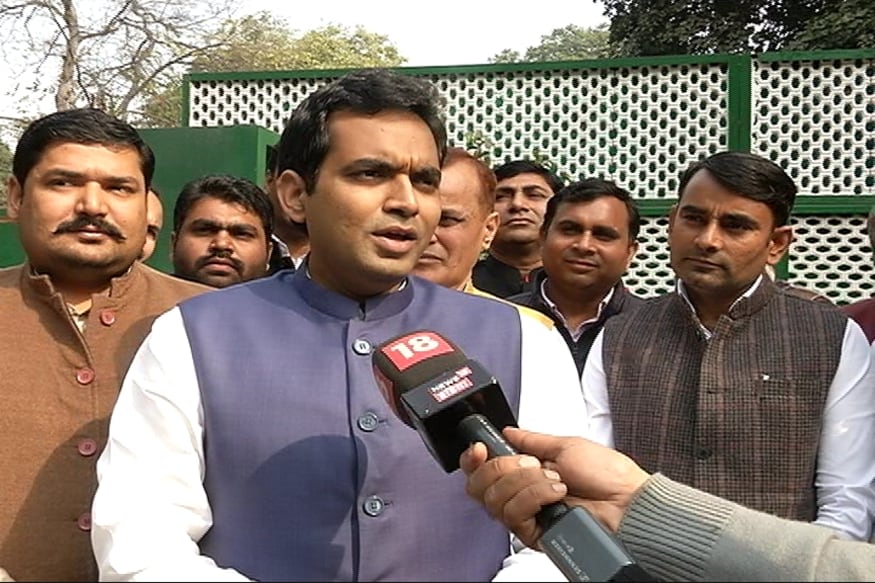 file photo of Rajnath Singh's son Pankaj Singh. (Photo: CNN-News18)
Noida
: Pankaj Singh, son of Union Home Minister Rajnath Singh and the BJP candidate from Noida, has rejected the criticism of pariwarwad (dynasty rule) when asked if he got the ticket because of his father.
"I clearly remember, Papa came back home that day in 2007, and didn't even tell me but loudly told my mother - 'ticket mil gaya hai. Waise to ye theek nahi hai per tum log dekh lo kya karna hai (We have got the ticket. I don't think it is right, rest is on you people). I discussed with him and called up Vajpayee ji myself to say 'is baar kshama karein' (forgive me this time)," Pankaj Singh tells CNN News 18 amid hectic campaigning in rural Noida.
Explaining how he was offered a ticket by BJP in 2007, Pankaj says, "I was offered a ticket to contest from Varanasi. My father was the BJP President back then."
He adds: "I could have utilised my legacy 10 years ago, but I refused to contest because I wanted to rise in the party as an ordinary karyakarta (worker)."
"I come from a political background," Singh says, "but our family is as normal as possible."
He says that his daughter, when she was two years old, would go all around the house saying -- baba ko boat do, paani mein baha do -- when he (Rajnath Singh) was contesting from Ghaziabad.
Singh says, "It was much later that they realised that she had heard slogans of 'Rajnath Singh ko vote do' and mixed vote for a boat."
Pankaj laughs after taking a break from meeting party workers. "My kids still don't know what has changed since I got the ticket. They saw the media jamawda (assemblage) at home but soon went back to Cartoon Network," Pankaj Singh tells CNN News18 before the sounds of dhol at the next village drown out the conversation.
In village after village, Pankaj Singh tries to underline his own credentials rather than that of his father. Pankaj Singh begins his speech in a Noida village saying, "Main koi badi badi baatein nahi karunga. Aapke hi beech ka hun aur aapke beech mein hi rehna chahta hun (I won't make extravagant promises. I am from amongst you and want to be with you)."
His mannerisms, his voice, and the way he flicks his wrist while interacting with voters is a mirror image of Rajnath Singh. But Pankaj avoids any direct reference to his father. "Campaign kaun karega ye to party decide karegi per mujhe lagta nahi wo yehan aayenge (Party will decide who will campaign, I don't think he will come here)," Pankaj tells CNN News18 when asked if Rajnath Singh would campaign for him.
Rajnath Singh's posters adorn Pankaj's campaign, along with other leaders like Prime Minister Narendra Modi, Amit Shah, state BJP President Keshav Prasad Maurya and Union Minister Mahesh Sharma. In fact, in his campaign speeches, Pankaj does not invoke his father but local MP Mahesh Sharma.
"I promise to carry forward the good work of Vimla Batham ji and Sharma ji," he tells villagers of Gari Chowkhandi in Sector 68.
Sharma, in turn, has literally thrown the doors open to Pankaj. A press conference called to show a united BJP backing Pankaj Singh was held on the top floor of Kailash hospital, which is owned by Dr Mahesh Sharma. Vimla Batham, the sitting MLA instead of whom Pankaj Singh got the ticket, and Union Minister Kalraj Mishra also addressed the press conference.
Canvassing at Sorkha village in Dector 119, Mahesh Sharma tells a group, "The candidate here is not just Rajnath Singh's son but also a karyakarta (worker) of the party for the last 20 years. So vote for him to defeat the gundaraj sarkar." It was a clear reference to Samajwadi Party government in UP.
But will the strategy of keeping Dr Mahesh Sharma prove beneficial to Pankaj Singh? Local BJP workers at the Sector 4 office of the party complain, "Sharma ji agla chunav nahi jeetenge. Wo constituency mein kahin nahi jaate. Abhi jab Pankaj bhaiya ke saath nikal rahe hain to kai jagah logon ne tok diya ki Mahesh tum kaise aa gaye? (Sharma ji will not win the next election. He doesn't go anywhere in the constituency. Now, when he goes out with Pankaj, people ask Sharma ji, 'how come you are here?')"
At Gadhi village, Ram Niwas Yadav tells CNN News18, "Na Mahesh Sharma, na Vimla Batham chunav ke baad se dikhein hain (Neither Mahesh Sharma nor Vimla Batham has showed up after elections)."
But Sharma's supporters butt in, "unke pass teen mantralay ka kaam hai. Pradhan Mantri Ji ki constituency bhi wo hi dekh rahe hain. Kya kya sambhalein? (He is looking after three ministries and even PM Modi's constituency. What else will he do?)"
| Edited by: Mirza Arif Beg
Read full article
Countdown To
Elections Results
To Assembly Elections 2018 Results