Regional Parties Aren't Happy with Stalin's Hasty Rahul as PM Call, But it is Inevitable
Announcement ought to have been made after the contours of the alliance become clear and more parties join, but Stalin's only focus seems to be to impress Congress that he is a trusted ally.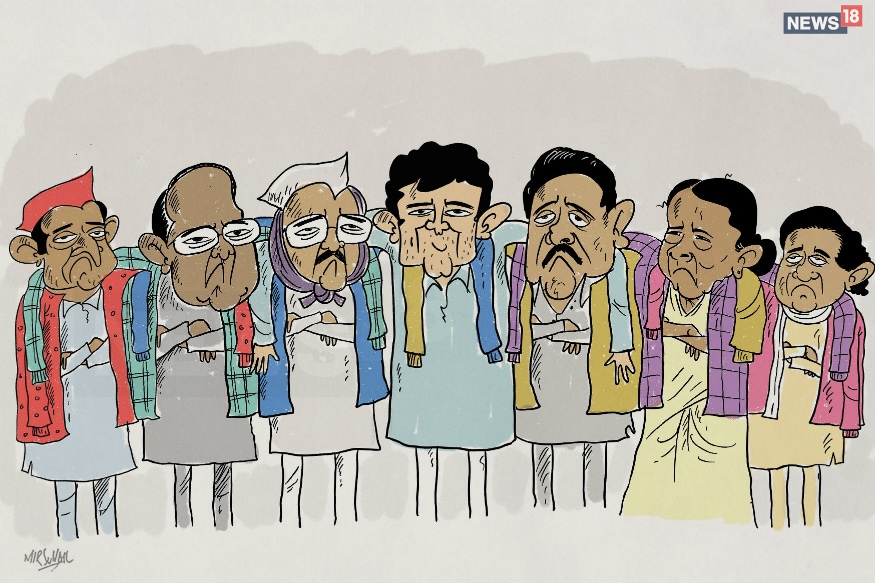 The Opposition's attempts to form a bloc against the BJP have not gone very smoothly. (News18 creative by Mir Suhail)
In trying to follow his father M Karunanidhi's footsteps and emerge a key architect of a Congress led-alliance, DMK president MK Stalin seems to have acted in haste and announced that Rahul Gandhi will be the prime ministerial candidate of the opposition.
Stalin's quest seems to have been to impress the Congress that he is a good ally, but even DMK sources confirm that the Congress neither asked for a Rahul as PM candidate announcement nor was consulted on the issue.
In fact, the announcement has received a cold response from most potential regional allies like the Trinamool Congress. The Congress itself doesn't seem keen to emphasise on the issue as the contours of an opposition alliance is not clear and there are many parties opposed to the BJP, but yet to take a call on aligning with the Congress.
In all fairness, a PM face announcement would require laborious consultations with all allies and cannot be a unilateral decision. There are also fears that turning the 2019 elections into a Rahul versus Modi presidential type race could benefit the incumbent PM.
Several regional parties may argue in favour of keeping the polls a truly parliamentary election where the choice of PM is made after the polls, not before it.
However, though Stalin may have hastily announced the decision, it could help set the stage for the Congress to build its pitch around Rahul Gandhi. In the backdrop of the recent victory in Rajasthan, Madhya Pradesh and Chhattisgarh, there is a new sense of confidence in the party.
It is also clear that any opposition front will have to revolve around the Congress and a third front experiment is a non-starter. There may be an odd regional partly, like the TRS that may contest independently in a state, but a third grouping at a national level seems unlikely to gain strength.
Given that the stage is set for a bi polar battle in 2019, it is also expected that Prime Minister Narendra Modi will intensify his sharp, personal attacks on the Congress president during the campaign. Even if Rahul wasn't named the PM face, in the larger narrative he would be made to appear as the challenger.
Something like a "do you want a kaamdaar or naamdaar style campaign", by the incumbent. Some senior political leaders suggest that it is easier to respond to that if there is clarity of leadership in the opposition front and hence, sooner or later, Rahul had to be projected as the leader of an alliance. There is also an argument that without a PM face the alliance would be seen as unstable and not clear in direction.
In other words, Rahul as the prime ministerial challenger would have been the case sooner or later. The question is should it be overstated or left as something subtly understood. Most regional parties may prefer the latter and that is why Stalin seems to have upset them.
Accepting the Congress as the leader of a national alliance is one thing, but when there is an overt focus on Rahul Gandhi as the PM face then regional parties fear that their vote bases may begin deciding on the Rahul versus Modi lines instead of other grassroots factors.
Further, regional parties also hope to get a lion's share of seats in their respective states and accepting Rahul as the PM face was a bargaining chip they had. Starting the negotiation with a declaration that he will be the PM face may not be to a regional satrap's liking.
For its part, the Congress may be happy that Stalin brought the issue out in the open, but it will have to tread carefully. It needs a cohesive and strong alliance and perhaps it needs the regional parties more than they need it. So, it wouldn't be a surprise that if the Congress enjoys the moment quietly and not make a public reiteration of Stalin's announcement.
And for Stalin, he may have to learn that making an announcement alone doesn't bolster a politician's stature and make him Congress's most trusted ally. Making an announcement at the right time is more important. His father knew how to time his politics, but Stalin seems to have done the Rahul as PM call in haste!
(Author is a senior journalist. Views are personal)
Get the best of News18 delivered to your inbox - subscribe to News18 Daybreak. Follow News18.com on Twitter, Instagram, Facebook, Telegram, TikTok and on YouTube, and stay in the know with what's happening in the world around you – in real time.
Read full article