Reins with Akhilesh, but Will he Make it on March 11? Confusing Signals in UP
Is Mayawati a maximum leader? Yes, it seems so from how her party operates in an opaque manner.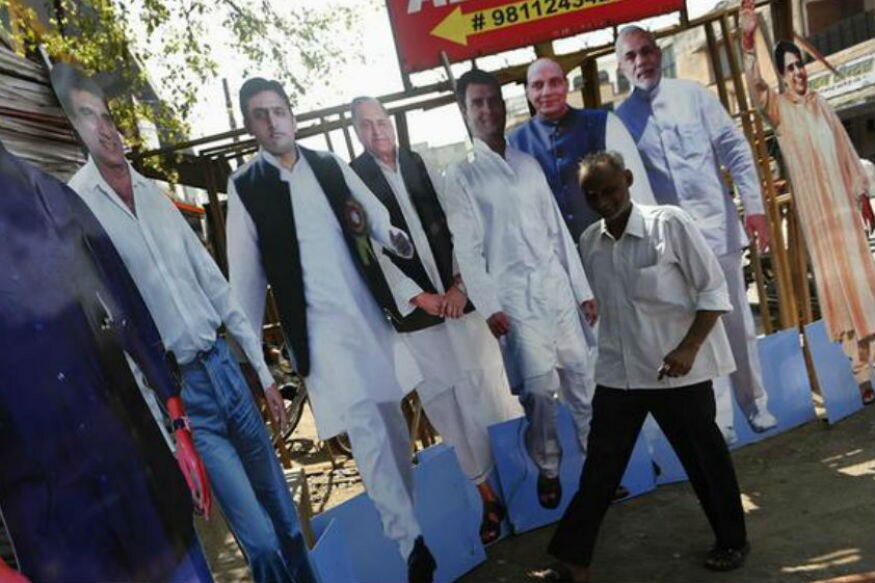 File image (Reuters)
AT LAHARTARA CROSSING — on a typical exhaust-filled smoky evening in Banaras — there is a maddening traffic gridlock. Gigantic buses, SUVs, cars, cycles, motorcycles are jostling to nose ahead of each other and, failing to move, finally end up occupying the crossing in a horrible hell of honking and soul-deadening directionless. Even an obese, balding khaki-wearing policeman shouting obscenities and frantically moving through the stuck vehicles, fails to break the gridlock. A car going straight has to reverse; an SUV that has to go left takes a right almost scraping a motorcyclist; a cyclist trilling his bell tries to manoeuvre out of the thick, gluey mess and fails. Finally, it seems no one has any sense of direction but is trying desperately to get ahead, without caring about others, to reach their destination. All of them end up thickening the jam and losing their direction.
The UP political scene is not dissimilar to the one that exists on this patch of Banaras. All parties vying for political sweepstakes are trying to eat into each other's space and have ended up losing their sense of direction. From the gridlock, it is difficult to judge which vehicle will move which way; likewise it is becoming increasingly difficult to make out which party will move ahead and breast the tape. Let's analyse the key parties and their sense of direction or misdirection.
BJP
The saffron party would want the SP-Congress alliance to be tweaked from UP ko yeh saath pasand hai to UP ko kuch aur pasand hai. But that does not seem to be happening easily in the state. Many big honchos are parking themselves here working the people and working the phones. They know how a win in the state can propel their party to ultimate glory. Prime Minister is busy touring all the key regions speaking of what his party will do when it emerges victorious. Though the party is ahead in places like Banaras, it is difficult to predict if it will translate into a landslide in the entire Purvanchal. The 2014 Modi-leher is not visible; the Prime Minister's personal popularity, however, remains largely intact. Everyone in the state vouches for him, but when it comes to the political throne in Lucknow, people are cautious. They know Akhilesh is also extremely popular, and this time the polarisation has not gained any speed in large parts of the state. In west UP, the Jats are voting for Ajit Singh, reviving a man who everyone thought was lost in political wilderness. Even in Purvanchal the non-Yadav OBCs, as the party expected, are not consolidating behind the saffron agenda. BJP is banking big time on the split of Muslim votes between SP and BSP, both of whom have put up strong Muslim candidates. Even among the upper castes — Brahmins, Thakurs, Bhumihars and Banias — the strong love for the party is not visible. The upper castes voted with their feet for the party in 2014 Lok Sabha and in 1991, when BJP won the state. But in 2017 they seem hesitant in going for the party. Banias, BJP's traditional vote bank, are riled because of demonetisation, and in many regions, are actively showing their displeasure towards the party. The party, which was hoping to compensate itself with the clubbing of non-Yadav OBC votes in its favour, now faces a difficulty as that banding-together also isn't happening. In cities, BJP seems ahead but in the hinterland, it is yet to acquire that edge. If the first two phases of election do not go in their favour, it seems outlandish to believe that they will come to power with a thumping majority. Akhilesh's progressive image has also become a headache for the party and he has suddenly become an icon for reformist zeal in the state, that the Prime Minister is supposed to be projecting for the saffron party. Also, it does not help the party when it hasn't clearly anointed anyone in the state as the CM candidate. SP has Akhikesh and BSP Mayawati. So, it becomes a tough call to call UP in favour of BJP. For now confusion reigns. Who will reign after March 11, only results will tell.
SP
There's nothing Samajwadi in SP anymore. Under Akhilesh, the party has turned more aggressive and is using every trick in the campaign book to win voters over. Akhilesh — who has been stumping almost 24x7 — has been promising a flurry of goodies to everyone. The posters are full of his photoshopped features; his father also exists, though on a much smaller scale, in some. Some say, in places like Kannauj — from where his demure wife Dimple fought and won the last Lok Sabha, in which the SP was reduced to a family joke — ditching his father won't have an impact. But others, who swear by filial bonds, say it will hurt him badly. Leaving Mulayam and Shivpal in the lurch, what does Akhilesh expect? Both brothers are the party; they built it from scratch and know it inside out. Shoving them out of his orbit, the son is not helping himself. Akhilesh has built a bank of goodwill and many in the state are rooting for him. There is hardly a person in the state who does not credit him with his achievements. Everyone says he worked for the uplift of the state, worked tirelessly to improve its image; slogged day and night to shed the Bimaru tag the state is saddled with. "No one says he did not work," says an analyst in Azamgarh, "but no one knows whether his work will win him the election." The old SP formula of Muslim-Yadav combination may not work this time as Mayawati has put up strong Muslim candidates across the state. This Muslim versus Muslim fight is only going to benefit the saffron party. Muslims, however, are happy that this time around, Akhilesh is not treating them like a vote bank and making grand and embarrassing communal statements like other SP politicians. Many in the state believe that if Akhilesh wins on his own steam, the victory will propel him way ahead in the 2019 prime ministerial stakes. The alliance with Congress has won both admirers and critics. Is Akhilesh doing all this with prime ministerial ambitions or just to serve the most populous state? Only the coming years will make it clear. For now, no one seems to know if he will return to power at all.
BSP
Elephant is mostly a plodder, but sometimes it rampages through a land. This time, Mayawati threatened to take her elephant rampaging through the streets of Uttar Pradesh, but somehow lost the momentum. She is still a figure to reckon with, still very formidable, many political analysts say, but this assertion is not reflected on the ground as one traverses the state; just the odd disciplined group of cyclists wearing blue caps and flying blue flags canvassing the villages of the state. Did demonetisation do her in? With Mayawati, it is difficult to gauge what have been the the adverse effects on her party of Modi sarkar's epochal economic policy step called notebandi.
Mayawati has started doing pressers frequently. She seems to be more witty, tries to be humorous and works on her one-line zingers. Access to the inner workings of her secretive party, however, still remains elusive. It runs like an authoritarian government where only the leader knows everything and people in the hierarchy shudder to reveal anything in public. That is, if they know anything at all. Is Mayawati a maximum leader? Yes, it seems so from how her party operates in an opaque manner. This time, Mayawati has taken to furious tweeting and other social media tools, but stays surprisingly closed to media's efforts of prying open the engine of her party and witnessing how it is tuned and works. With more than 100 Muslim candidates — some of them quite effectively placed — Mayawati has taken the fight for the heart of this community to Akhilesh's camp. Those analysts who still set store by her say, do not seem to know that there is an undercurrent for her. She may not surprise everyone, but she has the potential of upsetting the grand plans of BJP and SP. Many in UP say if BJP falls short of numbers, it may go for a handshake with behenji. But won't that tie-up spoil 2019 equations? Yes, the same people agree. So, it is only behenji who knows what behenji is doing.
POSTSCRIPT
Early in the morning, when the streets and cross-roads of Banaras don't seem thick with diesel exhaust and uncontrollable rage, the ancient ghats and the orange orb of rising sun present a picture-postcard start to the day. As activity picks up the ghats, as men go up and down the stone steps, as the first bathers take a holy dip in the river, as the pandits arrive to sit on their wooden perches, as humanity seems to be slowly filling up, Banaras doesn't look like a place that is losing direction. It has, in fact, never lost its direction. Ages will fade in, ages will fade out; men will enter, men will exit; Zuckerbergs will come, Musks will go; but Banaras will remain a venerable algorithm that stays permanently lodged in world's consciousness. And so will politics, messy and chaotic.
Get the best of News18 delivered to your inbox - subscribe to News18 Daybreak. Follow News18.com on Twitter, Instagram, Facebook, Telegram, TikTok and on YouTube, and stay in the know with what's happening in the world around you – in real time.
| Edited by: Smrithin Satishan
Read full article