Here's how Anil Kumar Gupta got his 'Siberia' analogy wrong
Instead of taking measures, the SP thought it was best to blame other parties for conspiring to malign the UP government's image.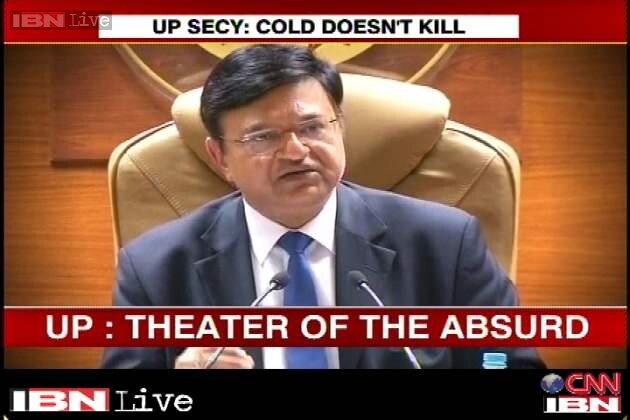 Instead of taking measures, the SP thought it was best to blame other parties for conspiring to malign the UP government's image.
Lucknow: In a country where political leaders like Rahul Gandhi refer to poverty as 'state of mind' and Farooq Abdullah says 'a man can fill his stomach in Re 1, it depends on what he wants to eat', does UP Principal Secretary (Home) Anil Kumar Gupta's 'can't die due to cold' remark really come as a surprise?
After all, the Samajwadi Party supremo Mulayam Singh Yadav set an example for him to follow. Instead of taking immediate measures to curb deaths of children at relief camps set up for victims of Muzaffarnagar riots, Mulayam Singh thought it was best to blame other political parties for conspiring to malign the image of the UP government.
He wanted everyone to believe that "there are no riot victims in the relief camps but those taking shelter are BJP and Congress supporters who have conspired to malign the Uttar Pradesh government."
The very panel that the UP government set up to probe child deaths at the relief camps trashed Mulayam's 'conspirator theory' on Thursday, let alone other political parties and media who went haywire reporting (with visual proofs) how children were dying of cold.
Anil Kumar Gupta however, feels nobody dies of a cold. Well, the UP Principal Secretary (Home) got it horribly wrong.
"Yes, people do die of cold. They die of what is called 'hypothermia'," says Anupama Singh, a doctor with Saket City Hospital in Delhi.
"Hypothermia is an alarming drop in body temperature that is caused by prolonged exposure to cold temperatures. It's a state when body loses more heat that it can generate from its organs. It can happen to people with thyroid, diabetes.
But mostly, it happens due to prolonged exposure to cold temperature," she says.
During exposure to cold temperatures, more and more heat escapes through the skin, the rest is lost while breathing. Normal body temperature averages 98.6 degrees but with hypothermia it drops below 95 degrees and in some cases, even below 86 degrees.
"As the core body temperature cools, the activity of the heart and liver that produce most of the body heat is impacted. These organs instead of generating heat, try and preserve it to protect the the brain. However, the low body temperature slows down the brain activity, the breathing rate, and the heart rate. It leads to multiple organ failures. A person's ability to think and react diminishes. It finally leads to death," she adds.
So, yes people around the world die of cold due to hypothermia.
There is no need to say where Anil Gugta's future is heading as the Principal Secretary (Home). In the past, the likes of him have been shown the door for similar mistakes.
Interestingly, he was appointed as the Principal Secretary (Home) after RM Srivastava's removal in October this month over the fallout of 'letter controversy'.
The controversy had erupted over a communique by the state Home Secretary convening a meeting to discuss the "reconstruction of Ram Temple in Ayodhya on the lines of Somnath Temple," with a red-faced SP government calling it an "error" and promising action against the guilty.
The UP government had removed RM Srivastava from the post of Principal Secretary (Home), close on the heels of suspending Secretary (Home) and IAS officer Sarvesh Chandra Mishra.
Whether or not Anil Kumar Gupta will be subjected to the same fate is for the Uttar Pradesh government to decide, however, one message to him is, he should consult Ahmed Hassan, state health minister to get his facts rights or if that's too difficult, he could probably just walk in to a doctor's clinic nearby.
Get the best of News18 delivered to your inbox - subscribe to News18 Daybreak. Follow News18.com on Twitter, Instagram, Facebook, Telegram, TikTok and on YouTube, and stay in the know with what's happening in the world around you – in real time.
Read full article