Rift in Yadav Family Gets Wider, Shivpal Demands His Portfolios Back
The sources said that Shivpal has told Mulayam that he wants to work at same level as Akhilesh to ensure party wins in 2017 Uttar Pradesh Assembly elections.
The rift in the Samajwadi Party's first family in Uttar Pradesh is out in the open with Chief Minister Akhilesh Yadav and senior minister Shivpal Yadav at loggerheads with each other. Just a few hours after the meeting with SP chief Mulayam Singh Yadav, Shivpal has conveyed to the former that he needs all his ministerial portfolios back, sources said.
According to the sources, Shivpal told Mulayam that Akhilesh can remain as UP SP president. The sources said that Shivpal has told his elder brother Mulayam that he wants to work at same level as Akhilesh to ensure party wins in 2017 Uttar Pradesh Assembly elections.
The sources added that Mulayam will discuss the matter with Akhilesh on Thursday. The party's Parliamentary board will not take place till Mulayam and Akhilesh are on the same page, sources said.
Earlier in the day, Shivpal downplayed the rift in the party claiming that he is still a part of the Uttar Pradesh government.
"I am still in the Akhilesh Cabinet. I will do whatever Netaji (Mulayam Singh Yadav) will ask me to do," Shivpal said after over four-hour-long meeting with his brother and SP supremo Mulayam Singh Yadav in the national capital on Wednesday.
Shivpal added that his only aim is to see the Samajwadi Party winning with full majority in the Uttar Pradesh Assembly elections.
Meanwhile, a compromise formula is being arrived at to mollify both Akhilesh and Shivpal. While Shivpal will continue as state president, Akhilesh be made the national working president.
The immediate crisis may have blown over but tensions between the two key SP leaders have far from vanished completely. Shivpal has told Mulayam that Akhilesh sacking Chief Secretary Deepak Singhal has hurt his image.
Even though the SP is trying to downplay the rift, the war between the uncle and nephew has political repurcussions as well with polls in early 2017.
As party chief, Shivpal can put his own people for election ticket nominations which may snub Akhilesh's candidates in ticket distribution.
If Shivpal is snubbed, then he may leave the party which can lead to division of Yadav votes.
Shivpal is believed to be Mulayam's eyes and ears and is immensely popular among MLAs and party old-timers. He has clout in influential non-Yadav camps, like Amar Singh's and Azam Khan's. And he has a key role in forging recent political alliances.
The feud in the party showed no signs of ending today even as party supremo Mulayam Singh Yadav stepped in to defuse the crisis and Akhilesh sought to downplay differences.
An open war broke out on Tuesday in the SP with Akhilesh stripping his uncle Shivpal of key ministerial portfolios, hours after his removal as the party's state unit chief and appointment of the latter in his place.
An indication that the crisis in the SP lingered on came when Shivpal told Mulayam that despite following his orders he was being painted as a villain.
As the SP plunged into crisis, the chief minister stayed put in his 5, Kalidas Marg official residence in Lucknow since morning to take stock of the situation and did not attend two official engagements.
Amid differences with his uncle, Akhilesh was combative on the decisions taken by him that have led to internal feuds coming out in the open even as he said that there might be problems in the government, but not in the family.
Akhilesh said that he too will follow the directions of his father.
"If I have taken any decision, it was in consultation with 'netaji', but at times one has to apply his own mind and I too took some decisions on my own," he said.
But to a question, he said, "As far as family is concerned, everyone abides by what 'netaji' (Mulayam Singh Yadav) says and will accept his words.
"There may be problems in the government, but not in the family," he said on the sidelines of an event at his official residence.
Earlier today, Gayatri Prajapati, who was sacked as the mining minister by Akhilesh two days ago met Mulayam for nearly three hours.
In an image-refurbishing exercise ahead of Assembly elections, Akhilesh had on Tuesday cracked the whip on two ministers -- Mining minister Prajapati and Panchayti Raj minister Rajkishore Singh -- facing corruption charges.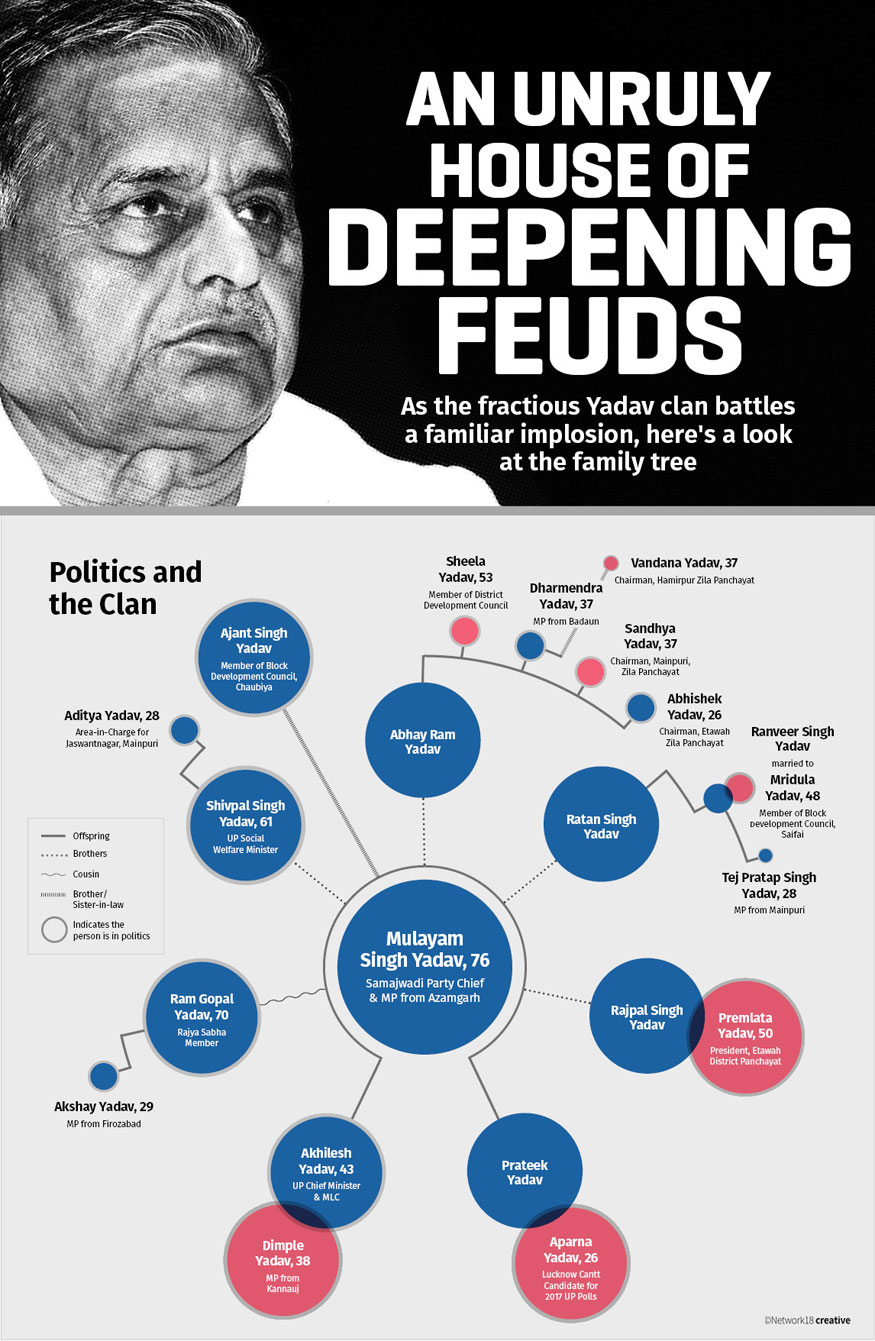 Get the best of News18 delivered to your inbox - subscribe to News18 Daybreak. Follow News18.com on Twitter, Instagram, Facebook, Telegram, TikTok and on YouTube, and stay in the know with what's happening in the world around you – in real time.
| Edited by: Priyanka Rathi
Read full article