GET Stock

Quotes


RK Nagar Bypoll on December 21, Dinakaran to Fight EPS-OPS for Amma's Legacy
The RK bypoll will be a fight for Jayalalithaa's legacy between Dinakaran, the nephew of her jailed confidante Sasikala, and the merged E Palaniswami-O Panneerselvam factions.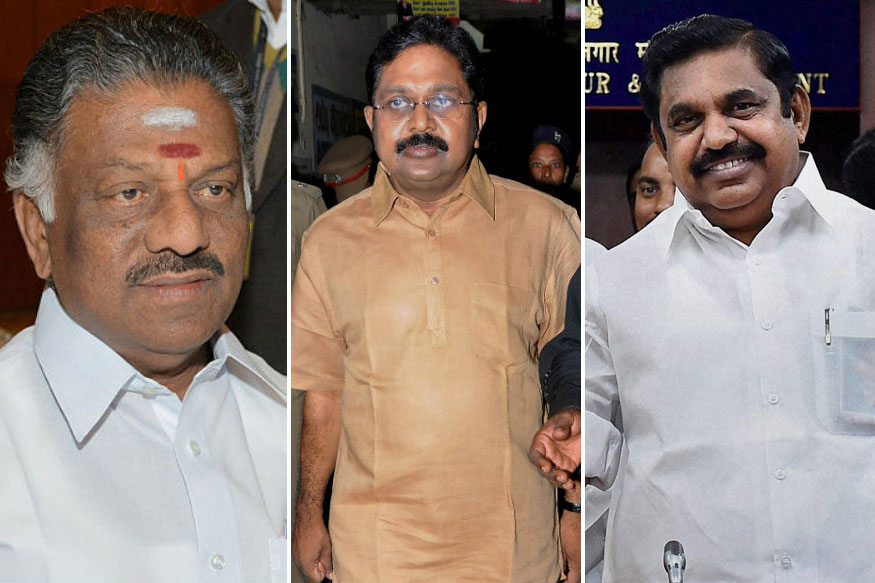 File photo of O Panneerselvam, TTV Dinakaran and E Palaniswami.
The seat fell vacant following the death of Chief Minister J. Jayalalithaa on December 5 last year.
Though the bypoll was scheduled for April 12, it was countermanded following reports of attempted voter bribing by a candidate.
The Madras High Court had directed the poll body to hold the bypoll to the Radhakrishnan Nagar seat before December 31.
"We will win the bypoll with huge margin and prove that we are truly the successors of late Chief Minister and party leader J.Jayalalithaa," former MP and spokesperson KC Palaniswamy told IANS.
He declined to comment on the party's probable candidate to fight the by-election.
In April, when the AIADMK was divided into two — one led by Panneerselvam and the other by jailed leader VK Sasikala and her nephew TTV Dinakaran —, the former faction fielded E Madhusudhanan and the latter Dinakaran.
Later, the Sasikala faction broke into two with Palaniswami leading one.
With Panneerselvam and Palaniswami factions coming together and the Election Commission allotting the "two leaves" symbol and the party name to Panneerselvam/Madhusudhanan, AIADMK leaders told IANS there was no need to scout for another person in the place of Madhusudhanan.
Speaking to television channels on the by-election to Radhakrishnan Nagar, Tamil Nadu Congress Chief S. Thirunavukkarasar said it will be a major test for the ruling AIADMK.
He said this will be the first election to be faced by the AIADMK government after the death of Jayalalithaa and also after it got the "two leaves" symbol.
Thirunavvukkarasar said Congress will support the DMK in the by-election.
The Tamil Nadu BJP Chief Tamilisai Soundararajan said a decision to contest or not will be taken after consultations within the party.
Last time, BJP had fielded music director Gangai Amaran as its candidate.
J. Deepa, niece of Jayalalithaa too, jumped into the electoral fray last time forming MGR Amma Deepa Forum. It has to be seen whether she would contest this time.
Dinakaran had earlier said he would contest in the by-election whenever it is held.
(With IANS inputs)
Also Watch
Read full article