GET Stock

Quotes


RSS Demands Judicial Probe Into Killings of Workers in Kerala
RSS claimed CPI(M) cadre were involved in the violence aimed at checking its expanding base in the state.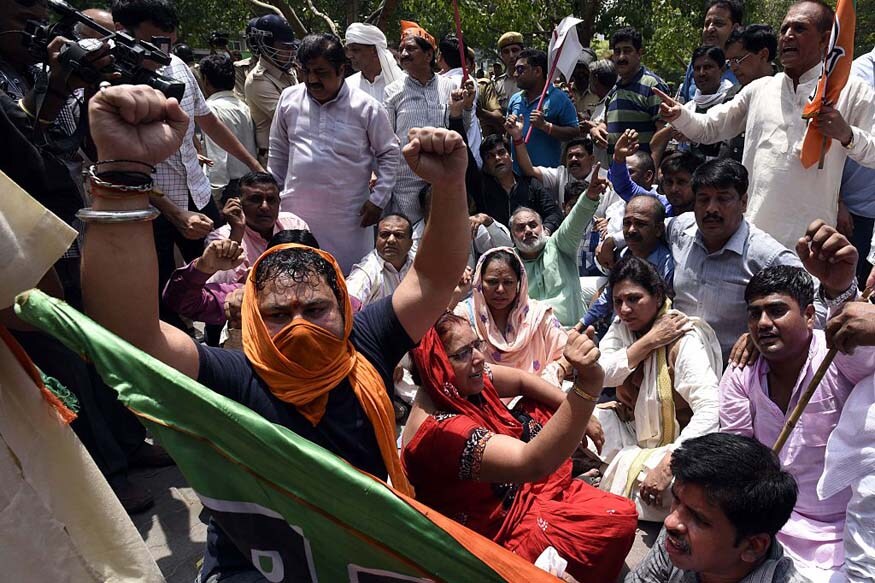 BJP workers protest outside CPI(M) office against the murder of a party worker allegedly by supporters of the Left party during a poll victory rally in Kerala. (Getty Images)
New Delhi:
The RSS on Friday demanded a judicial probe into the "political killings" of its workers in Kerala, alleging that CPI(M) cadre were involved in the violence aimed at checking its expanding base in the state.
Claiming that law and order has completely broken down in in the state due to misdeeds of the ruling left party, the Rashtriya Swayamsevak Sangh (RSS) joint general secretary Dattatreya Hosabale said an "independent judicial inquiry" should be carried out into the killings.
"The Kerala government should fulfil its constitutional responsibilities and check this political violence. There should be a judicial inquiry by either a judge of High court or the Supreme Court in the murders of RSS workers in the state," Hosabale told reporters here.
"Our workers are targeted as more common and poor people are joining the RSS which is not going well with the ruling CPI(M), that is why they are killing our workers," he alleged. "These are not just murders but political killings," he added.
Attacking Kerala Chief Minister Pinarayi Vijayan, Hosabale said since he assumed the top post "violence politics has seen new heights". He also alleged that Vijayan, who hails from Kannur, the epicentre of political violence, "was an accused in one of such political murders".
Replying to a question on the need for imposing the president's rule in the state, the RSS leader said the people felt so as the violence in Kerala was "state-sponsored".
"Despite being at the receiving end, the RSS has always tried to get into a dialogue process, at least three times in the past. Each time, they responded by either ridiculing or backstabbing by killing another of our workers," he added.
The RSS leader alleged that the "unionism" of Marxists perpetuated even in the police department and did not allow free and fair investigation in any of these conspiracies.
He also said Union minister Arun Jaitley would also visit the house of RSS worker Rajesh who was killed allegedly by CPI(M) workers.
Also Watch
Read full article