Salman Khurshid: History is Yet to Record the Last Word on Sonia Rajiv Gandhi, Wife and Mother of Congress Presidents
As Sonia Gandhi passes the baton of Congress presidency to her son Rahul Gandhi, News18 revisits her career in Indian politics. This is second article in the five-part series.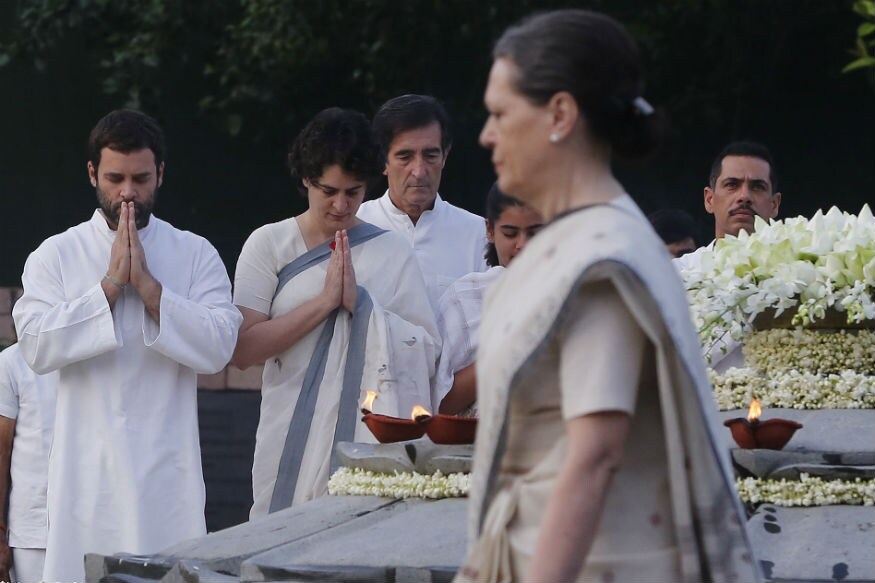 In this August 20, 2013 photo, then Congress chief Sonia Gandhi (foreground), daughter Priyanka Gandhi, son-in-law Robert Vadra and son Rahul Gandhi pay tribute at the memorial of Rajiv Gandhi on the occasion of the former PM's 69th birth anniversary, in New Delhi. (REUTERS/Adnan Abidi)
It was a day that many of us tried not to think about: when Congress President Sonia Gandhi would hang up her boots, so to speak.
Inevitably, it has signalled the end of an era. There is comfort and security in the knowledge that the next generation of Gandhis have committed themselves to serving the party and the people of India.
Thus more things change, more they will be the same, in the best sense of the phrase. We will see fresh determination, vigour, imagination and energy. And indeed there is no dearth of challenges ahead.
But as the torch passes to a new generation of Congress leaders with a sense of joy, come the reflective moments about the past two decades. In the very moment of history, come streaming back memories that reside in history.
For many of us active workers of the Congress party, Sonia Gandhi's stepping down from the highest office of the party, which every generation of her family has adorned since Motilal Nehru, comes as another climax of a whole life in the life of our nation.
We have seen her as an elegant daughter-in-law of the Prime Minister, a charming spouse of a young Prime Minister of our own Camelot, a stoic, grieving widow, a devoted mother of children who grew up amongst tragedies, a feisty and combative saviour of the Congress and a consensus builder par excellence.
We saw her in the moment of glory refusing high office due to her sense of moral aloofness from power. But also saw her in moments of subdued caution as the BJP spoke of 'India Shining' and, of course, with fortitude in the defeat of 2014 that threatened to destroy decades of relentless nurturing of democracy and liberal ethos of India.
It makes us wonder what her well-earned rest and moments of peace will be like after a lifetime of triumph and tragedy.
I had the privilege to sit at the Rashtrapati Bhawan table when my grandfather, Dr Zakir Husain, invited the young married couple, Rajiv and Sonia to a celebratory dinner.
I was lucky once again to be invited to an informal lunch with Indira Gandhi soon after polling day in 1971 elections. I had worked along with a friend for local candidates in Delhi and for that we would be provided a campaign vehicle from the PM's Residence (that was long before the Election Commission became strict).
The PM graciously wished to encourage and bless us for the work we did.
Sonia Gandhi was there too and at her gracious best. I could go on endlessly about memories such as when she visited the bedside of my young daughter, Ayesha, as she lay stricken by stroke and asked my wife, Louise, if I was giving enough time to family.
I recall with admiration and gratitude when she sent a strong message of support in my trying time of open disagreement with media.
Personal experiences have a special place for me but there is a takeaway for other people as well. It shows the unique connect the Congress President had with her supporters and people generally; her remarkable ability to reach out in moments of need with empathy and support.
In addition, Soniaji's sense of gentle humour and the inimitable shy smile remained a powerful instrument of communication and outreach that is very important to a great leader.
People in high places are often thought to become isolated from ground reality and bitter truths. Yet for her, it was amazing how much she knew of ground reality as indeed about the political attributes of party leaders across the country.
She was a mother, mentor, philosopher, guide, all rolled in one. It pains, therefore, when our using this language to describe her becomes the trigger for hatemongers and social media trolls to unleash verbal abuse.
Sonia Gandhi has chosen to withdraw from formal position and, therefore, we respect her decision, but we know that the country needs her now more than ever to survive the attempts to derail it from the path of decency and honour in politics that she has admirably preserved.
As the old order changes and new order sets in, much of the material that will help fashion the future Congress will be the inheritance that Sonia Gandhi received, preserved and protected.
The merging of the two streams of leaders, young and vivacious on one hand, and wise and experienced on the other to forge a force of fortitude will be the greatest tribute to her sagacity and leadership.
Our success in reviving the fortunes of the Congress and the fabric of liberal India will be our profound gratitude.
But lest it be overlooked, we all hope that her benign presence will continue to bless and encourage the new leadership in myriad ways unimaginable.
History might yet not have recorded the last word on a remarkable Indian of our times, Sonia Rajiv Gandhi, wife and mother of Congress Presidents.
Author is former External Affairs Minister of India. Views are personal
Get the best of News18 delivered to your inbox - subscribe to News18 Daybreak. Follow News18.com on Twitter, Instagram, Facebook, Telegram, TikTok and on YouTube, and stay in the know with what's happening in the world around you – in real time.
| Edited by: Nitya Thirumalai
Read full article