Sandwiched Between Anant and Ananth, Yeddyurappa's Worries Grow in Karnataka
Ananth Kumar and Yeddyurappa have had a love hate relationship. It is a fact that both are protégé of Yeddyurappa and the Lingayat strongman was initially depending on Ananth Kumar as he was his points person in New Delhi.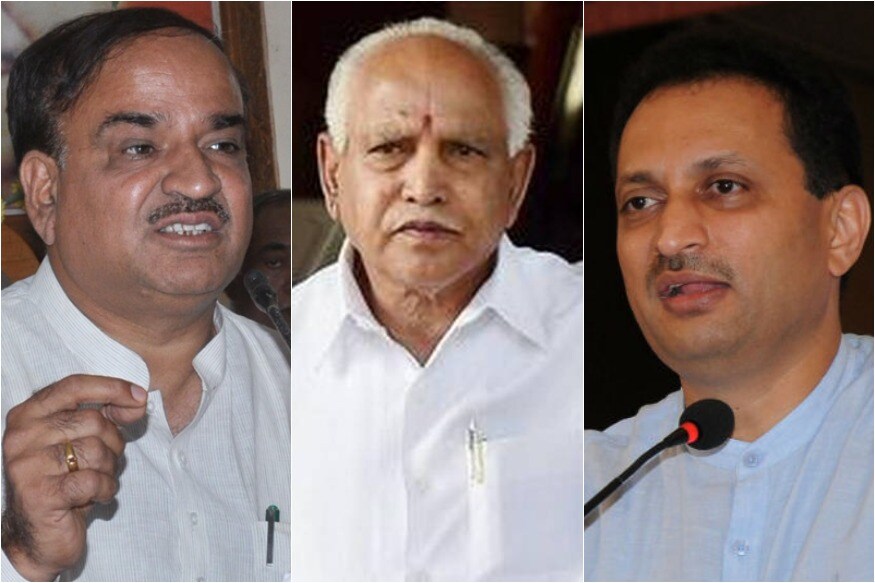 (L to R) A file image of Ananth Kumar, Yeddyurappa and Anant Kumar.
Bengaluru: Sometime in April 2016, the newly appointed president of Karnataka BJP BS Yeddyurappa took one of his close friends for dinner at a Lutyen's Delhi five star Hotel. Yeddyurappa was visibly happy after getting the top post for the fourth term. He was behaving as if he were already the CM.
During the dinner, frugal eater Yeddyurappa asked his friend for the advice. He said: "what do you think about recommending Hegde's name for the post of national general secretary of the BJP".
His friend nodded approvingly. He knew why Yeddyurappa was asking him that question. After his return at the helm, the stalwart of Karnataka BJP wanted to have his own trusted people in powerful party positions. He wanted to teach a lesson to his rival in the party and Union minister Ananth Kumar.
Both Ananth Kumar and Anantkumar Hegde are Brahmins and entered the Lok Sabha together in 1996. Ananth Kumar has won six consecutive terms from Bengaluru South and made it big in the national politics. Hegde, ten years junior to Ananth Kumar, has won five times from Uttara Kannada. But he was a nobody in Delhi politics till recently. Every time BJP came to power he lost the ministerial post to more articulate and urbane Ananth Kumar.
Ananth Kumar and Yeddyurappa have had a love hate relationship. It is a fact that both are protégé of Yeddyurappa and the Lingayat strongman was initially depending on Ananth Kumar as he was his points person in New Delhi.
After Ananth Kumar came out of Yeddyurappa's shadow they started drifting apart. Yeddyurappa even held him responsible for all his troubles during his chief ministership. He wanted to cut him to size by backing Hegde. Somehow, he could not get Hegde the coveted national general secretary post. But he made him vice president of the state BJP.
Yeddyurappa thought that it was a masterstroke and Ananth Kumar's clout in state BJP will come down with the rise of Hegde. Situation was more or less the same till UP Assembly poll results and Yogi Adityanath's elevation to the post of chief minister.
Yogi, as UP CM, sent tremors across Karnataka BJP. Till then Yeddyurappa had taken the post of CM for granted if BJP was voted to power. People close to him started expressing apprehensions that Modi and Shah might consider Hegde for the post of CM. A few months later, shocking everybody in the state BJP, including Yeddyurappa, they made Hegde Union minister of state.
Post that rumour mills started churning stories non-stop that UP model will be repeated in Karnataka and Hegde will be the CM, if BJP manages to dislodge Siddaramaiah in April/May 2018 polls. Even though Yeddyurappa officially dismissed such claims as handiwork of the opposition to confuse the voters, in private he did not discount such possibilities.
Hegde, who finally realised the dream of making it to the Union Cabinet, suddenly became active in state politics. Until then absent for months in his own Lok Sabha seat, Hegde started touring the state spitting fire making BSY more and more uncomfortable.
On the day of Yeddyurappa's three-month long "Parivarthana Yathre" launch in Bengaluru, Hegde got more applause than the former CM. Wherever he went with Yeddyurappa, Hegde got thunderous applause from the BJP supporters and some openly requested him to stake claim to the throne in Bengaluru. At some places BSY and Hegde did not even look at each other though they sat on the same dais.
All along Hegde has trashed reports about his CM ambitions and Yogi model in Karnataka calling it the work of jobless journalists. But his close confidantes claim that he is not discounting such a scenario. They argue that Yeddyurappa will be 75 next year and won't be eligible for the post of CM under Modi formula.
According to political analysts, choosing Hegde over his guru Yeddyurappa can be suicidal for the party in Karnataka. They argue that majority BJP is still with Yeddyurappa and denying him the CM post will damage the party permanently as he is the most credible and acceptable face. Moreover, the dominant Lingayat caste to which Yeddyurappa belongs won't take it kindly if the party imposes a Brahmin as the CM.
Even though the national media is focusing now on Hegde, he has always been like this. Hegde became a member of the Parliament at 27 and the post Babri demolition riots made him a darling of the Hindutva forces in Karnataka.
Young Hegde proved his mettle and earned his Lok Sabha ticket on his own in 1996. Ever since he has been making extreme statements against the perceived Muslim appeasement by the opposition parties. After his win in the 2014 LS polls, Hegde had said that terrorism would not be destroyed unless and until Islam was eradicated from the World. He had even defended his statement causing a huge uproar in the Parliament.
He has been openly advocating a pro-Israel and anti-Rohingya policies. Hegde may or may not make it to the top post in Karnataka this time. But he has finally arrived on the state scene. Sandwiched between Ananth and Anant, the man who single handedly built the BJP in Karnataka, Yeddyurappa certainly looks worried.
Get the best of News18 delivered to your inbox - subscribe to News18 Daybreak. Follow News18.com on Twitter, Instagram, Facebook, Telegram, TikTok and on YouTube, and stay in the know with what's happening in the world around you – in real time.
| Edited by: Ashutosh Tripathi
Read full article