GET Stock

Quotes


'Sangh is Sangh, Pranab is Pranab': Mohan Bhagwat Dismisses Row Over Pranab's Visit to RSS Headquarters
There has been a tradition that we invite well-known people from various walks of life for our Tritiya Varsh event. We are only following this tradition, Bahgwat said.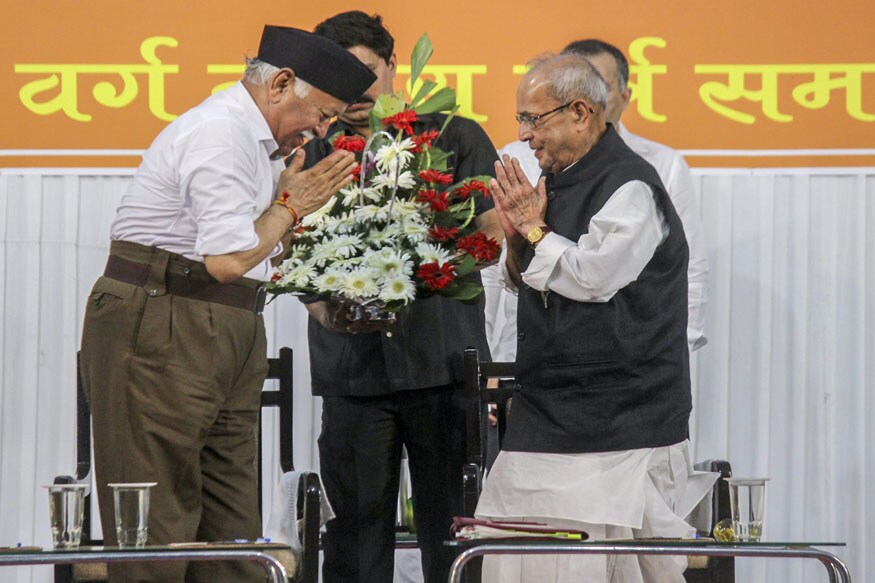 Former president Pranab Mukherjee being welcomed by RSS chief Mohan Bhagwat in Nagpur on Thursday. (PTI Photo)
Nagpur:
RSS chief Mohan Bhagwat referred to history to clarify the rationale behind extending invitation to former President and career Congressman Pranab Mukherjee to deliver keynote speech at Tritiya Varsh Varg" function as its chief guest.
"There has been a tradition that we invite well-known people from various walks of life for our Tritiya Varsh event. We are only following this tradition. There is no meaning to this discussion that has happened this time. Everyone in this country knows the personality of Pranab Mukherjee, we are grateful that we are able to learn something from him. How Pranab was called and how he is coming is not a matter of debate. Sangh is Sangh, Pranab is Pranab," Bhagwat said.
Several Congress leaders have expressed their displeasure over the former President's visit to the Sangh headquarters in Nagpur. Senior Congress MP and Gandhi family confidant Ahmed Patel had said on Wednesday that it was not expected of Pranab Mukherjee to attend an RSS event in Nagpur, giving a glimpse into the party high command's views on the former president's visit to Nagpur.
Patel's tweet came a couple of hours after Pranab's daughter and Congress leader Sharmistha Mukherjee publicly urged her father not to go through with the visit to RSS headquarters.
Bhagwat said the Sangh only wants to unite the entire society. "We embrace all, we are not just for one section. RSS believes in unity in diversity. Every citizen born in India is an Indian. It is his right to worship our motherland. There have been many debates about Pranab Mukherjee attending the event but we do not consider anyone different from ourselves. We Indians are one and united," he added
With the same effortlessness with which Bhagwat seemed to have brought the veteran Congressman with him to the RSS stage, he mentioned the fact that RSS founder KB Hedgewar was also a Congressman who went to jail twice for his political activity.
"Dr Hedgewar went to jail twice as a Congress worker, he spent time with social reformers, with saints…Some people think that there will be some harm if he [Pranab Mukherjee] comes with us. But our ancestors were the same…Ham sab ek hain [We are all one]," Bhagwat said with a smile.
Indeed "unity in diversity" was the theme around which the RSS Sarsanghchalak spoke on Thursday. He used this phrase and its words individually several times in his 40-minute long speech. All sorts of diversity, be it from one's religious beliefs, political affiliations or cultural variety, could be assimilated within the mission of RSS, Bhagwat suggested.
"We just want to unite everyone…there is a lot of diversity in our country…we accept the diversity and consider it beautiful…Everybody has the right to a political opinion but there is a limit to an opposing view. We should realise that we are working for the betterment of the same country but some groups have more motives than just debating... Political differences are now dividing us. The nation's future depends on common citizens. Only when citizens are willing to set aside their aspirations can a nation change for good," said Mohan Bhagwat.
| Edited by: Aakarshuk Sarna
Read full article
Countdown To
Elections Results
To Assembly Elections 2018 Results