Saree Choice May Help Chinnamma Become Amma; and Sasikala knows It
At least from her dress sense its clear Sasikala wants to step into Jayalalitaha's shoes. Sasikala is not alone in this. She is following a fad which has been picked up by many.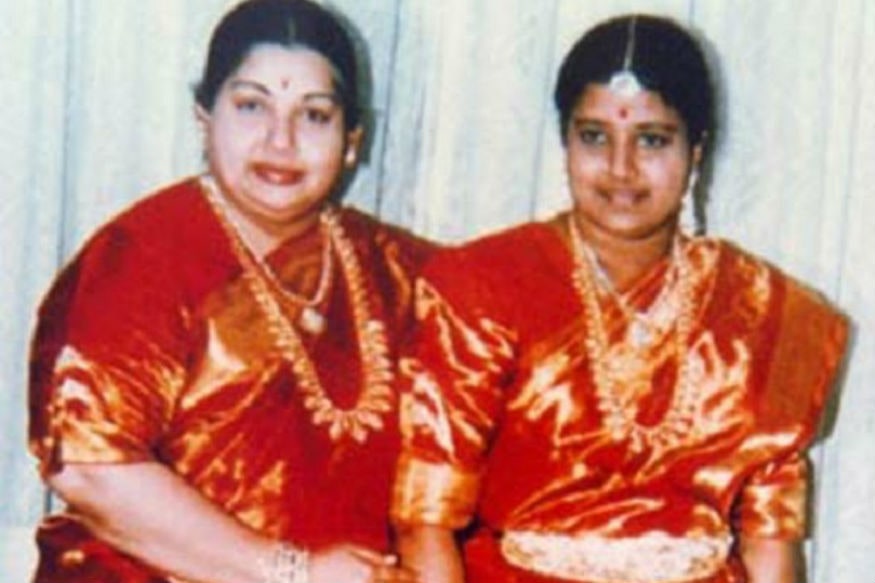 File photo of VK Sasikala (right) with Jayalalithaa.
New Delhi: When Sasikala stepped out on the day she was appointed General Secretary of the AIADMK, the change in her was hard to miss. Gone was her loose plait, near-dishevelled look. In her place was a Jayalalithaa look-alike. Well, almost. Wearing a stern bun, dressed in the party colour in an olive green saree, she almost looked like Amma or at best Chinnamma as she has come to be called.
At least from her dress sense its clear Sasikala wants to step into Jayalalitaha's shoes. She wants it reminded to people that she was Amma's constant companion and she is carrying on from her. It's also clear that, for now, it suits Sasikala politically to remain in Amma's shadows for some time.
Sasikala is not alone in this. She is following a fad which has been picked up by many. And for a reason.
Take Sonia Gandhi for instance. She took to politics in the backdrop of huge cynicism and even some opposition from the party. Sharad Pawar had walked out, forming the NCP against her foreign-origin issue. Sonia had to prove her Indian-ness. Dressing like Indira Gandhi was one way of doing it. Sources close to her said that, like Indira, Sonia understood the value of connecting with people through power dressing. Indira had perfected the style of dressing as per the state and region she visited; something which Sonia, too, has perfected.
ALSO READ: After Series of 'Outsiders', Sasikala to be first Tamil CM in 29 Years
By dressing like Indira and walking briskly like her mother-in-law, Sonia wanted people to see Indira in her. And much as Priyanka may deny and want to downplay it, the fact is that she, too, wants the constant comparisons with grandmother Indira to stay. She told Network18, "I am taller than my grandmother was. So I wear her sarees but join two of them so that it fits me."
The Gandhis are not the only ones. Mayawati, too, took over from Kanshi Ram and in a then largely male-dominated UP political scene, she was forced to downplay her feminity. Gone were her long tresses and flashy suits. She chopped her hair, donned a no-nonsense style and stuck to various shades of pink.
Ajoy Bose, who has written a biography of Mayawati, says, "She is conscious of herself as the leader of a particular community she represents." One can, however, occasionally spot Mayawati's concession to feminity in the shawls she wears at times.
ALSO READ: Sasikala as CM: Growing Shadow of 'Mannargudi Mafia'
But why just women politicians. Many male politicians, too, have adopted a particular style of dressing to portray an image. Like Jawaharlal Nehru who popularised the Nehru jackets.
One of the first who comes to mind is Rajiv Gandhi. A simple pashmina draped over one shoulder became Rajiv's signature style. His sports shoes is what son Rahul has copied. But instead of shawls, Rahul has taken to wearing bomber jackets. And similar dressing style by Akhilesh Yadav on the day of their joint press conference cannot be missed. Youth, UP ke ladke: that's the image it seeks to present.
And how can one leave out Prime Minister Narendra Modi, who is known for his sartorial sense. In his first Independence Day speech, the sight of Modi in a bright bandhini turban in the backdrop of the sprawling Red Fort cannot be missed. He may have been the target of Congress and Rahul Gandhi over his impeccable dress sense, but the fact is that Modi wants to leave behind his stamp also through his clothes.
And to end with a quote by Mark Twain: "Clothes make the man. Naked people have little or no influence in society".
This perhaps best explains why netas dress the way they do. And why Sasikala wants to look like Jayalalithaa while facing some opposition as she gets ready to be the next Chief Minister of Tamil Nadu.
| Edited by: Nitya Thirumalai
Read full article
Countdown To
Elections Results
To Assembly Elections 2018 Results