GET Stock

Quotes


Seen as Semifinals to 2019, Repolling in Kairana Bypoll Reignites Demand for Ballot Papers
The argument about VVPAT system developing snag due to heat wave, failed to convince many.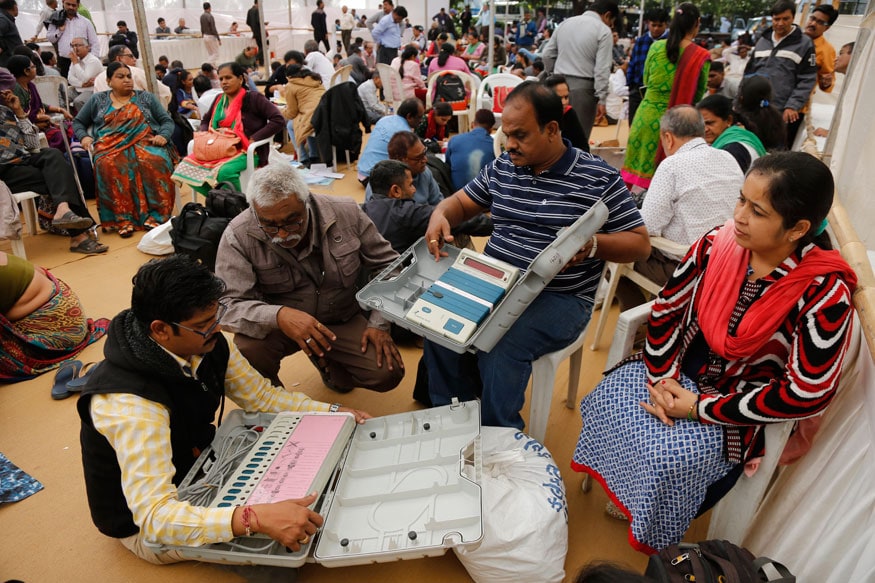 Representative image
Lucknow:
Allegations of EVM malfunctioning returned to haunt the Election Commission as four Lok Sabha seats and nine assembly constituencies went for bypolls on Monday.
Right from Kairana in western Uttar Pradesh to Palghar and Bhandara-Gondiya in Maharashtra and sole parliamentary seat in Nagaland, victory or defeat was going to be analysed as referendum on four years of Modi rule, especially in the build up to 2019 general elections.
But even before the results were out, the bypolls were marred by controversies over unprecedented complains of EVM/VVPAT malfunctioning reigniting demand for going back to ballot papers.
While murmurings in political quarters have continued about possible misuse of EVMs, the debate this time has shifted from EVM being 'faulty programmed' to suit a particular party to 'malfunctioned EVMs' being deliberately used in selected areas, with intent to deny a section of voters their voting rights.
Though in the process of secret ballot, it will not be wise to label a particular area of being conducive to a political party 'A', 'B' or 'C'.
But if we take Kairana Lok Sabha seat as a test case then allegations which had been very strongly made by joint opposition, which includes the Samajwadi Party, RLD and Congress, is that faulty EVMs were purposely used in areas dominated by Jat, Muslim and Dalit population to deny voters their right to franchise and, thereby, help the BJP.
Samajwadi Party national president Akhilesh Yadav and RLD leader Jayant Chaudhary were quick to get on social media on the polling day asking if malfunctioned EVMs were just a technical fault or a larger conspiracy.
In series of tweets, Akhilesh went on to say "Democracy is in danger".
It's a fact that such large number of cases of EVMs not working was rarely reported in previous elections.
In Kairana alone, more than 150 cases of EVMs not working were reported.
EC officials had a tough time dealing with complaints. The argument about VVPAT system developing snag due to heat wave, failed to convince many.
Akhilesh Yadav, in his press conference on Tuesday, said, "Heat wave was all across Kairana then why did EVMs in particular areas only developed snag due to high temperature."
Almost similar charges were also raised by the high powered delegation to Election Commission of India yesterday, comprising Ramgopal Yadav of the SP, Ajit Singh of the RLD and RPN Singh from the congress party.
Down in Maharashtra, it was NCP's Praful Patel who launched a scathing attack on EVMs. He questioned 'why were faulty EVMs brought from Surat to Palghar and Bhandara Gondiya'.
He further said, "It's a clear attempt to deny a section of voters of their right to vote and it's high time Election Commission go back to old system of ballot paper."
Now with EC ordering for repoll on 73 booths in Kairana and 43 in Bhandara Gondiya, opposition is seeing it as a major victory.
Samajwadi Party MLC Sunil Singh Sajan said, "I had been personally involved with party duty in Kairana and can therefore say with confidence that most of these 73 booths where repoll will take place on May 30 are areas of our strength. No doubt there was a conspiracy behind EVMs going wrong on these booths."
CPI(M)'s state council member Pradeep Sharma said, "Malfunctioned EVMs can be part of larger conspiracy to help BJP. We also have confirmed reports about how police force was also used in many areas of Kairana to prevent people from casting their vote."
Meanwhile, BJP's state General secretary and MLC Vijay Bahadur Pathak rubbished such allegations.
He said, "We have firm faith in EC and abide by its decision. The party will win the Kairana seat with a good margin."
Also Watch
Read full article