Municipal Corporations

9/10

TRS

8

INC

0

BJP

1

AIMIM

0

OTH

0
MUNICIPALITIES

115/120

TRS

97

INC

9

BJP

3

AIMIM

2

OTH

4
Refresh Data
Self-immolation by Family After Harassment by Loan Shark in Tamil Nadu Turns Political
State fisheries minister Jayakumar said the state government will take action against those loan sharks charging higher interest rates.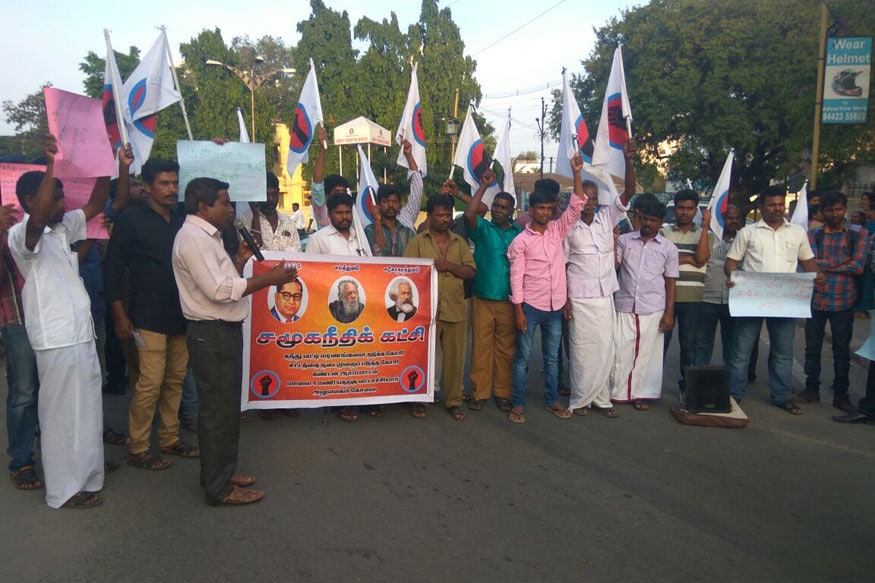 People in Tamil Nadu protesting against loan sharks.
Chennai: A day after a family of four immolated themselves outside Collectorate's office in Tirunelveli district of Tamil Nadu after being hounded by a loan shark, the issue has turned political.
Protests erupted in Coimbatore, Madurai and other districts of the state on Tuesday against loan sharks.
Meanwhile, the National Human Rights and State Human Rights Commission have sent notices to DGP, Chief Secretary, and SP of Nellai district and sought a response within four weeks.
State fisheries minister Jayakumar said the state government will take action against those loan sharks charging higher interest rates. "Anyone can complain regarding high interest rates in their respective district collector office, getting a high interest is legally wrong," he said.
DMK Working President MK Stalin lashed out at the state government on this issue. "State government should take moral responsibility for the Nellai self-immolation incident. With unfit rulers, Tamil Nadu is becoming a state which is unfit to live. The State Government should take action. Families affected because of loan sharks should be given appropriate compensation. Action should be taken against the collector and the irresponsible police officers for the Nellai suicide incident."
Other parties too blamed the Tamil Nadu government over the incident. VCK founder, Thirumavalavan, said, "Forty-seven people have died in Nellai district just because of loan shark problem. The death of the three people show that the loan shark law is not strong in Tamil Nadu. The Central and the state governments should have stringent rules for loan sharks."
On Monday, the family of four set themselves on fire in front of the Collectorate's office allegedly after being harassed by a money lender. While they were all rushed to hospital, three succumbed to injuries while the head of the family, Isakki Muthu, is critical.
Muthu had taken a loan of Rs 1.40 lakh and already paid Rs 2 lakh. Despite that, his family claims Muthu was threatened by the moneylender.
This incident comes two months after a school teacher from Tirunelveli district killed himself by consuming poison. The school teacher had borrowed money for daughter's education and despite paying the interest, he was reportedly pressurised by the loan shark.
There have been several cases like these in the recent past across Tamil Nadu. But now, collectors of different districts are giving helpline numbers for victims to seek help before taking drastic steps.
Get the best of News18 delivered to your inbox - subscribe to News18 Daybreak. Follow News18.com on Twitter, Instagram, Facebook, Telegram, TikTok and on YouTube, and stay in the know with what's happening in the world around you – in real time.
| Edited by: Ashish Yechury
Read full article