Shaky Karnataka Govt Tapping Phones of Political Leaders Over Fears of Betrayal: BJP
Karnataka government did not have belief in their own MLAs and alliance partners and was worried that leaders may "betray" them, BJP general secretary CT Ravi told reporters.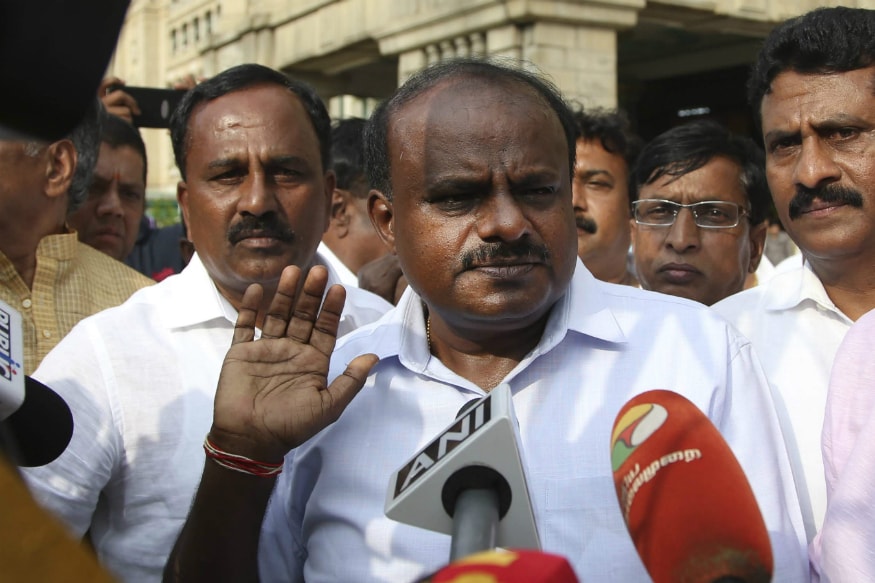 File photo of Karnataka CM HD Kumaraswamy. (AP Photo/Aijaz Rahi)
Bengaluru: The BJP's Karnataka unit on Thursday accused the HD Kumaraswamy government of tapping phones of political leaders across party lines fearing that a few disgruntled MLAs from the ruling Congress-JDS coalition may resign.
The government did not have belief in their own MLAs and alliance partners and was worried that leaders may "betray" them, BJP general secretary CT Ravi told reporters.
"According to my information phone numbers of political leaders and MLAs from both opposition and ruling side are being tapped by this government through its officials and police department," Ravi said responding to a question about reports that some MLAs from the ruling side may resign.
There were reports that some disgruntled MLAs from the Congress party were in touch with BJP, with plans to bring down the government and thereby paving the way for the saffron party to stake claim.
There was no need for BJP to make any attempts to topple the government as preparations are already on within the coalition for it, Ravi said.
"Manycoalition leaders, especially those from the Congress, are facing existential crisis," he said.
"In the state there is a daily wages government.. ministers in this government are only concerned about their day-to-day gains," he said and alleged that there was no trust and coordination within the coalition government.
Referring to reports that Kumaraswamy and former chief minister and coordination committee chief Siddaramaiah were allegedly not willing to share the stage at an event yesterday, Ravi said "this shows the level of coordination in this government."
Asked if BJP would play any role if at all the government falls, he said "we shall cross that bridge when we come to it."
On the heavy rains lashing coastal and Malnad regions of Karnataka, Ravi claimed some parts of the region have broken a 34-year-old record.
Explaining the situation in districts of Kodagu, Dakshina Kannada, Udupi, Chikkamagaluru, Shivamogga and UttaraKannada, he accused the state government of not having made enough preparations to address the situation and called it "unfortunate".
"Immediately government has to take necessary steps to address this grave situation. District in-charge ministers should camp in their respective districts and monitor the situation," he added.
Hitting out at Kumaraswamy, Ravi said the chief minister is undertaking pilgrimage as though he was not concerned about the situation.
"Let him go on a pilgrimage, it is personal, but this is not the time for it..." he said.
The senior BJP leader also requested the state election commission for the postponement of urban local body polls in the rain-affected districts.
"How can the elections be held in such a situation? Should the officials look into election work or take up relief work? So we appeal that elections in these districts be postponed....helping the needy is important than holding elections," he said.
Polls to 105 urban local bodies in the state are scheduled for August 29.
Get the best of News18 delivered to your inbox - subscribe to News18 Daybreak. Follow News18.com on Twitter, Instagram, Facebook, Telegram, TikTok and on YouTube, and stay in the know with what's happening in the world around you – in real time.
Read full article