Shankersinh Vaghela, Keshubhai Patel and Anandiben Patel: End of the Road for Old Guard in Gujarat
The election, though, marks the end of the road for a few prominent political faces, who have been integral to Gujarat over decades.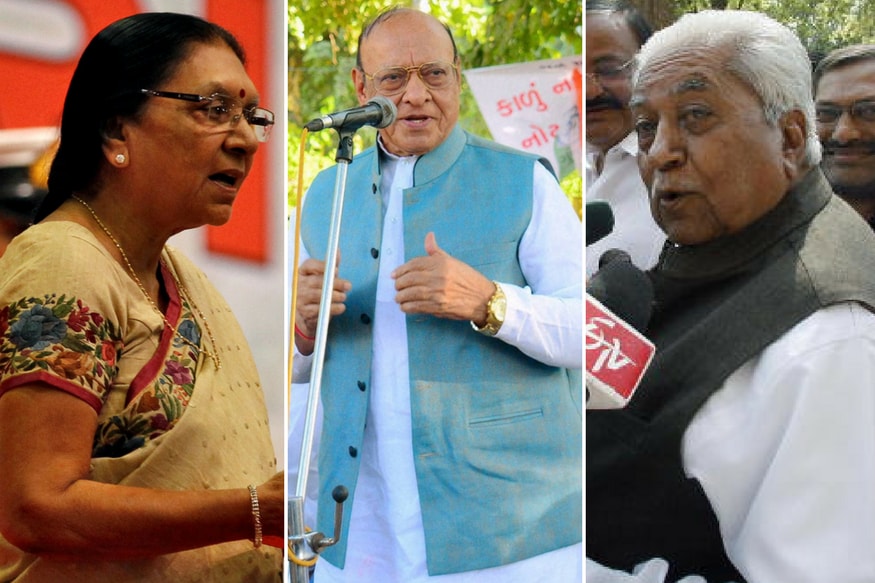 (From Left) Anandiben Patel, Shankersinh Vaghela and Keshubhai Patel.
New Delhi: After intense campaigning and crores votes being cast, the battle to choose between BJP and Congress to lead Gujarat will culminate on Monday.
The election, though, marks the end of the road for a few prominent political faces, who have been integral to Gujarat over decades.
News18 traces three of those who might not be counted as political players during the next election:
ANANDIBEN PATEL
It was on May 22, 2014, when Patel took oath as the 15th Chief Minister of Gujarat, succeeding Narendra Modi and becoming the first female CM of the state.
The fact that she would not play an active role in politics had become clear, when she expressed her desire to resign on August 1, 2016, as she was turning 75 in November 2016.
However, rumour mills were abuzz with speculations that Patel had chosen to move aside as she was not happy with the way Patidar agitation and Dalit protests were handled. She continued to hold office until her successor Vijay Rupani took over on August 7, 2016.
Patel first made headlines when she saved two girls from drowning in the Sardar Sarovar reservoir, a feat that she received the President's bravery award for.
Later, in 1987, BJP top cadre suggested to Anandiben that she join the party and was promptly handed over the post of Gujarat Pradesh Mahila Morcha President.
It is also rumoured that one of the major reasons for her to take a backseat was "differences with Amit Shah".
When the Rajya Sabha MP became BJP Gujarat Assembly Election campaign's central figure, Anandiben felt she would have no say in ticket distribution. She also wasn't invited to the BJP parliamentary board's meeting in New Delhi.
Anandiben, though, continues to battle for the cause of education and supports privatisation of education.
Recently, while addressing a gathering, she said, "People spend Rs 1000 in restaurants but when it comes to paying for their child education, it pinches them. Tell me, every state except Gujarat has private schools. People can afford to go to private institutes. When parents do not mind, why create a fuss?"
SHANKERSINH VAGHELA
The septuagenarian won his first election 35 years ago but is no more counted in the electoral race. His new political front, Jan Vikalp Morcha, fielded 100 candidates but Vaghela is not contesting and has refrained from addressing any public meetings.
After he quit the Indian National Congress, the former Chief Minister launched JVM ahead of 2017 Gujarat Legislative Assembly election. Talking to News18, he said, "When I left the Congress, I had said that I would not join any of the current parties but I never said I would leave politics. Hence, I formed the Jan Vikalp Morcha," said Vaghela.
The ex-Union Minister also wants to change the Indian political system and introduce US Presidential-style primaries here.
"Party workers should vote for their MLA or MP. I strongly feel that a Presidential form of government would be better suited for India and would give more stable governments. It will also put an end to horse-trading and the high-command culture. Another troubling factor nowadays is the level of discourse in this state. It is very saddening to hear abusive language in public," he said.
Always a crowd puller. Vaghela is known for having engineered the Rashtriya Janata Party split from the BJP in 1995, which helped him form the government.
A Kshatriya leader, Vaghela wields influence in OBC-dominated areas of North and Central Gujarat.
KESHUBHAI PATEL
Former Chief Minister Keshubhai Patel and his family too have kept away from this election. However, Patel was the most important figure in the last election wherein he projected himself as the Messiah of Patidar rights with his newly formed party, Gujarat Parivartan Party.
In 2012, Patel returned to politics after 15-odd years and tried to take on Narendra Modi.
In 2001, when Modi became Gujarat CM for the very first time, Patel had won the Visavadar seat with a commanding margin, but his party won just two out of the 182 seats. Two years later, Keshubhai merged his party with the BJP and resigned as MLA, citing age and health.
Patel was one of the founding members of BJP and had won continuous polls since 1975. In 1995, he became the first chief minister of BJP but had to soon step down, owing to a rebellion by Vaghela.
In 1998, he returned as CM but was replaced with Narendra Modi in the wake of the Kutch earthquake.
Get the best of News18 delivered to your inbox - subscribe to News18 Daybreak. Follow News18.com on Twitter, Instagram, Facebook, Telegram, TikTok and on YouTube, and stay in the know with what's happening in the world around you – in real time.
| Edited by: Aditya Nair
Read full article