As Polls Come Calling in 3 States, 'Shiv Bhakt' Rahul Gandhi to Set Off on Kailash Mansarovar Yatra
The Kailash yatra concludes on September 8 and Rahul is expected to leave as early as this week.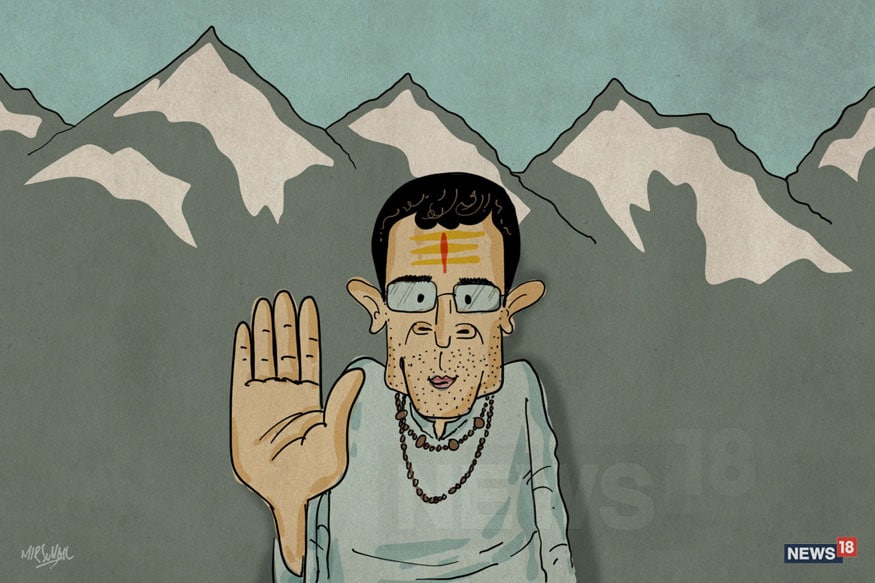 News18 Creative by Mir Suhail
New Delhi: Congress president Rahul Gandhi is likely to undertake the Kailash Mansarovar yatra at the end of this month. This is in keeping with his "I am a Shiv bhakt" sentiment. It is considered to be one of the most auspicious yatras by devout Shiv bhakts.
Rahul had first made this announcement at a jan aakrosh rally in April at the Ramlila maidan — a carefully chosen podium to make the announcement. Rahul had then said that he had decided to take this yatra after he narrowly escaped an air mishap while campaigning during Karnataka elections. His flight had gone off radar for a few minutes and the Congress blamed the BJP for not cooperating and understanding the gravity of the situation.
Rahul had then announced that he would take this yatra to thank lord Shiva.
However, MEA sources had said that he had not applied for the yatra as yatris need to be registered as the route goes through China as well. Sources say he is likely to go. Options are given for special permission and private travel agencies too organise these yatras.
Rahul is trying to send a larger message of being a devout Hindu as part of his strategy of soft Hindutva. Through Gujarat and Karnataka elections, Rahul has been seen in temples and at one time was even seen wearing a rudraksh. The party had said Rahul and his family were Janayeu dhaari.
The Congress had assessed after 2014 elections that its minority appeasement had boomeranged on them with disastrous results, hence the course correction.
In 2015 just after the Uttarakhand floods, Rahul had undertaken the Kedarnath yatra on foot to once again flaunt his Hindu credentials.
The Kailash yatra concludes on September 8 and Rahul is expected to leave as early as this week.
| Edited by: Ashutosh Tripathi
Read full article