Municipal Corporations

9/10

TRS

8

INC

0

BJP

1

AIMIM

0

OTH

0
MUNICIPALITIES

115/120

TRS

97

INC

9

BJP

3

AIMIM

2

OTH

4
Refresh Data
Lucknow:
After two days of hectic political activity, Samajwadi Party leader Shvipal Yadav resigned from the Uttar Pradesh government on Thursday evening and submitted his resignation to party chief Mulayam Singh and Chief minister Akhilesh Yadav.
Shivpal Yadav's resignation came on a day when party chief Mulayam Singh Yadav claimed that all is well within the party and the final decision on all party matters rests on him.
Read More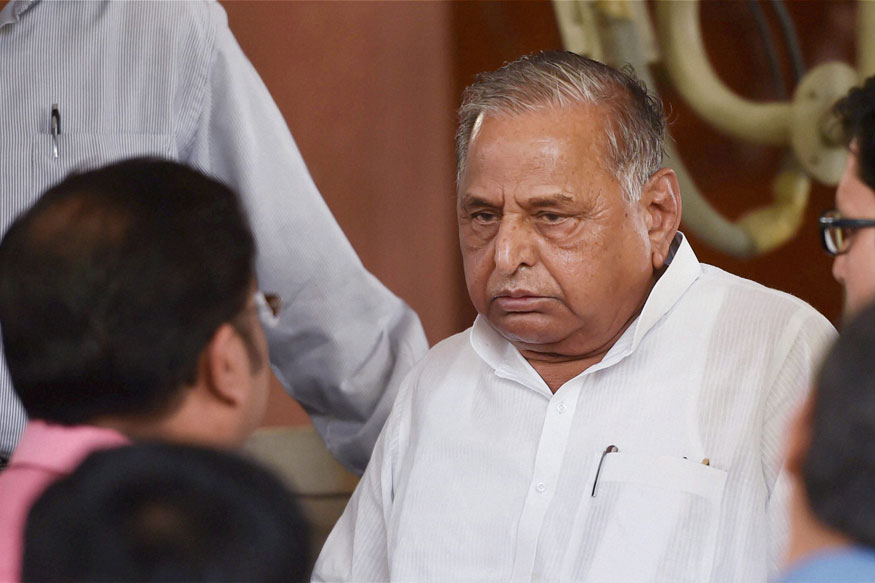 File photo of Samajwadi Party leader Mulayam Singh Yadav. (PTI)

Shivpal has resigned from all party posts and also from his cabinet positions in the UP government under his nephew Chief Minister Akhilesh Yadav.

Shivpal's wife Sarla have also resigned from the post of the Etawah District Co-operative Bank respectively.

However there is no clarity on Shivpal's son Aditya Yadav who holds the position of chairman of the UP Pradeshik Cooperative Federation.

According to ETV, Mulayam Singh and Akhilesh Yadav have both rejected the resignation of the Shivpal family.

Raj Bhawan has told CNN News18 that no resignation letter has reached the Governor.

Earlier, Mulayam had backed his brother Shivpal Yadav and said he will continue as party's state unit chief.

The SP chief, however, refused to comment when reporters asked him if Shivpal will get his ministerial portfolios back which were taken away by CM Akhilesh Yadav.

After holding a meeting with squabbling family members he sent out a message that all is well in the family and the party.

Mulayam's decision is now being seen as a big blow to son and Chief Minister Akhilesh Yadav who is reportedly upset with the decision and influence of Amar Singh over his father.

Party national general secretary Ramgopal Yadav clearly said that Mulayam was the final word in the party and everyone would abide by his decisions.

Speaking to Network18, Ramgopal said that the current rift in the party would affect its image. Without naming party MP and Mulayam's close confidante Amar Singh, Ramgopal said, "Only Netaji (Mulayam) can force Akhilesh to do things, no one else can do that. The party is getting affected by this rift."

Blaming Amar Singh for the feud, Ramgopal said "The party workers think that an outsider (Amar Singh) is one of them. Amar Singh never thinks in party's interest. He always thinks about himself. He (Amar) said he is a Mulayamwadi not a Samajwadi. Mulayam Singh should think about the people who are doing bad to the party, and those people have been identified."

Addressing the media Shivpal said that he would not comment on Cabinet portfolios and declared that he will go by Mulayam's decision.

Taking dig at his nephew Akhilesh, with whom he has a running battle, Shivpal said, "All cannot be like Mulayam Singh Yadav and all cannot be like Akhilesh Yadav. Different people have different capabilities and mindsets."

Commenting on Akhilesh's reaction, Shivpal had said that he didn't feel that the Chief Minister will react so swiftly and strongly as he did this time.

In a swift development, Mulayam had on Monday removed Akhilesh from the post of SP state unit chief and appointed his younger brother Shivpal Yadav to that post.

An hour later Akhilesh hit back at them by stripping Shivpal of all cabinet portfolios except wasteland development.

After Mulayam's diktat he may not get the portfolios back and Akhilesh may not get SP state unit chief post back till the assembly election due early 2017.

Meanwhile, a small group calling itself the Mulayam Singh fan club held a minor protest against Amar Singh in Mumbai.


25 Jan, 2020 |

Bangladesh in Pakistan

BAN
vs
PAK
136/6

20.0 overs

137/1

16.4 overs

Pakistan beat Bangladesh by 9 wickets

24 Jan, 2020 |

Bangladesh in Pakistan

BAN
vs
PAK
141/5

20.0 overs

142/5

19.3 overs

Pakistan beat Bangladesh by 5 wickets

24 Jan, 2020 |

India in New Zealand

NZ
vs
IND
203/5

20.0 overs

204/4

19.0 overs

India beat New Zealand by 6 wickets

20 Jan, 2020 |

Ireland in West Indies

IRE
vs
WI
138/10

19.1 overs

140/1

11.0 overs

West Indies beat Ireland by 9 wickets

19 Jan, 2020 |

Australia in India

AUS
vs
IND
286/9

50.0 overs

289/3

47.3 overs

India beat Australia by 7 wickets