'Hain Taiyyar Hum...': Shivpal Yadav Ready to Sound Poll Bugle Today, But Remains Silent on Action Plan
Former Samajwadi Party leader Shivpal Yadav's will take out his 'Jan Aakrosh' rally in Lucknow today.
A hoarding of 'Jan Aakrosh' rally initiated by Shivpal Yadav. The event will be held in Lucknow on December 9 (News18)
Lucknow: The state capital is gleaming with shades of red, yellow and green as another political leader is set to spark off 'wave of change' ahead of 2019 elections. From hoardings, LED vans, pamphlets and crucial phone calls, the last minute preparations are in full swing before the masses flood Ramabai Ambedkar Maidan on Sunday.
Ramabai Maidan is the same ground where six-time independent MLA from Kunda, Raja Bhaiya, launched his Jansatta party. Thousands of supporters had thronged the streets, donning yellow caps and special t-shirts on the occasion.
A week later, it's the turn of another known face of the political circle to showcase his party's strength. Former Samajwadi Party leader and party chief Akhilesh Yadav's uncle, Shivpal, will take out his 'Jan Aakrosh' rally on Sunday. The workers of his outfit, Pragatisheel Samajwadi Party (Lohia), are expecting over a lakh supporters to arrive in the city.
The party has coined some interesting taglines to attract supporters. A catchy one-liner was also borrowed from popular Bollywood movie, 'Hum', starring Amitabh Bachchan. The poster shows Shivpal waving towards and crowd with "hain taiyyar hum" (we are ready) written in Hindi. However, none of the posters or the party members clearly stated their action plan or against whom is their 'Jan Aakrosh'.
Others hoarding said: "fir thi sangharsh ki mashall, aapke liye nikal pade Shivpal" (another torch of struggle has been lit, Shivpal has set off for people's will), "chahne walo ka rela hai, Shivpal nahi akela hai" (Shivpal is not alone, he has supporters with him) and "chacha tum sangharsh karo, hum tumhare saath hain" (you continue your struggle, uncle, we are with you).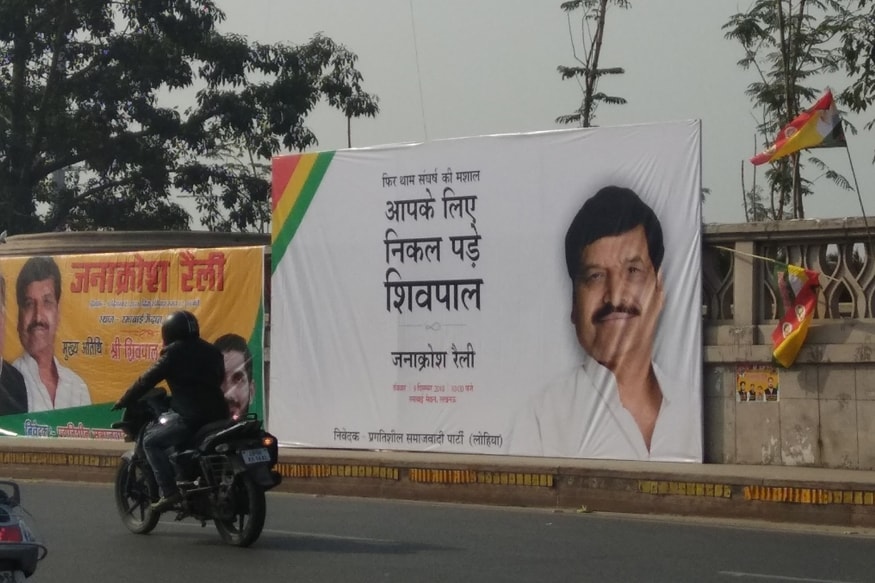 "The main agenda of the rally is to raise our voice against the jungle raj of the Bharatiya Janata Party. Our motto will be Samvidhan Bachao Samaanta Lao, which means save Constitution and bring equality. The current regime of the Yogi Adityanath is at the mercy of God with crime graph soaring at all time high," said PSPL state vice president Ashutosh Tripathi.
Tripathi said that they are expecting around 5 lakh people on December 9 from Uttar Pradesh and also from adjoining states. "We want people to know about all the good work our founder-president has done for the masses," he added.
Politically, both Raja Bhaiya and Shivpal are being seen as 'bricks in the wall, the Bharatiya Janata Party (BJP) wants to build against the grand alliance'.
Shivpal's new political party has announced that it will contest 2019 Lok Sabha elections on all seats in UP, except on the one where Mulayam will fight polls. After having differences with his nephew and SP Chief Akhilesh Yadav, Shivpal had formed a breakaway group called as 'Secular Morcha' in order to bring all the dissent Samajwadi Party leaders under one umbrella, before finally announcing a full-fledged political party of his own.
| Edited by: Sumedha Kirti
Read full article