Shivraj Reminds Rahul of 'Indian Culture' After His 'Kamal, Ice-Cream's Nice' Remark
Shivraj Singh Chouhan faulted the Congress leader for addressing Kamal Nath by his first name.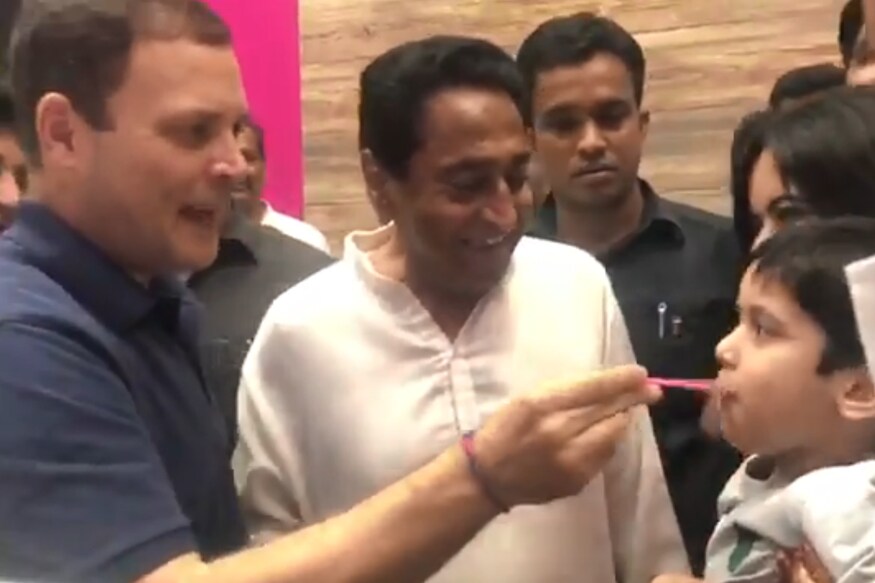 Rahul Gandhi offers an ice-cream to a child in Madhya Pradesh.
New Delhi: Madhya Pradesh Chief Minister Shivraj Singh Chouhan took exception to Congress president Rahul Gandhi addressing Kamal Nath by his first name — Kamal — during an ice-cream stopver in Indore.
After a day of campaigning, Rahul Gandhi was headed for a popular hangout, "56 Dukan", with Kamal Nath and Jyotiraditya Scindia in tow.
As Rahul was handed his cup of dessert, he spotted a boy arriving at the parlour with his parents. "Hello! Ice-cream logey? (want an ice-cream)" he asked the child. The child was happy to oblige and the Congress leaders were seen smiling.
Subsequently, Rahul also asked Kamal Nath, Madhya Pradesh Congress chief, to try the ice-cream. "Kamal, ice cream bohat achi hai tum bhi khao (Kamal, ice cream is really nice, you should have it too)," said Rahul.
Shivraj Singh Chouhan faulted the Congress leader for addressing Kamal Nath by his first name.
"Kamal Nath has worked with his father (Rajiv Gandhi). Is this Indian culture to address a man of 70-75 years by his name?" Chouhan was quoted as saying by news agency ANI.
Meanwhile, Chouhan's son Kartikey has filed a criminal defamation case against Rahul for claiming his name featured in Panama Papers.
In his defence, the Congress president said the remark was a result of confusion owing to the scale of corruption in the BJP.
"BJP mein itna bhrashtachaar hai ki main kal confuse ho gaya tha. Madhya Pradesh ke CM ne Panama nahi kiya unhone to e-tendering aur vyapam scam kiye hain (There is so much corruption in the BJP that I got confused. The Madhya Pradesh CM has not done Panama but he has done e-tendering and Vyapam scams)," said Rahul clarifying his remarks.
The BJP, aiming to win a fourth term in Madhya Pradesh, used Gandhi's 'confusion' to ramp up its attack on the Congress.
"After Rahul Gandhi made allegations against me and my son, media asked him for proof. However, he said that he got confused. If you will keep getting confused like this, then how will you run the country?" Chouhan said.
Get the best of News18 delivered to your inbox - subscribe to News18 Daybreak. Follow News18.com on Twitter, Instagram, Facebook, TikTok and on YouTube, and stay in the know with what's happening in the world around you – in real time.
| Edited by: Ashutosh Tripathi
Read full article