Shivraj Chouhan vs Kamal Nath: MP Assembly Elections Could Redefine Careers of Two Old Warhorses
Poles apart in the political route they have undertaken in their careers, Shivraj Chouhan and Kamal Nath are now pitted against one another in an electoral fight that will define their future course of action.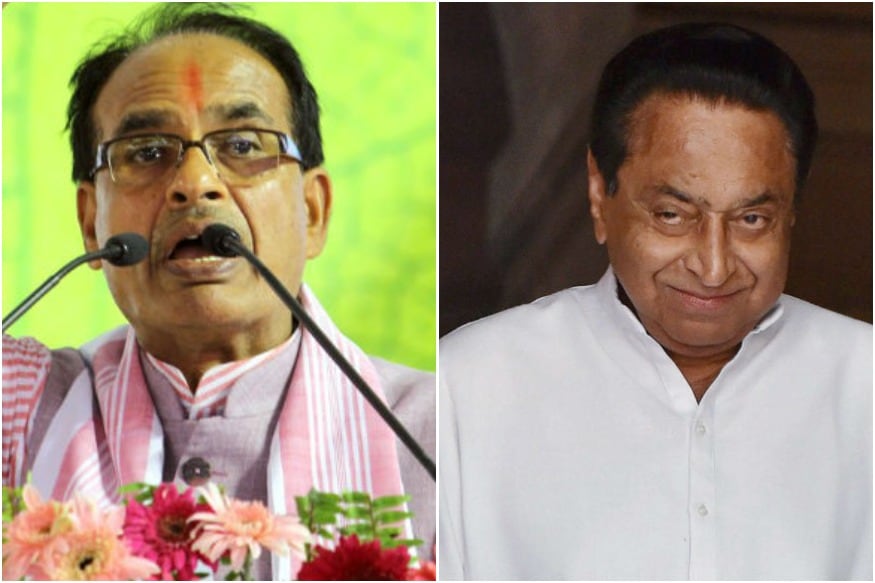 File photos of former Madhya Pradesh CM Shivraj Singh Chouhan and his successor Kamal Nath.
Bhopal: A virtual semi-final before the mega showdown in the 2019 Lok Sabha polls, the Madhya Pradesh Assembly elections are being billed as the turning point for two of the principal characters: three-time Chief Minister Shivraj Singh Chouhan and Congress state president Kamal Nath.
Poles apart in the political route they have undertaken in their careers, they are now pitted against one another in an electoral fight that will define their future course of action.
Nath, who will turn 72 on November 18, has served the Congress organisation in various capacities and has held key ministerial portfolios in the last few decades. Born in Kanpur, he is an alumnus of the prestigious Doon School and is the man steering the Congress ship in the party's endeavour to snatch power from the BJP, which has been at the helm for 15 years.
Yet, the veteran Congressman is not certain of being allotted the coveted CM's post, if the Congress comes to power, as Jyotiraditya Scindia is also in the race. Also at stake is Nath's aura of invincibility, thanks to his nine wins from Chhindwara parliamentary constituency that began in 1980.
While CM Shivraj calls himself the son of a farmer who rose through the ranks all the way to the top post in Madhya Pradesh, Nath was more of a corporate man who ventured into politics after inspiration from his friend Sanjay Gandhi. In spite of his best efforts, he could not shed his 'corporate' tag, which still gives the BJP ammunition to attack him.
Unlike his predecessors in the MPCC, Nath has the company of veterans such as Digvijaya Singh and young turks such as Jyotiraditya Scindia and Arun Yadav. Still, many believe, a win or defeat in 2018 assembly polls would be registered in his personal account.
On the contrary, armed with his son of the soil image, Shivraj is standing alone, riding on his persona. Though he is backed by the strong and disciplined army of RSS swayamsevaks, most of the party seniors are there only in supporting roles.
Shivraj started his political career from the grassroots whereas Nath had started his political innings in the patronage of the Gandhis, the first family of the Congress party.
Senior journalist Rasheed Kidwai narrates an incident of 2004 when then CM Uma Bharti had fielded Prahlad Patel to shatter Nath's fortress Chhindwara. "As show of strength, Patel convened a rally of bikes and jeeps. After knowing about the rally, Nath asked the scribes to go and tell Patel: 'Ask him not to waste his money. If anyone owns a jeep in Chhindwara, he is personally known to me."
It's yet to emerge how much of this immaculate poll management Nath could implement once he ventures into 230 assembly segments, said Kidwai.
For Shivraj, the 2018 assembly polls are an acid test. Kidwai says in 2008, the CM took advantage of the flawed leadership of then MPCC head Suresh Pachauri while in 2013 he gained from the Modi wave. The BJP had announced Narendra Modi as its PM candidate by the time the state went to polls last time.
"A win could definitely send him right into the league of PM Modi, if not on a par with him, and a defeat would affect his stature in MP as well as nationally," added Kidwai.
Echoing similar views, senior political journalist Manish Dixit affirmed it was a crucial election for Kamal Nath as a win would bolster his stature. Dixit, however, opined that the blame of a defeat might not rest entirely on Nath as he is leading the campaign along with Digvijaya Singh and Jyotiraditya Scindia. In case of Shivraj, it's a one man show so in case of defeat, he would have to shoulder the entire blame, claimed political analyst Girija Shankar.
He said unlike in other states, it's not PM Modi versus Rahul Gandhi and the polls are contested on CM Shivraj's name while for Kamal Nath, it definitely is a crucial opportunity as despite his proximity to the Gandhis and being the senior-most Congress MP, he had few chances in his career.
In case the Congress returns to power, many believe Nath could emerge as the frontrunner. "With age not in his side, a defeat could sideline him in party affairs, especially in Delhi," Shankar added.
Whatever might be the outcome on December 11, it's for sure that the results will alter political equations in both the BJP and the Congress in Madhya Pradesh, and in Delhi as well.
Get the best of News18 delivered to your inbox - subscribe to News18 Daybreak. Follow News18.com on Twitter, Instagram, Facebook, Telegram, TikTok and on YouTube, and stay in the know with what's happening in the world around you – in real time.
| Edited by: Mayur Borah
Read full article