GET Stock

Quotes


Siddaramaiah is Power Hungry, He Might Go With BJP if Mandate is Fractured, JDS Won't: Deve Gowda
Speaking to News18 about Karnataka Assembly elections, H D Deve Gowda said that his party JDS was in the fray to win on its own and not to play second fiddle to the Congress or the BJP.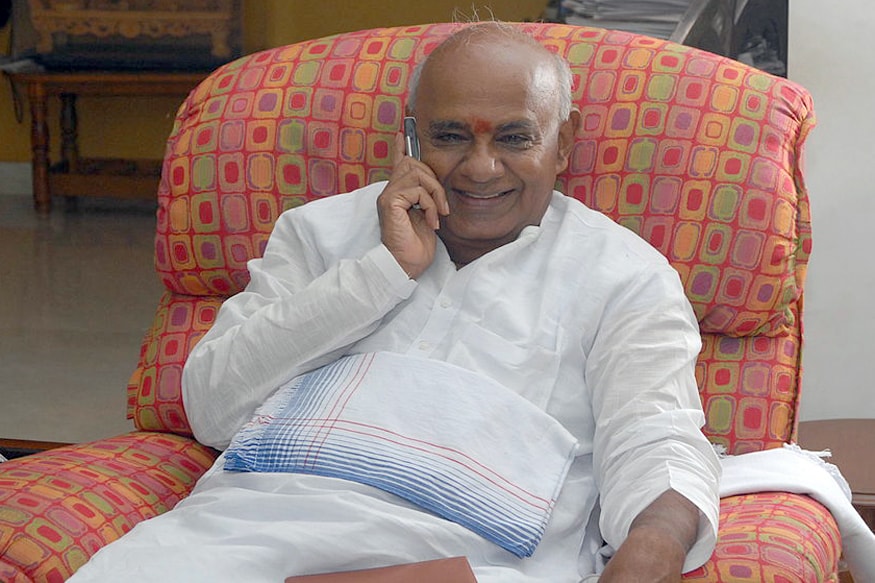 File photo of Janata Dal (Secular) chief HD Deve Gowda. (Getty Images)
Bengaluru:
The grand old man of Karnataka politics and Janata Dal (Secular) supremo H D Deve Gowda has stunned the ruling Congress and the main opposition BJP by declaring candidates for 126 Assembly seats last Saturday. The JDS is known for delaying the announcement of candidates till the last minute and Gowda has changed that this time.
He has also tied up with Mayawati's BSP and Sharad Pawar's NCP. Of the remaining 98 seats, Gowda will share 40 with the BSP and the NCP. The names of the JDS candidates for 58 constituencies will be announced soon, he said. Karnataka Assembly has 224 seats.
A former Prime Minister and Chief Minister, 84-year-old Gowda claim that this is going to be his last election and hopes that the people of Karnataka will vote for the JDS. He has been a member of the Assembly or Parliament for the past 56 years and has won 14 elections (seven Assembly and seven Parliament polls). A rare feat he shares with former Himachal Pradesh Chief Minister Virbhadra Singh.
Speaking to News18 about Karnataka Assembly elections, Gowda said that his party was in the fray to win on its own and not to play second fiddle to the Congress or the BJP. Firmly ruling out a post-poll alliance with either of the two national parties in the event of a hung Assembly, he said, "Siddaramaiah is a power hungry politician. He will go even with the BJP. But we will sit in the opposition".
You are the first one to declare candidates even before the Election Commission comes out with the poll schedule. What prompted you to do this? Because JDS is not known for such things?
H D Deve Gowda
– This time the situation is different. This election is extremely important for us and the people of Karnataka. We are fighting two cash-rich parties — the Congress and the BJP. We are a poor party. We can't fight their money and muscle power. Not even their propaganda. We are going to fight methodically. We are ready with our strategy. One more thing is coming together of non-Congress and non-BJP parties. To prevent splitting of these votes, I have tied up with the BSP and the NCP. This time we are a formidable force. Nobody can take us lightly.
Do you think that BSP will get you Dalit votes?
Certainly. Mayawati is a very tall Dalit leader in India today. She is their icon. She happily agreed to be our partner in the fight against two corrupt powerful parties. Both the Congress and the BJP are anti-Dalit parties and use them as vote bank during elections. Dalits are happy with our alliance. Over eight lakh people attended our joint rally last week. We are organising one more mega joint rally in Mumbai–Karnataka region. The BSP will open its account in Karnataka this time.
Your critics say you have tied up with Mayawati to eat into Congress votes which may actually help the BJP?

Nonsense. I never do such things. Both are our political rivals. I maintain equidistance from both. Why should we help the BJP? For what?
In case, the election throws up a hung Assembly like 2004, will you go with one of the two parties?
Never. We are here to win on our own strength. If we get a fractured mandate, we will sit in the opposition. Worse we may opt for fresh polls as my son and our CM candidate H D Kumaraswamy has already said. We will never go with the Congress or the BJP. Chief Minister Siddaramaiah might go even with the BJP, if he can't get the majority. He is a power-hungry politician. He will do anything for power. He has no principles in life. But I am not like him.
But, you always change your stand after the election? It has happened in the past.
This time is different. Do you think that Mayawati and Sharad Pawar will go with the BJP? No way. I am also against it.
Isn't Siddaramaiah your one time blue-eyed boy?
Yes, he is. I made him what he is today. I made him deputy chief minister, not once, twice. He betrayed me later. He joined the Congress which he had earlier abused in the filthiest language. People know everything. His government is the most corrupt and the dirtiest in the history of Karnataka. He will be defeated this time. He is power drunk and thinks that he can win. But the people are against him.
How is your relationship the Congress high command? Now that Rahul Gandhi is the president.
I have nothing to do with the Congress. I maintain a cordial relationship with all. Politics is different.
What about the BJP? Do they have a chance?
The BJP has no chance. They are also corrupt. The five-year BJP rule was horrible. They looted the state with impunity. Did not their CM face Yeddyurappa go to jail for corruption? That too for taking a bribe in cheque. People don't trust the BJP. My party made Yeddyurappa deputy CM. He used that to become CM later. We have already apologised to the people for going with the BJP.
Prime Minister Narendra Modi is leading the campaign this time. What do you have to say about this?
He is their tallest leader as of now. Naturally, he leads the campaign. But his popularity is also on the wane. They won Gujarat with a great difficulty and were decimated in Rajasthan by-polls. Too many scams and the economic crisis have also compounded their problems. If you ask me every Prime Minister has contributed to the growth of India. That includes me too. India has not been built in a day or two.
In the past, political polarisation started with Karnataka. Is it a sign of third front parties coming together once again ahead of the 2019 Lok Sabha elections?
To fight the Congress and the BJP, we must come together. Together we have 40% votes in the country. Reemergence of the third front is a good thing. You can call it whatever third front or force etc.
You are now 84 years old and have been a member of state Assembly or Parliament continuously for the past 56 years. Will you contest again in 2019?
My health is not permitting me to travel a lot and address too many public meetings. My life is full of struggle. I have gone through a lot of suffering in my political life. I personally don't want to contest again.
| Edited by: Puja Menon
Read full article
Countdown To
Elections Results
To Assembly Elections 2018 Results