GET Stock

Quotes


Siddaramaiah's Double Trouble: Will He, Won't He Contest From Badami?
According to state Congress leaders, Rahul Gandhi has asked Siddaramaiah to make up his mind by evening as the nominations close on April 24.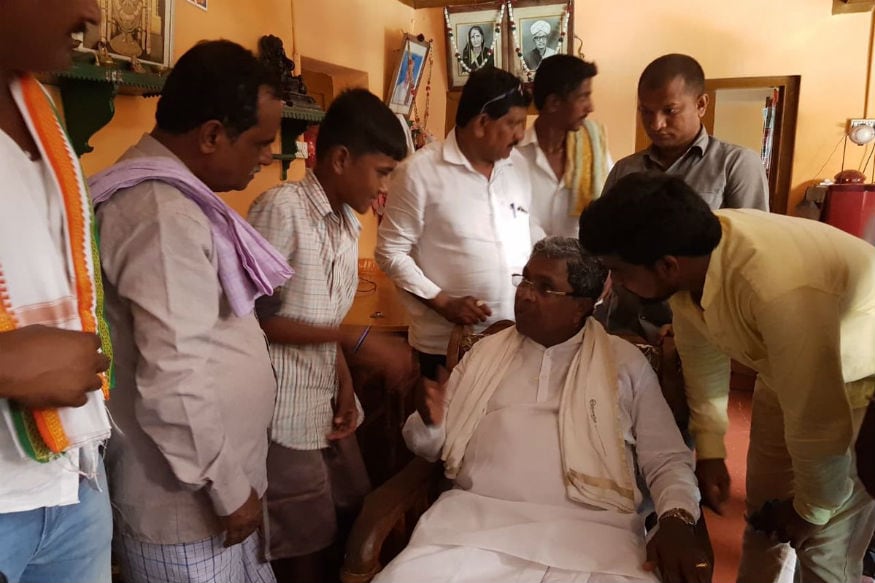 Karnataka CM Siddaramaiah as seen during his campaign tour in the state.
Bengaluru:
Chief Minister Siddaramaiah is facing perhaps the trickiest situation in his entire political career. His decision to contest from Badami as well in the Mumbai-Karnataka region has divided the ruling Congress and the party chief Rahul Gandhi is yet to make up his mind on fielding him from two seats.
After declaring that he would not be contesting from Badami, Siddaramaiah seems to have changed his mind. On Thursday, he assured Congress workers from Badami that he would contest from there as well.
A few minutes later, in a U-turn he told the media that he would be contesting only from Chamundeshwari in Mysore district. He filed his nomination from Chamundeshwari on Friday.
The Congress has declared the name of Dr Devaraj Patil for Badami. But it has withheld his nomination form fearing speculations that Siddaramaiah might contest from there at the last minute.
The sitting MLA of Badami B B Chimmanakatti has threatened the CM that either he contest from there or the ticket should be given to him instead of Devaraj Patil.
Chimmanakatti has even told party leaders that he may commit "suicide" if the ticket goes to Patil. On the other hand, Patil has also threatened the party that the ticket should be given only to him if the CM decides not to contest from Badami.
Local Congress leaders, including Water Resources minister M B Patil, are requesting Siddaramaiah to contest also from Badami. Speaking to News18, he said Siddaramaiah's contest will enthuse the party cadres in that region helping the Congress to win more seats from there.
Siddaramaiah's well-wishers in Mysore are also persuading him to contest from Badami keeping in the mind the hostile atmosphere in Chamundeshwari.
Siddaramaiah has earlier won five times from Chamundeshwari before shifting to neighbouring Varuna in 2008.
He has now vacated Varuna for his son Dr Yatheendra.
Chamundeshwari is currently held by G T Deve Gowda of the JDS and the Gowdas are pulling out all stops to defeat Siddaramaiah there.
The JDS state chief H D Kumaraswamy has already campaigned across Chamundeshwari for three days vowing to defeat the CM.
The BJP is considered a weak party in Chamundeshwari and the Congress claims it has entered into a secret pact with the JDS to defeat Siddaramaiah.
The BJP is yet to declare its candidate for Chamundeshwari.
This semi-urban constituency has 72,000 Vokkaliga and 40,000 Veerashaiva/Lingayat votes. A combination of these two castes can spell doom for Siddaramaiah, argue political experts.
But the local Congress leaders counter that saying over 60% voters are from Siddaramaiah's AHINDA and they will back him.
Badami, the capital of ancient Chalukya empire, is a Kuruba dominated seat and the CM feels that it will be much easier to win from there.
Siddaramaiah is a Kuruba by caste. They comprise 7% of the total population in Karnataka.
The internal surveys commissioned by the party also favour Siddaramaiah contesting from two seats, claims one of his close aides.
According to state Congress leaders, Rahul Gandhi has asked Siddaramaiah to make up his mind by evening as the nominations close on April 24.
At the same time the party fears that it may generate negative publicity for the CM and the Congress if he chooses to contest from two seats.
The BJP and JDS have already termed it as an act of cowardice on Siddaramaiah's part.
| Edited by: Ashutosh Tripathi
Read full article
Countdown To
Elections Results
To Assembly Elections 2018 Results