Sidhu Made Captain Imran Happy in Kartarpur, But Captain Amarinder is Not Amused
Sidhu's bottomless appetite for applause led him to steal the show earlier this week at the ground-breaking ceremony of the visa-free Kartarpur Sahib corridor for Sikh pilgrims, between Dera Baba Nanak and Kartarpur.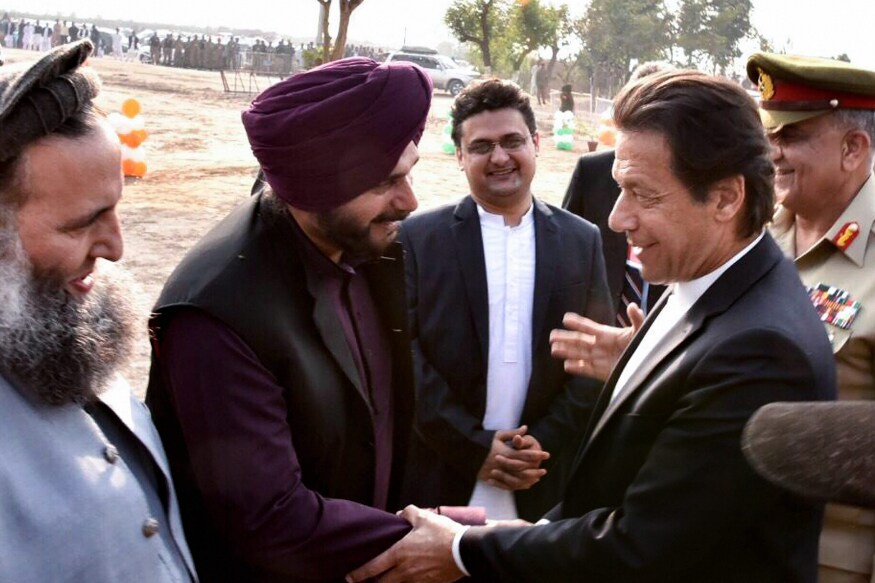 Imran Khan shakes hands with Navjot Singh Sidhu during ground breaking ceremony for Kartarpur corridor. (PTI Photo)
New Delhi: The Sardar of Swag has given the Congress campaign a lift, flashing his Sikhpack of rib-ticklers and training his double-barrelled pun-guns on the BJP. Navjot Singh Sidhu's rapid-fire gags shredded the BJP's complacency, as he took his joker-naut from state to state. The lotus forces have no answer to Turbanator 2.0.
Not everybody is laughing, though. His majesty, the Maharaja of Patiala, is not amused. Union ministers Harsimrat Kaur Badal and Hardeep Singh Puri are downright glum.
Sidhu's bottomless appetite for applause led him to steal the show earlier this week at the ground-breaking ceremony of the visa-free Kartarpur Sahib corridor for Sikh pilgrims, between Dera Baba Nanak and Kartarpur.
It's not cricket, howled humourless foreign policy analysts, as Sidhu appeared bowled over by his "yaar dildaar Imran Khan". He seemed to forget they were meeting on a quite different pitch. As a result, Team Imran walked away with PR points, leaving Team NDA stumped. When Imran invited him to contest elections from Pakistan, wicket boy Sidhu should've recalled his own witticism, "Beware the naked man who offers you his shirt".
If Captain Imran was pleased with Sidhu, Captain Amarinder was not. The Punjab chief minister had refused Pakistan's invitation to attend the foundation-stone ceremony, while its Army was going all Osama bin Laden on Indian soldiers. He advised Sidhu not to attend, but Naughty Navjot went anyway.
The royal ire was shared by the Centre, which was already huffy over Sidhu's buddy-fest in Pakistan earlier this year, at the swearing-in of his old cricketing pal-turned-PM. Looking for an Instagrammable moment in Islamabad, he decided to steal ex-pal PM Narendra Modi's trademark jhappi. A head of state wasn't available, so he settled for the next best – or even better—thing: Pakistan Army Chief Qamar Javed Bajwa.
The Captain, a doughty old soldier, was incensed: "It was wrong for him to have shown the affection towards the Pakistan Army Chief at a time when our soldiers are being martyred". The saucy surd, who was later rapped on the knuckles by aunty Sushma, dismissed the hug as a spur-of-the-moment thing.
When he followed it up with a declaration that he could relate more to Pakistan than South India, it was too much for the BJP. Spokesperson Sambit Patra advised Sidhu to join Team Pakistan (perhaps as minister for happiness?). But the clown-prince's votaries claimed his hug had melted barriers to Kartarpur.
Sidhu's boss may regard him as a buffoon and an annoying imposition, but the Congress (outside Punjab) thinks he's a jolly good fellow. At the Congress plenary session earlier this year, his fulsome flattery of 'asardar sardar' Manmohan Singh won a laugh from her inscrutable majesty, Sonia Gandhi. The ex-PM responded with an embarrassed twitch of the lips, possibly suspecting a tongue-in-cheekism.
Savvy Congress satraps unleashed their yappy-happy, loose-lipped cannon on the BJP in the Assembly elections. His political comedy tour hit the campaign trail, garnering more guffaws than Rahul Gandhi's faux pas. The rhymester's catchy 'Modi lehar-kehar-zahar' slogan caught on.
The BJP can't say it wasn't warned. Sidhu had joined the party in 2004, with a murder case hanging over his head. A road-rager before he became all the rage, he had beaten up a 65-year-old (who dropped dead on the spot) but went on to beat the rap. His cricket commentary and counter-capers with Kapil Sharma kept India in splits, even as he threw a mighty sulk after falling out with the Badals in 2009.
When the BJP refused to break off the alliance with the Akali Dal, he chose to break up with the BJP. After a brief flirtation with the Aam Aadmi Party, he joined the Congress. Now the gloves were off because, as Sidhu said, "a cat with gloves catches no mice".
The Azad Hind Yuva Congress' claim that Sherry paaji has turned the Congress wave into an aandhi, may be overstated. But in a sour and humourless political scenario, much the poorer for Lalu Yadav's absence, Sidhu's earthy (if sometimes crass) witticisms are crowd-pleasers. He may not be able to tell a news conference from stand-up comedy show, but he knows how to work an audience. Surely, a country where the Supreme Court is petitioned to censor sardar jokes can do with a jocular sardar?
Under the gag-artistry, he is a canny politician, who knows when to switch bandwagons. Lovey-dovey with the Congress first family in general and Priyanka Vadra in particular, he's trying to build a constituency in Punjab right under the Captain's nose. But he may not have the last laugh and end up as @sherryontop. To quote an enduring Sidhuism, "Wickets are like wives, you never know which way they will turn".
(The author is a serious journalist. All views are personal)
Get the best of News18 delivered to your inbox - subscribe to News18 Daybreak. Follow News18.com on Twitter, Instagram, Facebook, Telegram, TikTok and on YouTube, and stay in the know with what's happening in the world around you – in real time.
Read full article