GET Stock

Quotes



How it Was Game Akhilesh From the Beginning
Uttar Pradesh chief secretary Deepak Singhal was on his way to the Noida Development Authority office to preside over the signing of an MoU when his mobile phone rang. The caller from Lucknow delivered a terse message to the 1982 batch IAS officer. That the chief secretary has been sacked with immediate effect by Chief Minister Akhilesh Yadav.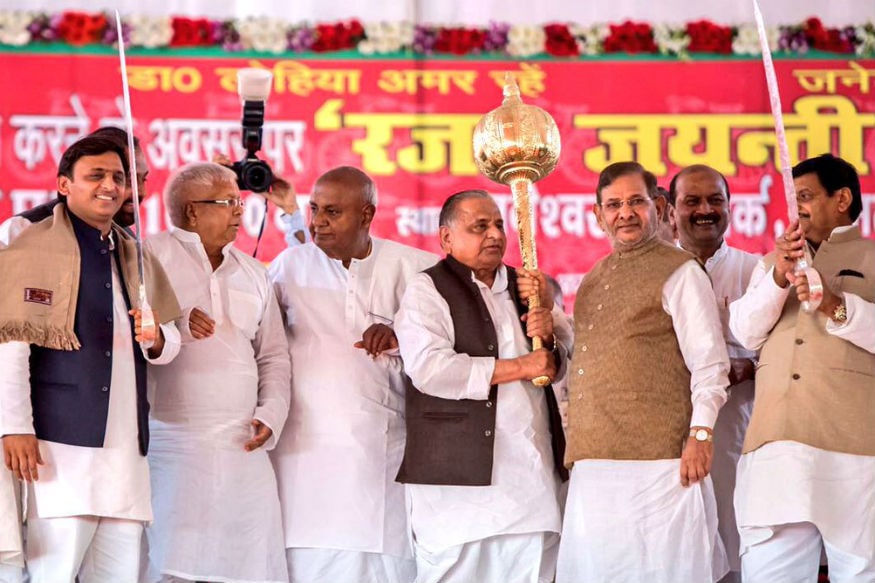 Uttar Pradesh Chief Minister Akhilesh Yadav, Samajwadi Party state President Shivpal Yadav along with other leaders during 25th Anniversary celebrations of the party in Lucknow.
Uttar Pradesh chief secretary Deepak Singhal was on his way to the Noida Development Authority office to preside over the signing of an MoU when his mobile phone rang. The caller from Lucknow delivered a terse message to the 1982 batch IAS officer. That the chief secretary has been sacked with immediate effect by Chief Minister Akhilesh Yadav.
Within two months of being appointed to the top post in the CM secretariat, Singhal who has earlier worked closely with Irrigation Minister and Mulayam Singh Yadav's younger brother Shivpal Yadav had been summarily shown the door.
The battle for succession in the Samajwadi Party had begun.
Over the next two months, in Lucknow and outside, one of the most bitterly contested political battles for inheritance would be fought between chacha Shivpal Yadav and bhateeja Akhilesh.
A battle in realpolitik where winner takes all.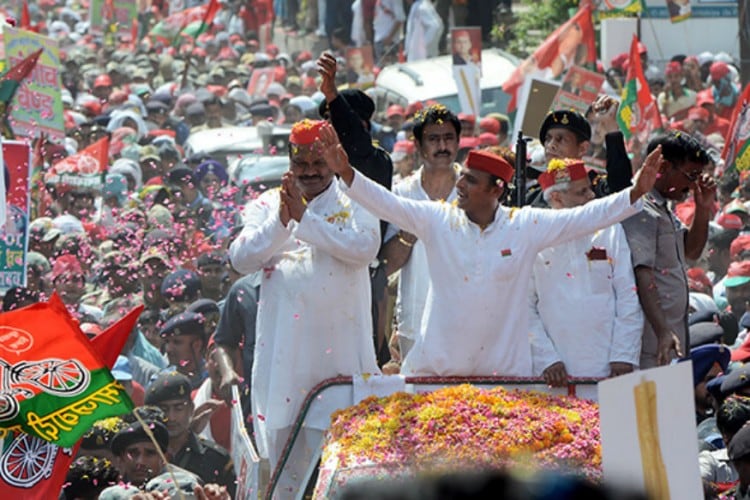 Uttar Pradesh Chief Minister Akhilesh Yadav during a public rally in Lucknow
At the Samajwadi Party parliamentary board earlier this year, Mulayam Singh Yadav walked in with an A4 sheet in hand. Scribbled on it were names of party's nominees for the upcoming Rajya Sabha polls. Putting on his reading glasses, Mulayam slowly read out from the paper. Beni Prasad Verma, Reoti Raman Singh....and then the patriarch dropped the bombshell. Amar Singh.
Senior leader and party's Muslim face Azam Khan walked out of the meeting. Mulayam's cousin and party leader in Rajya Sabha Ram Gopal Yadav was the only one to raise objections. But Mulayam stood firm. He had taken the call, and there will be no changes. The other three present in the room, Shivpal Yadav, CM Akhilesh Yadav and General Secretary Kironmoy Nanda remained silent.
Minutes later a beaming Shivpal Yadav in a crowded press conference at party headquarters in Lucknow read out the list prepared by netaji.
Amar Singh had returned to SP after six years in exile.
Shivpal had drawn first blood.
But the uneasy power balance, both in party and government had been disturbed.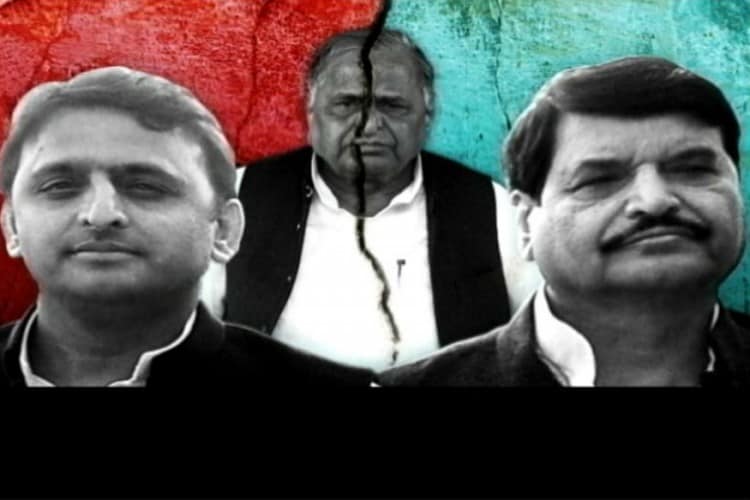 While carefully crafting the political career of Akhilesh since 1999, Mulayam Singh Yadav has followed a thumb rule: never appear to be pushing for his son. When he made Akhilesh enter electoral politics, Mulayam got senior SP leader Janeshwar Mishra to propose Akhilesh's candidature for Kannauj by-polls in 1999. In 2012, when SP won a full majority government for the first time, the pehelwan from Etawah instead got cousin Ram Gopal to propose Akhilesh's name for the CM's post while Shivpal wanted Mulayam to take charge and mentor the son. It is another matter that the younger brother was himself a contender.
But Mulayam Singh Yadav compensated brother Shivpal for the loss– his comrade in the rough and tumble of state politics- with 12 portfolios. All cash-rich ministries from PWD to Irrigation went to Shivpal. And over the next four years, Shivpal used his office to build a powerful group of loyalists in every district; and also in the legislature party. To his supporters and even otherwise, he was accessible, and he delivered. Even opposition leaders in Lucknow would vouch for that.
Then there were other senior ministers and contemporaries of Mulayam in Akhilesh cabinet, like Azam Khan, who were independent islands in a complicated power matrix. Within bureaucracy, those loyal to Mulayam and occupying key positions like Anita Singh held their own sway.
Slowly the chief minister of politically most significant state started acquiring an image of being a pushover. The joke in Lucknow was that UP had four and a half CMs: Mulayam Singh, Shivpal, Ram Gopal and Secretary to CM Anita Singh; with Akhilesh just managing to get himself squeezed into the remaining space.
In June this year, Amar Singh's entry further complicated the matter.

Amar Singh offering sweets to Shivpal Yadav (left)/File Photo
The second coup which Shivpal could manage after Amar Singh's return was getting Deepak Singhal appointed as chief secretary of the state. Singhal had worked closely with Shivpal in the Irrigation department as principal secretary for nearly four years.
Akhilesh had reservations about Singhal, but he did not make his opposition public.
Just two days before his sacking in September, there was a grand party at a five star hotel in Delhi. Amar Singh was the host, and the reception was to felicitate media magnate Subhash Chandra on his victory in the Rajya Sabha polls.
Both Mulayam Singh and Shivpal attended the gala event. Akhilesh gave it a miss. But his chief secretary, Deepak Singhal did not.
It is said that a conversation, and what transpired that evening, was reported to the CM in Lucknow.
The first to face Akhilesh's wrath were Gayatri Prajapati and Rajkishore- the two ministers facing allegations of corruption.
The next day, the chief minister issued the marching orders to his chief secretary.
Akhilesh Yadav has all along maintained that all these decisions were taken with due consent from Mulayam Singh Yadav!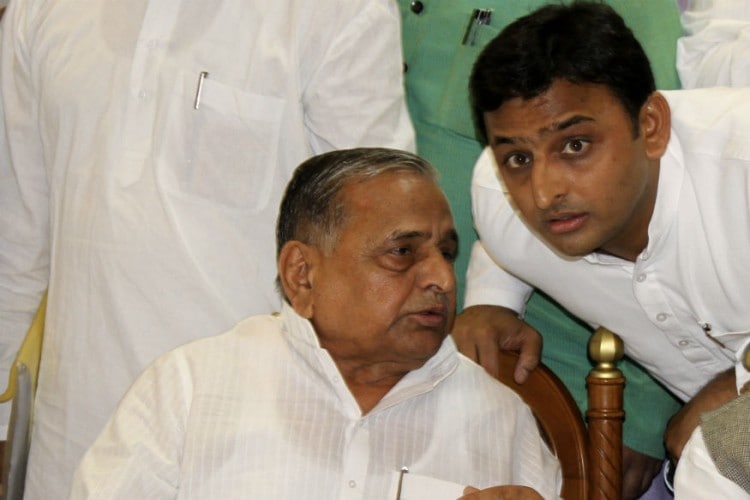 Akhilesh Yadav and his father Mulayam Singh Yadav during a public function in UP
Mulayam Singh Yadav was in Delhi when Deepak Singhal was sacked. By evening Amar Singh was at Netaji's residence and he was closeted with the SP chief for over two hours. It was argued before Mulayam that sacking of Singhal had sent a wrong message to the cadre that Shivpal, the organisation man has been weakened; and that did not augur well for the party in election year.
The situation, it was suggested, could be redeemed if Shivpal was made the UP state president, a position held by Akhilesh Yadav.
Ram Gopal Yadav was called to issue the statement to this effect. Aware of its political implications, he informed Akhilesh of what has transpired.
Within an hour of his removal as state president of SP, chief minister Akhilesh Yadav sent a formal letter to Governor Ram Naik stripping Shivpal Yadav of key ministerial portfolios.
Tipu aka Akhilesh had taken the first step to become the Sultan of SP.
Humiliated, Shivpal resigned both as state president and minister in the state council.
Mulayam rejected the resignation. Intervened. Akhilesh returned all the portfolios except one.
Public Works Department. There was a message in it as well. For Shivpal in UP and among his supporters is popularly known as the PWD mantri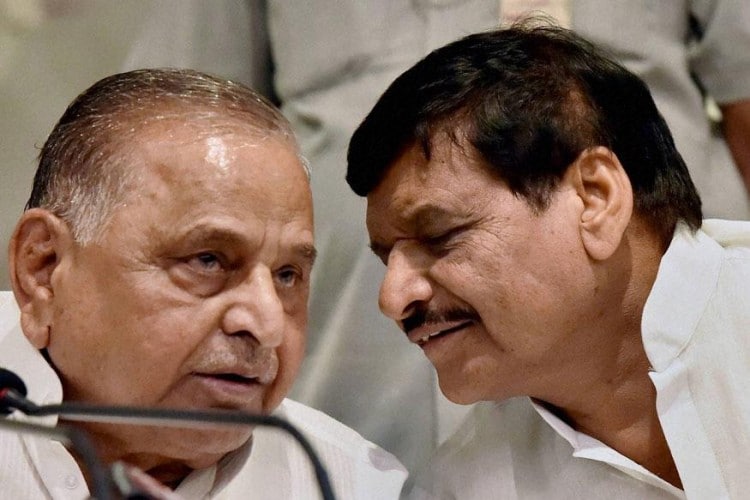 Mulayam Singh Yadav with his brother Shivpal Yadav in a party meet
A temporary truce was called. Both sides re-grouped over the next one month amid minor skirmishes here and there. Shivpal as state president sacked some of Akhilesh's close aides for indiscipline.
He went ahead with the merger of Mukhtar Ansari's Qaumi Ekta Dal, something which was opposed tooth and nail by Akhilesh. Shivpal even announced candidature of Amanmani Tripathi from Maharajgunj district against whom CM had ordered CBI probe for alleged murder of his wife.
The last straw in this game of oneupmanship was the announcement of a mega event in Lucknow in the first week of November to mark silver jublee of SP's foundation. In other words, it was to be Shivpal's show of strength.
Akhilesh read through the fineprint. He shot off a letter to his father informing him about his decision to embark on statewide yatra to mobilise people before the elections. And he would do that just two days ahead of the foundation day function.

Mulayam Singh Yadav, Akhilesh Yadav and Shivpal Yadav during party's silver jubilee celebration
Now the two camps were operating from different offices. Shivpal being the state president was in-charge of the party office on Vikramaditya Road in Lucknow. Less than one hundred meters away, Akhilesh supporters planned from the Janeshwar Mishra trust.
To mobilise workers ahead of the grand rally in Lucknow, Shivpal called a meeting of all elected representatives including MLAs, MLCs, MPs and former MPs at the party office on October 24.
These were ominous signs. And things were getting out of control. Was Shivpal Yadav preparing for the final push?
Pre-empting any possibility, a day ahead of this meeting of elected representatives, Akhilesh called all MLAs and MLCs to his residence. All except those who were seen to be overtly associated with Shivpal were invited.
He met his father Mulayam before proceeding for the meeting at CM's residence. It is said more than 180 legislators turned up. Having summoned and got the support of the majority in the legislature party, he sacked Shivpal and three other ministers from his uncle's camp.
Hours later, Shivpal at a press conference read out a statement by Mulayam Singh sacking Ram Gopal Yadav from the party for colluding with the BJP.
The two sides had drawn level.
Mulayam, they said, was miffed with his son and was firmly standing by his brother Shivpal!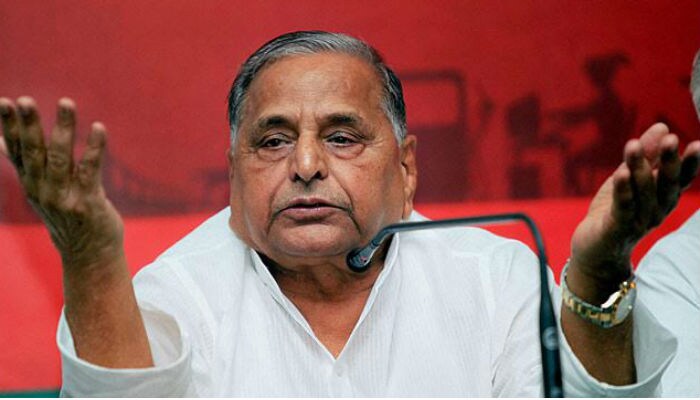 Mulayam Singh Yadav during a press meet
But the turning point in this family soap spanning over two months was the showdown on the 24th of October at the party office. The stage was set. Shivpal and his supporters in the cabinet had been sacked. The question was - will Shivpal take all this lying down?
Sources say that on the eve of the meeting it was discreetly communicated to the CM camp that matters may reach a flashpoint if Akhilesh attended the October 24 meet. With tempers running high, the two warring groups might clash in full media glare.
It was then the CM re-calibrated his strategy. It was felt that skipping the meeting would be seen as a sign of weakness and would give the opposite camp a walkover.
So, at the crack of dawn, the moment gates at the party headquarters were unlocked for staff to enter the premises, Akhilesh supporters rushed in to occupy front rows and vantage positions.
Akhilesh, drove in to address the meeting well before time. He spoke first, followed by Shivpal and then Mulayam.
It was an emotional speech. Of a son talking to his father, of a politician to his mentor, and of the chief minister attempting to assert his authority.
This was followed by Shivpal's outburst. And what did Shivpal say? He spoke about his contribution to the party; his unwavering loyalty to Netaji; his achievements as a minister holding 12 portfolios. And then he came to the operative part: he said the CM was trying to break the party and sought strength from Mulayam to inculcate discipline in the party rank and file. Making these allegations, Shivpal, swore by his son, and by Gangajal.
When the patriarch stood up to adjudicate, everyone listened in with rapt attention. Mulayam berated Akhilesh. "Tumhari haisiyat kya hai"; he asked. He sung paeans to Shivpal and all the hard work his brother had done in building the party. He reminisced how Shivpal would come home late from campaigning and leave early morning.

Uttar Pradesh Chief Minister Akhilesh Yadav with his father Mulayam Singh Yadav to discuss developmental issues
Mulayam did not stop at that. He showered praise on Amar Singh. He publically accepted that had it not been for Singh, he would have been behind bars in the DA case.
But Mulayam - and this is important - remained silent on two critical issues raised by his brother. That the CM was trying to break the party, even as Shivpal sought authority and strength from the patriarch to set the house in order.
Can there be a graver allegation than this - that someone was trying to split the party. And what can be construed of the party president's silence on the issue?
For those, especially the netas on the stage who have the capacity and understanding to sift optics from politics, this was an indication enough where Mulayam stood in this intra-party wrangling.
The final confirmation came two days later. Addressing a press conference at the party headquarters in Lucknow, Mulayam was asked if he would like to take over as the CM from Akhilesh. For what, he retorted? With elections just a few months away should he take charge merely to preside over salary distribution.
Another scribe wanted to know if Shivpal Yadav be reinducted in the cabinet.
That Netaji said emphatically, is the prerogative of the CM.
Shivpal Yadav, who was seated next to Mulayam Singh Yadav all this while, looked up at the ceiling of the auditorium as if seeking some divine intervention.
POST SCRIPT:
In the last one month, MSY has not only flagged off his son's yatra, but also called him a performing CM at the inauguration of the Lucknow-Agra expressway. Ram Gopal Yadav, who was sacked by MSY for allegedly hobnobbing with the BJP is back in the party.
Earlier this week, Akhilesh recently another rally organised by Shivpal in Ghazipur, the stronghold of Mukhtar Ansari.
MSY attended and made a long winding speech and compared his son with Prime Minister Modi.
If Modi is haughty, he said, Akhilesh is stubborn.
Also Watch
| Edited by: Sujit Nath
Read full article