Sonia Gandhi's Closest Aide Recalls the Phenomenal Journey of one of India's Most Powerful Politicians
As Sonia Gandhi passes the baton of Congress presidency to her son Rahul Gandhi, News18 revisits her career in Indian politics. This is second article in the five-part series.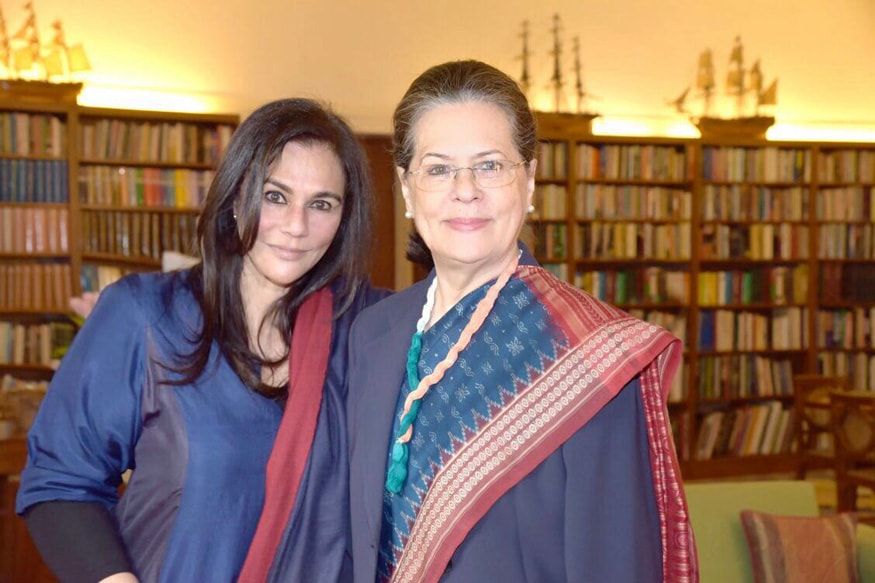 File photo of Sonia Gandhi and Archana Dalmia at 10 Janpath.
I did not meet Sonia Gandhi until much after I had begun to work with her charismatic husband the Late Rajiv Gandhi, a man we youngsters had all accepted as the leader of the nation. Rajiv Gandhi was a reserved, yet friendly person, wonderful to work with. I met him in his office and at the Youth Congress events.
Stories about his wife, Sonia were legendary…that she was absolutely gorgeous with her thick mane of auburn hair and flawless skin and that she was very stylish. We also heard that she did not mix around much with the members of the party. A reticent woman by nature, Sonia Gandhi shared the Prime Minister's household and yet remained away from public life. She had carved a quiet and private space for herself and her husband and her two children in the shadow of the centre of power.
I think all these stories added to her aura. I was delighted when I finally met her and I remember thinking that it had been well worth the wait. I first saw her at the Chrysanthemum Show at YMCA in Delhi on the eve of Christmas. Wearing a pair of natty boots and a red woollen dress, she was standing by her mother-in-law. It was perhaps the only time I saw her dressed in western clothes. When I first saw this stunner, I had no idea I would be working so closely with her later in life.
When Rajiv took on the mantle of leading the party and won an enormous mandate in Parliament, Sonia began to appear in public by her husband's side, wearing only the most elegant saris, celebrating the myriad weaves of India. She began to dress a lot like her mother-in-law, the Late Indira Gandhi, with whom she shared a warm and loving relationship.
Ironic, how it is said that she was petrified of her fiancé's mother when she first came to India in 1968. Not only did Sonia get along famously with Indira, a member of the most influential political family of India and at that time a minister in the government with a formidable reputation, she also went on to give her two precious grandchildren, Priyanka and Rahul.
It was her sad duty to sit in that white ambassador car in which lay the grievously injured and bleeding Indira Gandhi, riddled with bullets that her own bodyguards had pumped into her. Sonia cradled her mother-in-law's head in her lap, praying with all her might that she be saved. But the attack was heinous and fatal.
It is said that Indira Gandhi had put the young Sonia at ease when they first met and she saw how nervous Sonia was, by speaking to her in French, a language Sonia was familiar with. She struck an instant connection with Sonia. I am sure she noticed how deeply in love Sonia and Rajiv were. Over the years, the two women developed a close relationship and Indira Gandhi played a gigantic role in Sonia's life and one can't even imagine the grief Sonia must have felt that day, knowing it was the end of this earthly journey for her beloved mother-in-law.
But she remained stoic. We only saw her carry out her duties with the utmost grace and dignity. One tragedy after another had catapulted her privacy-loving husband to the forefront of Indian polity and to the post of India's Prime Minister. It wasn't easy for her to be thrown into the limelight after a life of comparative quiet and privacy.
It took her a while to emerge from her grief and shock at Indira Gandhi's death. But with great fortitude and courage, she began her journey as a politician's wife. She took her place beside Rajiv in his campaigns. She met with the public in India and with international leaders, like she was to the manor born. I can't forget that time when she had waded in ankle deep mud in a tribal area, as easily as she walked in a garden. Her sari hitched up and her face filled with compassion for the people who had lost their homes.
Hesitantly and tentatively, at first, but with great compassion, she built a relationship with her husband's constituency and adopted Amethi as her own. The people responded to her with love and warmth and welcomed her as their bahu…and she remains the beloved of the people there after all these years.
Her understated elegance delighted the sartorial pundits and it was easy to see why Sonia was named one of the best-dressed women in the world. Her sense of style is based on the mantra of 'simple is stylish' as she herself says. Sonia is a stunner in every way. I am often amazed at how she does not feel the need to tom- tom it.
Another earth-shaking tragedy threw her life into turmoil. After Rajiv Gandhi's assassination, tempted though she must have been to leave everything behind and take her children to the safety of her parents' home in Italy, she chose to live here in the country she had made her home and a place she had come to love. However, she chose to return to a private life, away from the limelight, refusing all requests by the party to take her husband's place. Her children were her prime concern and I shudder to think how deep her pain was.
She wanted only to remain a representative of the people of Amethi who loved her dearly and for whom she felt she could do some good from her position of power. But destiny had other plans. The party needed her. The next five years saw the Indian National Congress lose the individual states, even while in power at the centre. Local satraps had begun to break away to form their own parties.
Sonia agreed to salvage the party and as the Congress President, not only stemmed the downslide, she persuaded many of the local leaders to return to the fold. She revitalised the party and the cadres and led them to a Lok Sabha win in 2004 and again in 2009. As in 1991, she still shunned the post of the Prime Minister, citing her inner voice which was advising her against it. She won the hearts of all Indians when she showed selflessness by renouncing power and offering the post to Manmohan Singh who she felt was more qualified to lead the country.
I saw, we all saw, how her office and residence were teeming with Congress Party office bearers and workers. Each one was there to beg her to take the Prime Minister-ship of the country. She gently, yet, firmly turned them all down. Never before was such a scene played out in Parliament when each MP walked up to her seat with the same request—that she take oath as the PM. I do not think that we will ever witness such a scene again.
It is ludicrous to even think that Sonia Gandhi has an iota of greed or reckless ambition in her. If she had, she would have grabbed the power that was being offered to her on a platter.
She chose instead to extend her work in Amethi to the whole country as the Chairperson of the National Advisory Council. Believing that progress and development mean nothing unless the poorest of the poor and the last person in line are included in the growth story, she used the position and power conferred upon her by the party to developing programmes such as the Food Security Bill and the National Rural Employment Guarantee Act to benefit millions of Indians living in poverty and hunger. She was listed as one of the most powerful and influential people in the world.
After 19 long years at the helm, the longest serving President of the Congress, Sonia Gandhi is stepping down, once again relinquishing power and seeking to return to the privacy that she values so much.
She has, in these years, had ridicule heaped upon her by the opposition and sometimes by the rebels in her own party. She has dealt with it all…with fortitude, her shoulders squared, showing tremendous dignity.
With her dedication and commitment to work and her eye for detail, she has inspired many of us who have worked closely with her. She leaves behind a positive legacy. I can't ever forget how deeply moved she would be with the stories of suffering she heard in the Grievance Cell which I look after. It was not unusual to hear her ask for clothes to be organised for a poorly dressed child or to organise a meal for hungry travellers who had come from far to meet her. But, no one but the closest to her would be allowed to get a glimpse of the softness inside her. Her visage is always one of immense, mountain-like strength and quiet dignity.
Sonia Gandhi has transformed over the years. Arriving in India in 1968 as a young, shy bride-to be from Italy, Sonia is now the quintessential Indian mother who frets about how the moon is late to come up on a karva chauth, because her beloved daughter celebrates this Indian festival. She speaks Hindi as well as you and I do and better than many. She enjoys hot gulab jamuns and crisp jalebis and has a weakness for Indian textiles. She once pointed out to me how Kathakali dancers dance almost on the edges of the soles of their feet, balancing their girth ever so delicately. She said Indira ji had pointed out this detail to her. A detail no one, except the most well versed in the art, notice.
Sonia Gandhi is deeply entrenched in Indian culture, she has learnt at the hands of her mother-in-law, absorbing it all into her very being.
In stepping down as Congress President, she has displayed the seamless grace, typical of her persona. She bowed down to the consensus of the party and stepped back for Rahul who was the hands down choice for President after her.
I can well hear her say to him, "Together we can face any challenge…as deep as the ocean and as high as the sky." Her blessings are invaluable.
— Author, a close aide of Gandhi Family, was the only national secretary of the Congress party with direct access to Sonia Gandhi. She was also the chairwoman of the grievance cell of the Congress. Views Are Personal.
Get the best of News18 delivered to your inbox - subscribe to News18 Daybreak. Follow News18.com on Twitter, Instagram, Facebook, Telegram, TikTok and on YouTube, and stay in the know with what's happening in the world around you – in real time.
| Edited by: Huma Tabassum
Read full article