Sonia Gandhi's Hongi Hug Swings 2019 Spotlight on Mayawati vs Modi
Exactly a year before general elections, Sonia Gandhi's bonhomie with Mayawati signals the BSP chief's emergence out of political hibernation to become a reckoning force in 2019.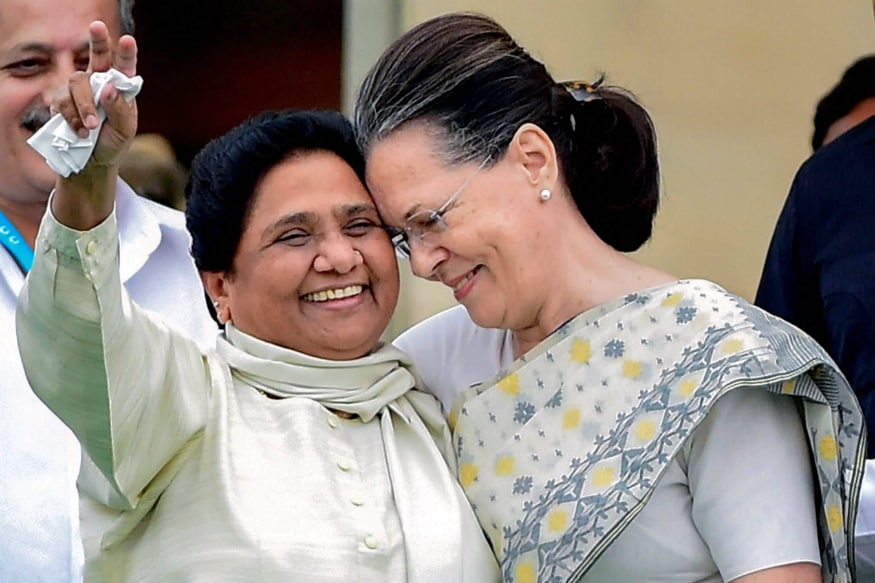 Congress leader Sonia Gandhi hugs BSP leader Mayawati during the swearing-in ceremony of Karnataka CM HD Kumaraswamy in May. (Image: PTI)
New Delhi: On a cold winter morning in January 2004, Congress chief Sonia Gandhi walked out of the gates of 10 Janpath with her SPG guards and into the gates of 12 Janpath, much to the surprise of Ram Vilas Paswan.
With that short walk, Sonia leaped to power and stitched a rainbow coalition of regional parties to oust the Atal Bihari Vajpayee government and keep the BJP out of power for 10 years.
Fast-forward to 2018, a similar gesture by Sonia at the swearing-in ceremony of HD Kumaraswamy may again reshape India's electoral politics. Standing on the steps of the Vidhan Soudha in Bengaluru, the former Congress president held an elated Mayawati in a warm embrace. Later in a show of strength by opposition leaders, Sonia raised the BSP chief's arm high.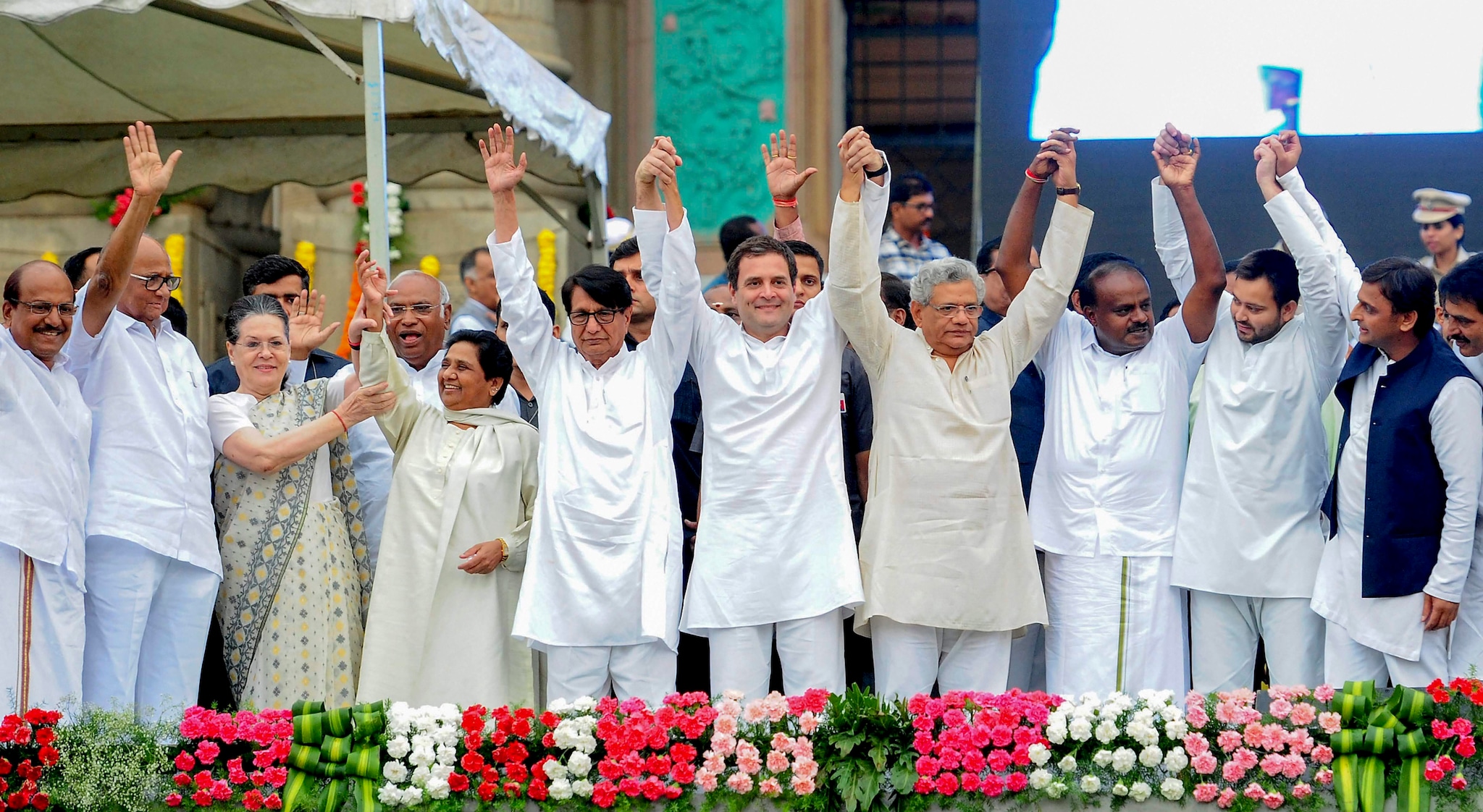 Congress leader Sonia Gandhi holds up BSP chief Mayawati's arm during an opposition photo-op at HD Kumaraswamy's swearing-in ceremony.(PTI)
Exactly a year before general elections, the bonhomie is telling. It signals Mayawati's emergence out of political hibernation to become a reckoning force in 2019, both in the opposition ranks and on the national stage.
Dalit, woman and with administrative experience, Mayawati ticks all the boxes to be Narendra Modi's challenger in 2019 elections, which is shaping up to be a battle between communal and caste polarisations.
Ironically, Sonia's last pre-poll overture to Mayawati was met with an ice cold response. It was before the 2004 elections that Sonia had driven to Mayawati's Delhi home on her birthday with a bouquet of flowers. Days later, the Dalit leader launched a direct attack on Sonia, accusing her of "neglecting" Dalits.
But 2018 is not 2004. Reduced to zero seats in the Lok Sabha, Mayawati shed her distrust of pre-poll alliances to team up with rival Akhilesh Yadav's Samajwadi Party against the BJP. The Dalit-Yadav-Muslim pitch paid off with wins in the prestigious Phulpur and Gorakhpur Lok Sabha bypolls. Another test awaits in Kairana and Noorpur by-elections on May 28.
In partnering with Akhilesh a year after acrimonious Assembly elections, Mayawati reminded pundits that she is the protégé of Kanshi Ram, the BSP founder for whom no party was untouchable.
He had famously prevented the BJP from coming to power in Uttar Pradesh in 1993, months after the Mandir-Mandal churning in the heartland. His alliance with Mulayam Singh Yadav-led Samajwadi Party gave rise to the slogan 'Mile Mulayam-Kanshiram, hawa mein ud gaye Jai Shree Ram'. The slogan has been revived 25 years later for their political successors — 'Behanji aur Akhilesh judey, Modi-Yogi ke hosh udey'.
The Dalit Consolidation
Kanshi Ram had once famously remarked, "We (BSP) are neither secularists not Leftists. We are opportunists." And opportunity calls now, say observers.
"There is an anti-BJP mood in the country among Dalits and even tribal communities. For the first time, I saw Dalit youths coming together on April 2. The atrocities in western Uttar Pradesh, Madhya Pradesh and Rajasthan have brought all Dalits together and created a huge pressure on Dalit leadership to join hands with groups that can defeat BJP," says researcher and author Chandrabhan Prasad.
According to a Mood of the Nation survey published by think-tank Centre for the Study of Developing Societies (CSDS), the image of the BJP among Dalits has taken a beating in the last five months, especially in the wake of a violent crackdown on Dalit protesters, and the dilution of the SC/ST Act by the Supreme Court.
The survey found 22% of Dalits in support of the BJP, which is two percentage points less than the saffron party's Dalit vote share in 2014 elections. Worryingly for the ruling party, it is lower than the 23% Dalits found to be favouring the Congress. As per the survey, three in five Dalits were dissatisfied by the government's response to acts of atrocities against Dalits.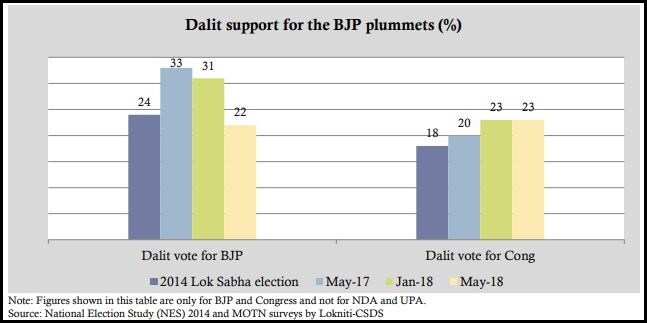 Source: Lokniti-ABP News Mood of the Nation Survey
Perhaps mindful of its dipping popularity in a key vote bank, the Modi government has been trying to appropriate Babasaheb Ambedkar's legacy from the BSP, naming initiatives such as the BHIM app after the Dalit icon and holding grand celebrations on Ambedkar Jayanti.
In Uttar Pradesh, BJP leaders were dispatched to homes of Dalit families, but ended up exposing and widening the caste divide. Instead of sharing a meal with the Dalits, they made a mockery of the outreach with catered food, compared themselves to Lord Ram and complained of mosquitoes at a Dalit home.
The resentment among Dalits has been building up within the BJP too. At least five of 40 Dalit MPs in the BJP have either written to Prime Minister Narendra Modi or vented on social media over the perceived indifference on the plight of Dalits.
Among them was BJP MP Udit Raj. Asked if the Dalit anger could hoist Mayawati on the Lutyen's throne, he cryptically remarked that "anything can happen in politics".
Analysts say that to capitalise on this anger, the opposition would need a Dalit leader like Mayawati. "There may be a Jignesh Mevani in Gujarat and Prakash Ambedkar in Maharashtra, but no Dalit leader enjoys a pan-India presence like Mayawati," says social scientist Badri Narayan.
According to CSDS director Sanjay Kumar, this pan-India presence may help in consolidation of Dalit votes through pre-poll alliances. "If there is no pre-poll alliance, then there won't be any seat sharing and the parties would be contesting against each other. It has to be a pre-poll alliance to consolidate votes against any party."
In the current political context, that party would be the BJP. And if Mayawati were to emerge as the face of such a front, the saffron party would have to tweak its strategy at the 11th hour.
The BJP has been gearing up for a Modi vs Rahul fight in 2019 and has stuck to the 'naamdaar v kaamdaar' and 'chaiwala vs shehzada' narrative in recent Assembly elections. None of this would work to challenge Mayawati. She would be pitched as a Dalit woman who broke free of casteist and sexist shackles to challenge masculine Hindutva.
"It will be hard for the BJP to counter this narrative," says Badri Narayan.
Interestingly, Mayawati emerged as the third choice for prime ministership behind Modi and Rahul Gandhi in the CSDS survey.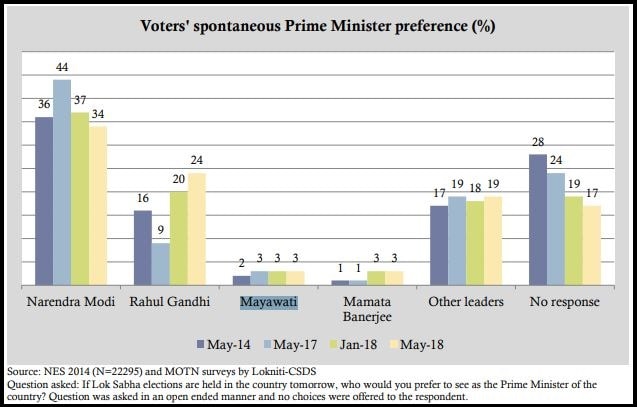 Source: Lokniti-ABP News Mood of the Nation Survey
Teaming Up With Maya
The upcoming Assembly elections in Rajasthan, Chhattisgarh and Madhya Pradesh, three states with sizeable Dalit voters, offer the perfect beta tests for 2019 alliances.
Not wanting to enter general elections with the baggage of three losses, the Congress is making an all-out attempt to unseat the BJP in these states. An alliance with the BSP, say analysts, could take some pressure off the grand old party.
"2013 was a particularly bad election for the Congress, both in Rajasthan and in Madhya Pradesh. (In MP, the Congress got 58 seats and BJP bagged 165. In Rajasthan, the Congress won 21 while the BJP got 163). If the BSP had formed an alliance with the Congress, things would have been very different," says Sanjay Kumar.
Vote share in the last three Assembly elections shows a Congress-BSP alliance could dent the BJP's prospects.
In Chhattisgarh, the combined vote share of the Congress and the BSP in the 2003, 2008 and 2013 Assembly elections was more than that of the BJP.
Similar was the case in Madhya Pradesh in 2008, while the BJP vote share was marginally more than Congress+BSP in 2013.
In Rajasthan, too, the Congress+BSP commanded more vote share in 2008, but fell short in 2013.
"The BSP has not been able to get sizeable votes in these states to be able to pull seats. But a support base of seven or eight percent in these states can actually help any party that ties up with the BSP to win additional seats," says Kumar.
Unpredictable Maya
But the Dalit leader does come with her share of baggage. Charges of corruption and nepotism continue to haunt her. Her brother Anand Kumar has been accused of amassing "abnormal" profits, while she herself is the subject of CBI investigations into the National Rural Health Mission scam, the Taj Heritage Corridor and disproportionate assets cases.
Electorally, her bane lies in not being able to pull in Muslim votes. Her Dalit-Muslim pitch in the 2016 Assembly elections didn't reap the same results as her Dalit-Brahmin masterstroke in 2007. She may have to depend on 'Mullah' Mulayam and the Congress here.
Mayawati's biggest drawback, however, lies in her unpredictability. The Dalit leader has been known to strike surprising friendships and sudden break-ups.
The 1993 bonhomie between the BSP and the Samajwadi Party lasted only two years. In 1995, when Kanshiram withdrew support to Mulayam, SP workers allegedly held Mayawati captive in what became infamous as the 'guesthouse scandal'. She was subjected to sexist and casteist slurs and had to be rescued by BJP MLA Brahm Dutt Dwivedi. Mayawati claimed it was a plot to murder her.
In the chaos that followed the fall of the Mulayam government, she seized her moment and became the first Dalit woman CM in India with BJP support. Then prime minister Narasimha Rao called it the 'miracle of democracy'.
This friendship, too, didn't last long and the alliance broke down in four months with the BJP withdrawing support.
It took Mayawati 23 years after the 'guest house' humiliation to enter a pre-poll alliance again. She is yet to spell out her support for the SP-RLD candidates in Kairana and Noorpur or respond to Congress feelers on pre-poll alliances in Rajasthan and Madhya Pradesh.
In a Facebook post on Modi government's fourth anniversary on Saturday, Finance Minister Arun Jaitley dismissed the idea of a non-BJP front as "fictional alternative" and recalled how some of these parties had partnered BJP and then "turned turtle". He counted the BSP among those parties.
Mayawati's prime ministerial ambition is no secret. It's one of the things that prompted her to rebuff Sonia in 2004. So will 2019 be her year?
"If the decision is taken purely on the basis of seats, then it is ruled out because I don't see BSP winning the largest number of seats among potential alliance partners. But if the decision is based on other considerations like women and Dalit empowerment, then she is in the race," says Sanjay Kumar.
Dalit Woman as PM?
The Congress has swallowed the humble pie in Karnataka and made second runner-up HD Kumaraswamy the Chief Minister, sending the message that it is ready to play second fiddle to halt the Modi juggernaut.
But when the time comes, will it do the same at the national level? Will Rahul Gandhi emulate his mother and 'sacrifice' the PM's chair in favour of a Dalit woman?
According to Badri Narayan, that would depend on the number of seats the Congress bags in 2019. "The Congress can have a claim if it bags 100 seats in 2019 Lok Sabha elections. Fewer than that, it would have to compromise," he says.
In that compromise, Mayawati could script another 'miracle of democracy'.
| Edited by: Sumedha Kirti
Read full article