SP Treads With Caution as Amar Singh Attempts a Redux of Rampur 2009 in UP 2019
Amar Singh is trying to refurbish the same old image of the SP. Mark the phrase he's so often used recently for SP — 'namazwadi party'.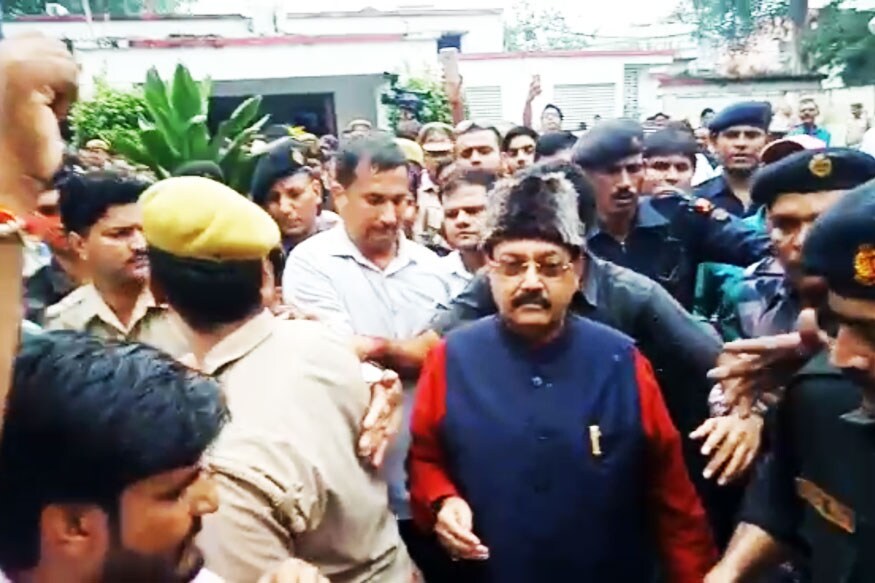 Seen here is Amar Singh visiting Rampur on Sept 30, 2018.
New Delhi: In his political career of two decades and more, Amar Singh has donned many caps. On Thursday for the press conference in Rampur, he chose to wear a lustrous black karakul hat.
The unattached Member of Rajya Sabha had returned to the town of Nawabs after many years. Perhaps, a decade. Since then, so much water has flown down the River Kosi, the dark brackish stream lethargically meandering around Rampur in the last leg of its journey towards the holy Ganga.
The last time around Amar Singh was active in Rampur was during 2009 general elections. Then he was very much in the Samajwadi Party, infact its leading light. Those were the heady days of Amar Singh-Mulayam Singh jugalbandi. So much so that Singh had succeeded in elbowing out his long time bête noire from the party — the Rampur strongman and SP founding member Azam Khan.
Ten years later, Singh stands expelled from the party on orders by none other than MSY's son Akhilesh. Azam Khan is back in the SP, and completed another five year term in office as minister in the last SP government in the state with Akhilesh as CM. Azam Khan's wife is now a member of Rajya Sabha and son an MLA.
Back in Rampur after all these years, Singh is attempting to turn the clock back and also the tables on Azam. There is an element of deja vu both in tactics and circumstances. Rampur, perhaps, is a microcosm. Uttar Pradesh ahead of the next Lok Sabha elections is the target audience.
To understand the larger import of the things afoot, one has to rewind the clock to 2004 — the year Azam Khan invited film actress Jaya Prada to Rampur to contest the Lok Sabha elections.
The Samajwadi Party was looking for a strong candidate to take on the Congress' Begum Noor Bano. Jaya Prada won the election, and Khan inflicted the first severe blow to the family of erstwhile Nawabs of Rampur — a fight between the royalty and the subaltern as he has always sought to project.
But soon, very soon relations between the Rampur MP and SP's undisputed leader turned sour. Jaya Prada decided to cross the fence and seek protection in the other camp — the one led by Amar Singh.
With Mulayam Singh turning a deaf ear to repeated complaints, Azam Khan quit the party just ahead of the 2009 general elections. Once again Jaya Prada was pitched against the Begum of Rampur. But this time around, her election was conducted and coordinated by Amar Singh.
That election was more of a direct clash between Singh and Khan. Out of the party, Khan was seen to be backing Noor Bano's candidature, or perhaps that's what Amar Singh was successfully able to convince people.
While projecting Jaya Prada as a main challenger to Noor Bano and hence Khan, Amar Singh was able to mobilise all forces adversarial to Azam Khan. In no time Jaya Prada of the Samajwadi Party became the Hindu candidate seeking to end Khan's political hegemony. Contrary to all expectations, Jaya Prada won the 2009 Lok Sabha elections from Rampur defeating Noor Bano.
In 2019, the SP does not need to woo minority votes. They will come on their own. It needs to work against polarisation to see that Mahagathbandhan gets a fair share of majority community votes. The party is attempting an image makeover. It does not need rabble rousers. Azam Khan, not surprisingly, has maintained a studied silence of late.
Amar Singh's trip to Rampur and his trenchant attack on Azam Khan is a bid to revive Khan. To make the Rampur strongman react with characteristic barbs laced in chaste Urdu.
Singh is trying to refurbish the same old image of the SP. Mark the phrase he's so often used recently for SP — 'namazwadi party'. The Samajwadi Party of 'maulana Mulayam Singh Yadav'.
Any reaction from Azam Khan would have its impact on UP — especially the western districts. So far both the SP and Khan have chosen to ignore Amar Singh's diatribe. And they may continue to do that to avoid a redux of Rampur 2009 in UP 2019.
Get the best of News18 delivered to your inbox - subscribe to News18 Daybreak. Follow News18.com on Twitter, Instagram, Facebook, TikTok and on YouTube, and stay in the know with what's happening in the world around you – in real time.
Subscribe to Moneycontrol Pro and gain access to curated markets data, trading recommendations, equity analysis, investment ideas, insights from market gurus and much more. Get Moneycontrol PRO for 1 year at price of 3 months. Use code FREEDOM.
| Edited by: Ashutosh Tripathi
Read full article