'Spooked by Modi Flood, Cats, Dogs, Snakes and Mongoose Have United': Amit Shah Takes on Opposition
The remark was a jibe at the Congress and other Opposition parties holding a series of meetings recently to counter the BJP in the next Lok Sabha election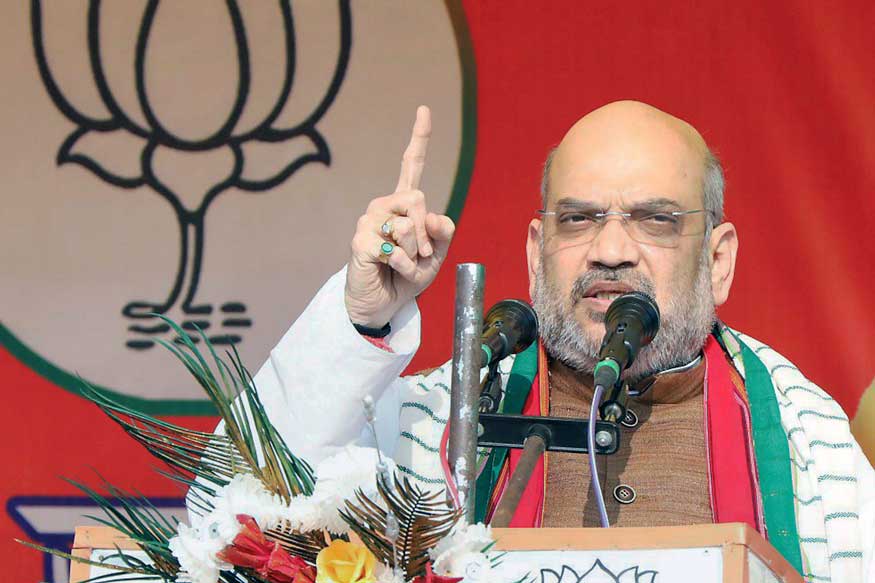 File image of BJP president Amit Shah. (Image: PTI)
Mumbai:
BJP president Amit Shah launched a scathing attack at the "so-called" Opposition unity to take on the BJP in 2019 by comparing the coming together of like-minded parties to animals coming together in the face of a flood.
Addressing a rally at the BJP's foundation day in Mumbai, Shah said, "I have heard that whenever floods happen, all the animals come together. Similarly, all these animals like snake, dogs, snakes and mongoose are coming together to fight the Modi flood."
Later at a press conference, Shah clarified that he did not mean to hurt anyone with the snakes and dogs analogy and was only referring to opposition parties that were uniting without sharing a common ideology. "By saying snakes, mongoose, dogs and cats, I was referring to SP and BSP, Congress and TMC, Congress and Chandrababu Naidu, all of them have come together to fight against the BJP," he said.
The remark was a jibe at the Congress and other Opposition parties holding a series of meetings recently to counter the BJP in the next Lok Sabha election. UPA chairperson Sonia Gandhi had recently held a dinner with 21 opposition parties at her 10 Janpath House, signaling that efforts are well underway to form a coalition.
West Bengal chief minister Mamata Banerjee has also taken a lead on forming a bloc. She even came to Delhi two weeks ago and met a host of opposition leaders, including Sonia Gandhi and NCP chief Sharad Pawar, and urged them to support regional leaders to take on the BJP "one-is-to-one".
The BJP chief, however, said he was not worried and asserted that the golden age of the BJP is yet to come. "This is not the Golden Age of the Bharatiya Janata Party, the golden era of BJP will come when in West Bengal and Odisha BJP governments will be formed," he said to large cheers from BJP supporters.
Referring to the party's loss in the two Lok Sabha bypolls in UP in March, he said that he would like to remind "Rahul Baba" that the party had also defeated the Congress in 11 states under the leadership of Prime Minister Narendra Modi.
The BJP's defeat in the two UP seats to the SP-BSP alliance have been used as evidence that the saffron juggernaut can be stopped by a united opposition.
Continuing his attack on Rahul, he said, "Rahul Baba you ask what Prime Minister Narendra Modi has done. Pakistani terrorists killed our soldiers, beheaded them but you did nothing. When our soldiers were attacked in Uri our Prime Minister avenged the killing with surgical strike. If any country can revenge the killing of its people other than US, it is India".
Shah said that he was confident that the BJP would win the 2019 general election with a bigger margin than 2014. "Modi is a mass leader and people love him, his leadership has taken the BJP to bigger heights. The party is ready for challenges," he said.
"We are ruling in 20 states, and at the Centre. We are one of the biggest political parties in the world. Our state governments have taken the states to new heights of development," he added.
| Edited by: Aakarshuk Sarna
Read full article
Countdown To
Elections Results
To Assembly Elections 2018 Results