Spooked by Recording App, Karnataka BJP Using WhatsApp Calls to Poach MLAs: Congress
The Congress has alleged that the BJP is using WhatsApp to lure its MLAs since end-to-end encryption does not provide for recording the phone conversation.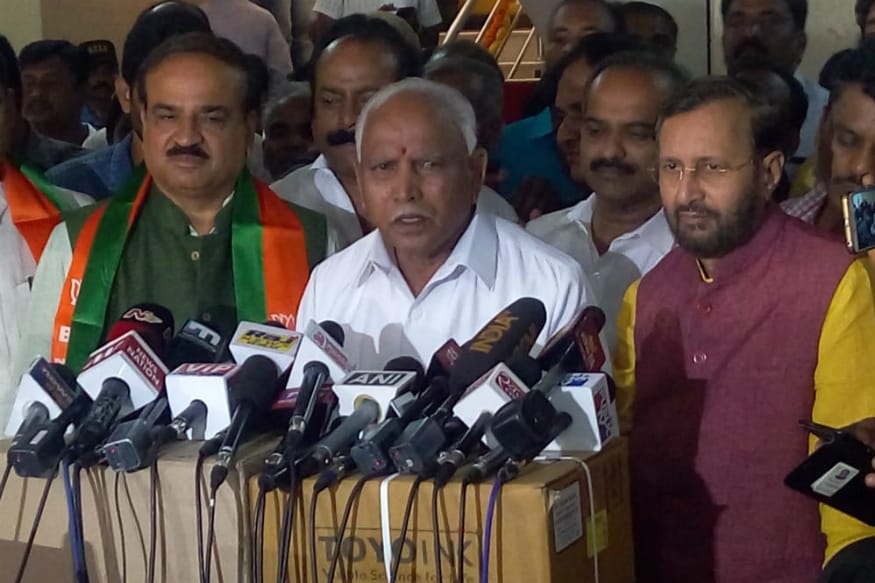 File photo of BJP leader Yeddyurappa with Ananth Kumar and Prakash Javadekar.
Bengaluru: The Congress in Karnataka has alleged that horse-trading in the state is now happening via WhatsApp calls. The ruling coalition partner has claimed that the opposition BJP is using WhatsApp since end-to-end encryption does not provide for recording the conversation in case the ruling party MLAs decide to collect proof and spill the beans.
Amid fears of the BJP allegedly attempting to topple the HD Kumaraswamy government, the Congress leadership has asked the MLAs "approached" by the saffron party to record the telephone conversations to substantiate the claims.
According to Congress leaders, the party's advisory to its lawmakers somehow came to the knowledge of the BJP and the party is allegedly using WhatsApp calls to contact MLAs who may want to switch sides.
AICC general secretary and Karnataka in-charge KC Venugopal said state BJP president and former chief minister BS Yeddyurappa had spoken to some Congress MLAs via WhatsApp.
Speaking to the media, he said, "Yeddyurappa himself is engineering defections. He is using WhatsApp to talk to our MLAs, but he won't be able to split us and become the chief minister again."
Yeddyurappa has rubbished the allegations levelled by the Congress.
After week-long political instability and rumours of the government collapsing, the JD(S) and the Congress have rubbished stories of mass defection. "They can use WhatsApp or Telegram. They won't be able to dislodge us. The media is fuelling stories of 'instability'. In reality, we are united and the government is safe," said state Congress president Dinesh Gundurao.
During its 56-hour minority rule last May, the BJP was accused of approaching Congress and JD(S) MLAs with offers of cash and positions. Many calls allegedly made by top BJP leaders, including Yeddyurappa and Muralidhar Rao, were recorded by the MLAs and made public on the day of the trust vote, causing huge embarrassment to the BJP's national leadership.
Get the best of News18 delivered to your inbox - subscribe to News18 Daybreak. Follow News18.com on Twitter, Instagram, Facebook, Telegram, TikTok and on YouTube, and stay in the know with what's happening in the world around you – in real time.
| Edited by: Nitya Thirumalai
Read full article