Stalin Defends Dramatic Vow as 'Rahul Gandhi for PM' Call Rattles Opposition Camp
Citing the Congress' recent victories in Rajasthan, Chhattisgarh and Madhya Pradesh, MK Stalin said projecting Rahul Gandhi for PM "is the right thing to unite secular forces'.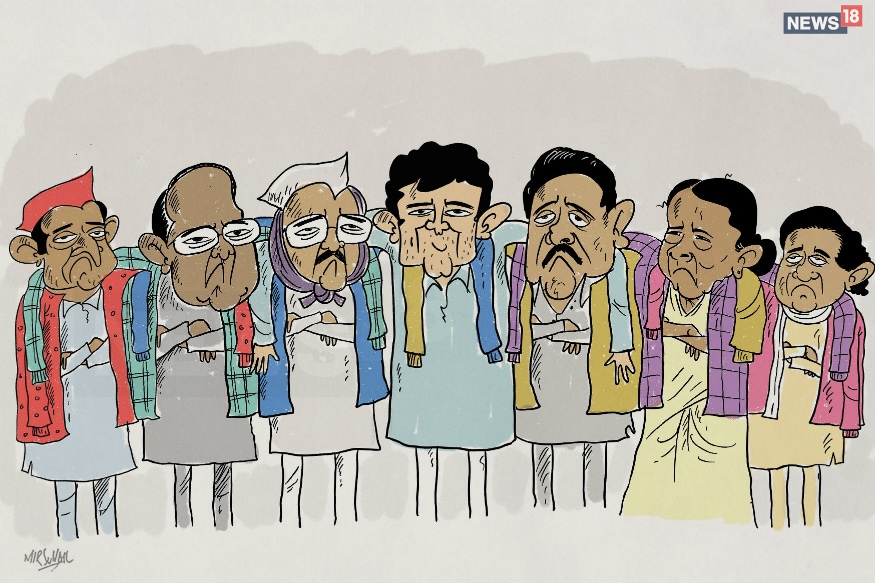 The Opposition's attempts to form a bloc against the BJP have not gone very smoothly. (News18 creative by Mir Suhail)
Chennai: DMK president MK Stalin has defended pitching Congress chief Rahul Gandhi as a prime ministerial candidate for next year general elections, even as the dramatic call fuelled unease in the largely fragmented opposition bloc.
Citing the Congress' recent victories in Rajasthan, Chhattisgarh and Madhya Pradesh, Stalin said projecting Rahul Gandhi for PM "is the right thing to unite secular forces'.
"Rahul was responsible for Congress victory in the three BJP bastions. We require a strong leadership to coordinate democratic forces. That's why I have proposed Rahul's name. I am confident our allies would understand," he said.
Taking a veiled dig at the BJP, Stalin added, "Rahul's hands ought to be strengthened to extricate the country from communalism and to establish democracy."
Stalin's sudden proclamation, which he first made in the presence of Rahul Gandhi and Sonia Gandhi at the unveiling of M Karunanidhi's statue in Chennai, has not found many takers in the opposition camp which has struggled so far to forge an anti-BJP bloc before 2019 Lok Sabha elections.
Mamata Banerjee-led Trinamool Congress, which has been on good terms with other opposition parties but has not shown the same warmth for Congress, said any decision on a prime ministerial candidate should be taken at a meeting of opposition parties after the general election results.
"Not only TMC, but also other opposition parties are of the opinion that any decision on the PM candidate should be taken only after the Lok Sabha election results. Any announcement on the PM candidate right now would be premature as it would divide the opposition camp," a senior TMC leader told PTI on condition of anonymity.
Sharad Pawar's NCP, too, said there was no need for an immediate debate on the PM candidate. "The Congress itself has declared that it will be decided after the election results," NCP national spokesperson Nawab Malik said.
Congress chief Rahul Gandhi, former PM Manmohan Singh, DMK president MK Stalin, NCP chief Sharad Pawar, Loktantrik Janata Dal chief Sharad Yadav and other opposition leaders head to Ashok Gehlot's swearing-in ceremony in Jaipur on Monday. (PTI)
"A number of opposition leaders are understood to have reservations against naming anyone as the prime ministerial face. The SP, TDP, BSP, TMC, and NCP disagree with Stalin's announcement. It is premature. The PM name is to be decided only after the Lok Sabha results," PTI quoted another top opposition leader as saying.
Senior Congress leader P Chidambaram had earlier maintained that the party never "officially" said its president Rahul Gandhi should be the prime minister if an opposition alliance formed the next government. The decision on who would be the prime minister in the event of an opposition alliance winning next year's Lok Sabha poll will be taken by its constituents, he had said.
Top leaders of 21 Opposition parties, barring the Bahujan Samaj Party and the Samajwadi Party, had met in New Delhi last week and vowed to forge a united front to fight and defeat the BJP in the 2019 general election. The BJP had mocked the meet and said they should first declare a prime ministerial candidate before thinking of ousting the Modi government.
Get the best of News18 delivered to your inbox - subscribe to News18 Daybreak. Follow News18.com on Twitter, Instagram, Facebook, Telegram, TikTok and on YouTube, and stay in the know with what's happening in the world around you – in real time.
| Edited by: Nitya Thirumalai
Read full article