GET Stock

Quotes


Deve Gowda Hits Back at Rahul for BJP B-Team Talk, Hints at Joining 3rd Front
Deve Gowda said that Siddaramaiah was living in a fool's paradise if he believed he would come to power again in Karnataka after heading the worst government.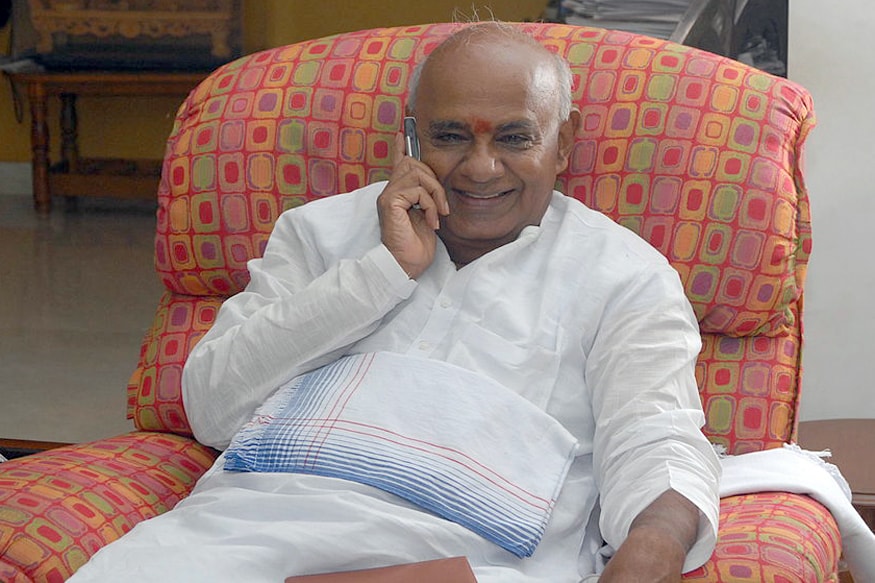 File photo of Janata Dal (Secular) chief HD Deve Gowda. (Getty Images)
Bengaluru:
JD(S) national president and former Prime Minister Deve Gowda has ridiculed Rahul Gandhi's suggestion that his party has a tacit pact with the BJP in Karnataka as the babble of a youngster.
In an exclusive interview with CNN-News18's Deepa Balakrishnan, Gowda said that the Gandhi scion lacks leadership and still hasn't understood JD(S)'s contributions in uplifting minorities in the country.
He was reacting to the Congress president's allegation during an election rally on Sunday that his party, the JD(S), is the BJP's B-team and any vote for anyone other than the Congress is as good as a vote for the BJP as the saffron party is out to grab power at any cost.
Here are excerpts from the conversation:
Q. How do you react to being called the B-team of the BJP?
A.
Rahul Gandhi should first understand Karnataka politics. He was guided by local leaders of the Congress. He is still a youngster. Let us be frank, he still has a long way to go to develop leadership.
He must first understand what I have done for minorities as PM and as the CM of Karnataka. At that time, he was not here. He was studying abroad. He should at least ask his mother (Sonia Gandhi) about it.
He does not even know how to talk about a party that is headed by a former PM. He still reads the chits that are given to him by others. He is going to be belittled by people. He wants to give a certificate to me? I solved the Idgah Maidan dispute. I brought reservation.
Q. There is a national campaign underway to get secular parties together. Where is the stand of JD(S) on this?
A.
There are two types of thinking, two approaches to fight the 2019 elections. One is anti-NDA or anti-BJP. People who subscribe to this feel all secular parties should come together.
Those belonging to the other school of thought want to build a front minus the BJP and minus the Congress. All other regional parties should come together to fight 2019 elections, that's our position.
But now, I will confine myself to Karnataka. For the next 65 days, I won't scratch my head about national politics. Till the assembly elections get over, I am totally concentrating on Karnataka. I won't go to Delhi because every minute is precious for me.
After that I will take a call on what stand to take to protect the interest of the nation. There won't be any personal interest or gain in that decision. I have already been PM. I have no political ambitions. I want to see country free of communal and fundamentalist forces who are out to break the nation.
Q: Chief Minister Siddaramaiah has said he wants to defeat your family members this election.
A.
Who is Siddaramaiah? Who has grown up under me? He has helmed one of the worst governments in the state. There is no law and order here and corruption is rampant. If he thinks by giving some advertisements he can overcome all these deficiencies, he is living in a fool's paradise.
Q. But he wants to take you on in your home town of Hassan?
A.
He has already taken me on in Hassan. Let him. He has taken a call. Let us wait for the results.
Q. If there is a hung assembly as is being predicted, who will the JD(S) go with?
A.
There is no question of going with anybody. We will sit in the opposition and function as a true opposition. The leader would be Kumaraswamy (his son).
| Edited by: Aakarshuk Sarna
Read full article
Countdown To
Elections Results
To Assembly Elections 2018 Results