Stopped My Speech When I Heard The Azaan, Says Gujarat CM Vijay Rupani
Speaking at Network 18's 'Agenda Gujarat' event, Gujarat Chief Minister Vijay Rupani on Tuesday said he is certain that Muslim brothers and sisters will vote for the BJP in Gujarat like they did in the UP Assembly elections.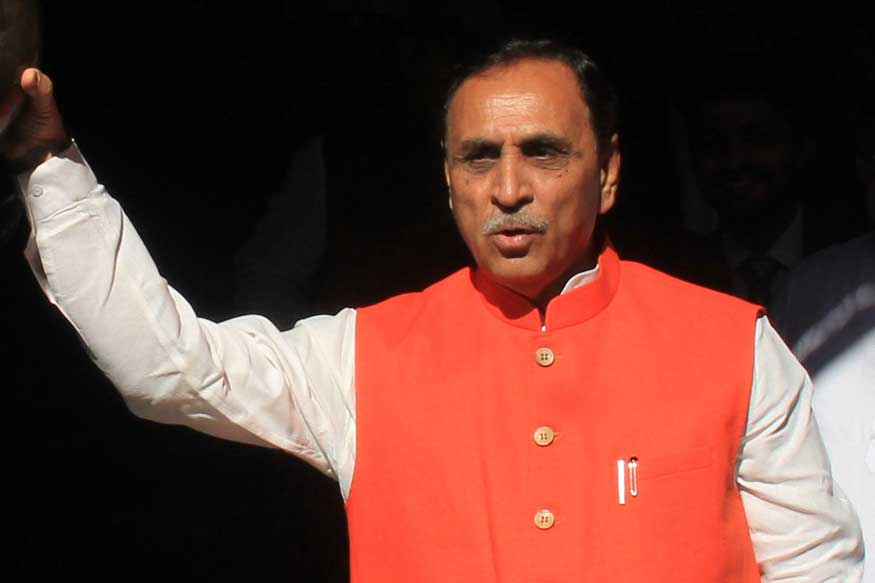 File photo of Gujarat chief minister Vijay Rupani. (Getty Images)
New Delhi: While talking about how the BJP's idea of secularism was different from what he called Congress's "politics of appeasement", Gujarat Chief Minister Vijay Rupani revealed that during an election rally earlier this year, he stopped his speech in the middle when he heard the sound of azaan from a nearby mosque. He resumed his speech, Rupani said, when the azaan ended.
"During the Gujarat Gaurav Yatra, I was addressing a rally. When I was giving my speech, I heard the sound of azaan coming from a mosque nearby. I decided to stop my speech in the middle for a bit. I only resumed when the azaan ended. That is the philosophy of the BJP – Justice for all, appeasement of none. The Congress's idea of secularism is only appeasement. Even Muslims have seen that Congress has done nothing for their benefit. I am certain that Muslim brothers and sisters will vote for the BJP in Gujarat like they did in the UP Assembly elections," Rupani said, while speaking at Network 18's 'Agenda Gujarat' event.
Hitting out at activists Hardik Patel, Jignesh Mevani and Alpesh Thakor, who are leading the charge in their respective communities against the BJP, Rupani said, "Hardik, Jignesh and Alpesh have been exposed as Congress agents. Alpesh had once sworn that he would never enter politics. Besides, why are they all meeting Congress leaders in secret? If they want legal advice, why ask Kapil Sibal – a lawyer who is also a Congress leader? This means that you want to go into Congress. You are Congress agents. After the Una flogging incident, our government took the strictest possible action. All the accused are in jail and they will be punished. In that very village, the BJP won the panchayat election. Making an issue out of caste is what the Congress wants to do. Congress has no leadership or issue. They are only following these three people."
The Gujarat CM also took a dig at Congress Vice President Rahul Gandhi, who has been visiting temples during his visits to Gujarat. "Chunav ke bahane kam se kam Rahul Mandir to gaya. Lekin Chunav hai isiliye mandir yaad aa raha hai (At least the elections forced Rahul to visit a temple. But let me tell you this, it is because of elections that he is suddenly remembering temples). Rahul has never even been to Akshardham in Delhi. He should, instead, make his stand on Ram Temple clear."
Responding to the social media campaign called 'Vikas Gando Thayo Chhe' (Development has gone crazy), which countered the BJP's claims of development in the western state, he said, "I am glad that the Vikas agenda is ours and the Congress is trailing behind us. Congress is so scared of the name of Vikas, they know they will lose on the development issue. Actually, they have gone crazy. Even then, I had challenged Rahul Gandhi that I was willing to compare any Congress ruled state with Gujarat."
Rupani also said that party workers and high command would decide who gets tickets and even his own ticket was not in the clear. He said, "Even my own ticket is not confirmed. Karyakartas and Parliamentary Board will decide. The feelings of the Karyakartas are respected. After five years, we review the situation. Sometimes, people are not given the ticket again. Sometimes, we repeat the candidate."
Get the best of News18 delivered to your inbox - subscribe to News18 Daybreak. Follow News18.com on Twitter, Instagram, Facebook, TikTok and on YouTube, and stay in the know with what's happening in the world around you – in real time.
| Edited by: Bijaya Das
Read full article