GET Stock

Quotes


'Sushasan Babu' Nitish Kumar Finds Himself in Labyrinth of His Own Making
Those who have felt safe in Bihar all these years today question Chief Minister Nitish Kumar's laxity.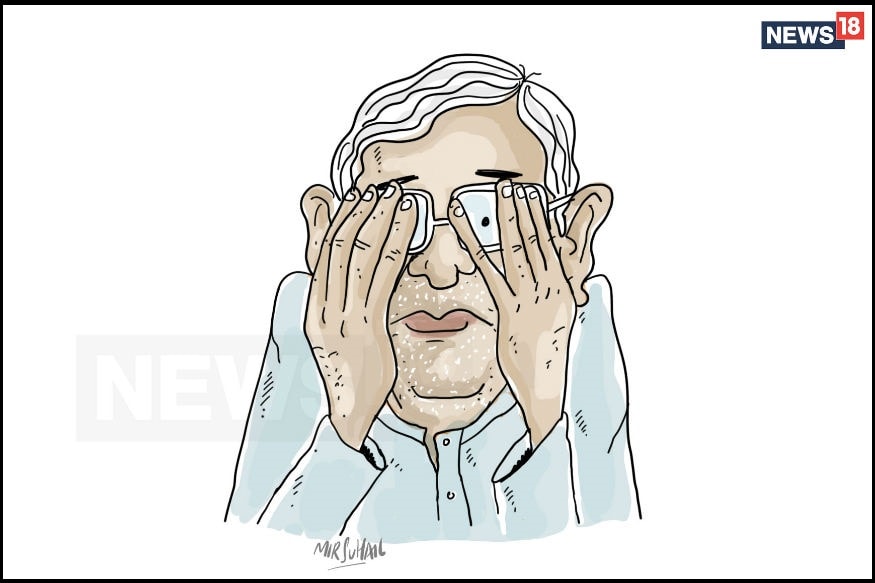 Nitish Kumar's USP of being a 'sushasan babu' or able administrator is being doubted today. (Creative by Mir Suhail/News18.com)
New Delhi:
Noorul Hasan, 58, believes Nitish Kumar 'isn't the same' anymore. Hasan, who lives in Aurangabad and runs a garage with 15 shops on National Highway-2, says the Bihar Chief Minister no longer talks like the man he voted for all these years.
On March 25, Hasan's shops were gutted by a group of men who came brandishing weapons. He suffered a loss of over Rs 50 lakh.
"Compensation alone wouldn't mean justice. This wasn't a one-off case. It happened in several districts of Bihar and there is a pattern to it," he says, demanding an NIA probe into the riots that engulfed a third of the state for a fortnight after Ram Navami processions. "It's all linked to 2019 elections," he adds.
The communal faultlines are on the surface and serious questions are being raised over the ability of the Chief Minister to contain riots.
Nitish's USP of being a
sushasan babu
(able administrator) is being doubted.
While many like Noorul Hasan didn't care much about who his ally was in the government in the past, it seems to matter now.
The biggest example of coalition pressures was the arrest of BJP's Arijit Shashwat, son of Union Minister Ashwini Choubey. Despite the FIR against him being lodged on March 17 for rioting and inciting violence in Bhagalpur, Shashwat mocked the state machinery and surrendered only a week later in Patna.
The arrest was made in full camera view, with Shashwat himself inviting TV channels to cover the midnight drama. He had converted his act of surrender into an opportunity to resurrect his political career after unsuccessfully contesting the 2015 Assembly polls from Bhagalpur as a BJP candidate.
Sources close to the Bihar CM say he had communicated his displeasure to his deputy, Sushil Kumar Modi, over the delay, but he appeared helpless as Shashwat mocked the law and order machinery.
So, who has tied Nitish's hands?
Sample this: In March, Nitish appointed Krishna Swaroop Diwedi, a 1984 batch IPS officer, as the new DGP of the state. Dwivedi was the SP of Bhagalpur in 1989 when communal riots claimed over 1,000 lives.
As the Opposition questioned the appointment of a 'tainted officer', allegedly on an order from Nagpur, Nitish rushed his Principal Secretary (Home) Amir Subhani to brief the media. Subhani's defence was "it was on the basis of seniority".
He added that "the judicial commission set up to probe the communal flare-up and the role played by Bhagalpur district administration had not found Diwedi guilty of dereliction of duty."
But one question he couldn't answer was how an officer, whom Nitish didn't find worthy of better postings for 13 years, suddenly was fit to head the police force.
Sources say on the list was also the name of Sunil Kumar, former DG police training, who had been moved as DGP (Building Construction Corporation) in August last year when Nitish had carried out a major reshuffle in bureaucracy and police by transferring 28 IAS and 42 IPS officers.
This was within a week of ending the 'Mahagathbandhan' and starting fresh innings with the BJP.
Sunil Kumar was not considered for the top job because of his association with RJD chief Lalu Yadav. "Nitish didn't want to leave any scope for Lalu to have control over his administration, especially after they had parted ways," a source told News18.
Political observers also point out how the demand for special status has played out in Bihar and in Andhra Pradesh to demonstrate that Nitish is left with few choices.
While Chandrababu Naidu walked out of the NDA over special status, Nitish has put the demand, one championed by him, on the backburner.
A day after TDP chose to exit the NDA, JD(U) leaders said that the demand for special status was "very much active as it was a unanimous demand of the Bihar Assembly". But the question is — did Nitish actually negotiate a special category status as a condition for his return into the NDA fold?
According to highly placed sources, at that time the reason for his 'ghar wapsi' was purely to get rid of Lalu Yadav. On July 27, 2017, when he unabashedly moved from 'Mahagathbandhan' to NDA, Nitish cried betrayal, but forgot that the people of the state could do the same.
"He didn't respect the mandate. Our vote was for Lalu-Nitish jodi," says Puppo Khan, a resident of Aurangabad. Khan's shop was saved by his landlord from being burnt down in the clashes. He says that for 18 years he has been running a shop and vouches for communal harmony in his city.
"
Ganga-Jamuna tehzeeb ki misal tha Aurangabad. Yeh high level par hua hai
(Aurangabad was an example of communal harmony. People from the 'high level' flared up the situation)," says Khan.
Who was Puppo Khan referring to as 'high level'? While he doesn't name them, many in Bihar talk about an administration that stood as a mute spectator as shops owned by minority community were looted and burnt down.
Those who have felt safe in Bihar all these years today question Nitish's laxity.
After all, he is also the Home Minister of the state. "This is an administration failure," says Tridevi, a lawyer at the local civil court. "What happened on March 25 and 26 was unprecedented. We had not seen such a scene. Today, I am scared of going to a Muslim locality."
The society is beginning to split. The communities are moving away from each other. "It would be unfair to say that the chief minister failed. While he didn't operate the way he usually does, he managed to contain the violence," says a senior police.
Nitish may have monitored the unfolding of the situation for hours but he couldn't figure out how thousands of swords suddenly became part of the Ram Navami celebrations.
"The administration didn't foresee the scale of celebrations this year," says Sushil Singh, MP from Aurangabad.
Singh is facing the charge of leading the Ram Navami processions and defends the Bihar CM. "How has he failed? How has his administration failed? There was no casualty. It shows that everything was handled in time," Singh says.
But the uneasy equation between Nitish and BJP is being discussed in the corridors of power. "It was Nitish who returned to us, so the rules of engagement will be decided by us. We respect him, but he has to understand us too," says a state BJP leader.
Meanwhile, JD(U) leaders claim that Sushil Modi, who has a great equation with the CM, is running his administration without much interference from the BJP.
In the last 10 months, Nitish has faced question on two occasions — one when Manoj Baitha, a BJP leader, mowed down nine children in Muzaffarpur and went absconding; and second, when the administration failed to arrest Arijit Shashwat right after the rioting incident.
Sushasan Babu finds himself in a labyrinth today. And he is running out of time and tactics.

He has to do something soon, else history will remember him as yet another politician who succumbed under the pressure.

| Edited by: Nitya Thirumalai
Read full article