Taking Lessons From 2014 Electoral Loss, Congress Looking at a 'Soft Hindutva' Approach
During his recent visit to Gujarat, Rahul Gandhi prayed at the Dwarkadhish Temple, trekked to the Chotila Temple in Surendranagar and also visited the Khodaldham Temple.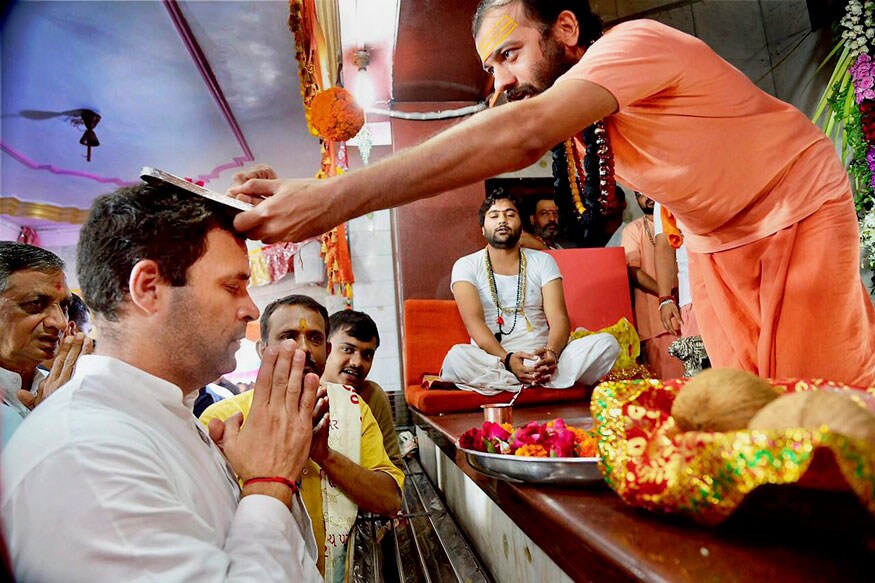 Congress Vice-President Rahul Gandhi at the Chamunda Mata Temple, Chotila in Surendranagar during his Gujarat visit. (Image: PTI)
New Delhi: Attempting a drastic image makeover ahead of the 2019 general elections, the Congress is now looking at adopting its own brand of 'soft-Hindutva' to counter BJP's religion pitch, which is sure to be further emboldened by the Ayodhya Ram Temple plank.
Of late, all major party events — especially in the poll-bound states — have been high on Hindu symbolism.
Sources closely associated with Congress's media strategy cell told News18 that Congress Vice-President Rahul Gandhi will now start all his yatras — both for elections and otherwise — by visiting a temple.
The tactical shift in Congress' political strategy is also evident from the fact that the party is making no bones about its Hindu credentials. For instance, during his recent visit to Gujarat, Rahul prayed at the Dwarkadhish Temple, trekked to the Chotila Temple in Surendranagar and also visited the Khodaldham Temple.
Pictures of the party heir-apparent with a sandal-paste smeared across his forehead was aggressively pushed by the Congress social media team during his recent Gujarat tour.
A top source in Congress admitted that "the party needs to play the same game and show that the Congress too represents Hindus".
Symbolism apart, Congress has of late been very cautious on reacting to issues which can restrict its political maneuverability in highly-polarized polity.
Party spokesperson Randeep Surjewala's reaction to the Supreme Court ban on the sale of firecrackers in Delhi, for example, says it all.
Surjewala had said earlier, "Diwali is a celebration of Ram returning from 'Vanwaas' and that's why people burst crackers. The pollution can be controlled, if the government comes up with some corrective measures."
Soon after the Congress' humiliating defeat in 2014, former Defence Minister AK Antony, in a report to the Congress high command had attributed the erosion of the party's extensive support base to excessive leaning on what he called was minority appeasement.
The majority population started believing that the Congress was increasingly becoming a pro-minority party. This perception, the Anthony Committee felt, had led the Congress to have left unattended, a large swathe of political space.
Maybe it's three years late, but the Congress seems to have found some merit in Antony's prescription.
An analysis of the UP election results also demonstrates that the Congress aligning with Samajwadi Party helped BJP in mobilizing the majority population as the alliance was perceived to have been cobbled together to restrict division of the minority vote among the 'secular parties'.
Seeing through this new strategy of the Congress party to woo the Hindu vote bank, BJP has attacked Rahul for his temple-hopping spree saying he should rather focus on the real issues.
But as the key states like Gujarat, Himachal Pradesh and Karnataka are headed for Assembly elections within months, it is clear that Congress with Rahul Gandhi as its main vote-catcher, will pursue a 'soft Hindutva' line.
For a centrist party like the Congress, playing the soft-majoritarian card is a political line fraught with some risks. Rajiv Gandhi attempted to do that in the 1980's to neutralize his government's decision to negate court orders in the Shah Bano case.
The Rajiv Gandhi government allowed gates of the Ram Temple to be opened for a 'puja'. Soon, from its 2 seats in 1989, BJP emerged a dominant player in national politics.
A wary senior Congress leader cautions, "I hope like Rajiv, Rahul's case doesn't become like na maya mili na raam."
Get the best of News18 delivered to your inbox - subscribe to News18 Daybreak. Follow News18.com on Twitter, Instagram, Facebook, Telegram, TikTok and on YouTube, and stay in the know with what's happening in the world around you – in real time.
| Edited by: Sanchari Chatterjee
Read full article