Tamil Nadu Elections Result: AIADMK To Create History, Form Govt for 2nd Consecutive Term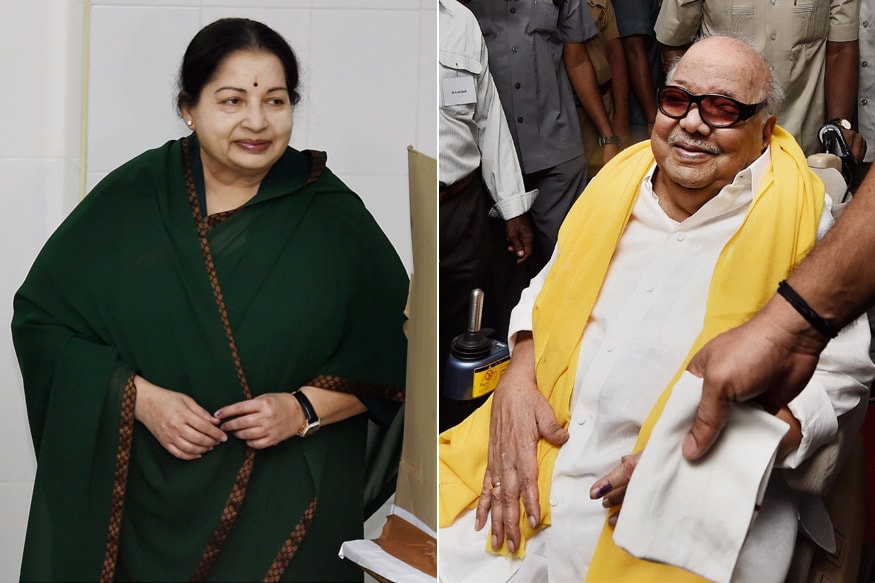 File photo of AIADMK chief J Jayalalithaa and DMK chief M Karunanidhi. (PTI)
The AIADMK crossed halfway mark and is all set to form government in Tamil Nadu for the second consecutive time.
It was a direct contest between Chief Minister J Jayalalithaa's AIADMK and DMK-Congress alliance for the 234-member assembly.
Exit polls have predicted a change in the government and a return of the DMK-Congress alliance in the state. If the DMK wins, AIADMK might face a huge crisis as Jayalalithaa is not keeping well. If the state throws up a hung Assembly, smaller players like Vaiko, Vijayakanth and Anbumani Ramdoss will become kingmakers in the highly polarised and complex state politics.
A win for DMK will help the Congress remain relevant in state politics. The 92-year-old five-time chief minister M Karunanidhi may once again become the chief minister delegating all his powers to MK Stalin.
Out of the total 234 constituencies, polling was held in 232 barring Aravakurichi and Thanjavur constituencies where voting has been postponed over alleged illegal activities of candidates and parties involving distribution of inducements including money and gifts. Polling in Aravakurichi and Thanjavur will take place on May 23 and the counting of votes on May 25.
Voting was held on May 16.
In 2011, the AIADMK had been voted in with 203 seats. No party or front has won two consecutive terms in Tamil Nadu over the last four decades.
Get the best of News18 delivered to your inbox - subscribe to News18 Daybreak. Follow News18.com on Twitter, Instagram, Facebook, Telegram, TikTok and on YouTube, and stay in the know with what's happening in the world around you – in real time.
Read full article