Tamil Nadu Police Threatened MLAs Loyal to me, Says TTV Dinakaran
Tamil Nadu police said they visited Paddington resort where MLAs loyal to Dinakaran are staying in Coorg searching for P. Palaniappan, an MLA and a former minister, who was not there.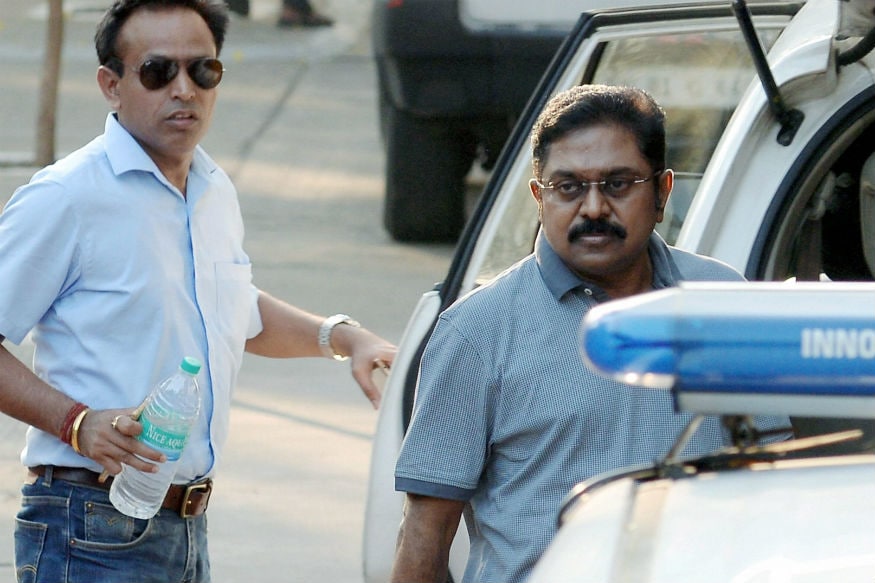 Dinakaran has emerged a hero of sorts — a hero who is willing to face every test 'for his people'.
Chennai: AIADMK leader TTV Dinakaran on Wednesday lashed out at the party faction led by Tamil Nadu Chief Minister E Palaniswami and O Panneerselvam, accusing them of targeting his supporters.
This comes a day after police officials from Coimbatore visited a resort in Coorg, Karnataka where MLAs supporting Dinakaran have been holed up.
Tamil Nadu police said they visited Paddington Resort where MLAs loyal to Dinakaran are staying in Coorg searching for P. Palaniappan, an MLA and a former minister, who was not there.
However, Dinakaran accused them of trying to threaten and intimidate his supporters.
"Palaniappan did meet with CB-CID on a case related to the death of a civil contractor earlier. Now, he is being threatened with arrest for accepting the summons. They are ready to go to any level to save their government. EPS knows that he doesn't have 117 MLAs and that's why he is doing this," Dinakaran said.
V Senthil Balaji, one of the MLAs staying at Paddington Resort, has filed a police compliant stating that Tamil Nadu officials under the instructions of EPS are threatening him along with 16 MLAs.
In his complaint, Balaji said, "police officials are acting under the instructions of Palaniswami who is misusing his official capacity and intentionally abetting unlawful act."
He further said police officials threatened that false cases will be registered against them. "Police are forcing us to talk to the honourable CM E Palaniswami through police officers' phones. When we refused, they told us 'if you do not contact CM immediately within the next two days, all the MLAs who are staying here will be disqualified by the speaker of Tamil Nadu," Balaji said.
"Moreover, the police officers threatened that 'false cases will be registered against all of us and our family members' if we do not yield to their request," he added.
The case goes back to RK Nagar by-poll when the Income Tax Department conducted searches at health minister Vijaya Bhaskar's residence and his associate KR Subramaniam, a civil works contractor. Subramanian, who appeared before I-T Department for inquiry twice, was then found dead along with a letter reportedly written by him. The letter mentioned Palaniappan.
A police source told CNN-News18 that Palaniappan was issued summons and since he didn't appear, they visited the resort.
Dinakaran said Palaniappan hasn't done anything wrong and willingly took part in the probe.
Meanwhile, the other MLAs loyal to Dinakaran continue to stay at resort.
Dinakaran openly threatened to pull down the government, and said that he will decide his next course of action by Thursday after consultation with his lawyers. "I will take a call on the ongoing crisis tomorrow and decide my next course of action. I have 21 MLAs and EPS and OPS faction don't have the majority. We also have a few' sleeper MLA cells'," he said.
"They gave us updates on what happened in the general council meeting. Whoever participated in the meet are not part of the General Council. EPS sacked OPS and his team in February and now they took centrestage in yesterday's meeting," he added.
On Wednesday, the general council passed a resolution removing VK Sasikala and Dinakaran from their posts. But Dinakaran said it can be only validated by the Madras High Court and the hearing in the matter will begin only on October 23.
There were rumors that Dinakaran will join hands with the DMK but he denied them, saying that the DMK is his party's enemy. Meanwhile, DMK has filed a writ petition demanding a floor test for EPS to prove his majority. The case is likely to come up for hearing on Thursday.
| Edited by: Ashish Yechury
Read full article