Tejashwi Asks Nitish to Stop 'Befooling' People in Name of Special Category Status
Tejashwi Prasad Yadav ridiculed Nitish Kumar on Monday asserting the state deserved grant of special category status from the centre.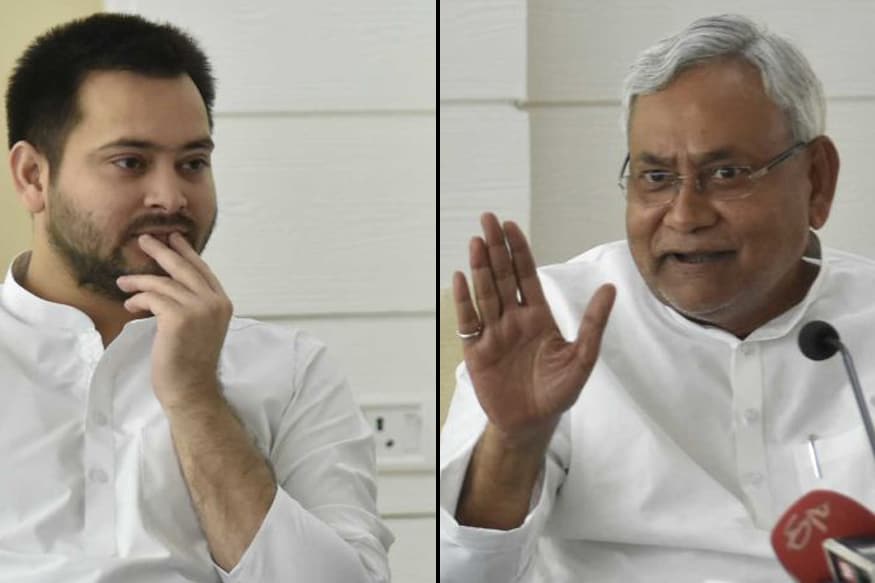 RJD leader Tejashwi Yadav (left) and Bihar Chief Minister Nitish Kumar.
Patna: Leader of Opposition in the legislative assembly Tejashwi Prasad Yadav on Tuesday asked Chief Minister Nitish Kumar to stop "befooling" people on the issue of special category status for Bihar when the Central government has already rejected the demand.
He ridiculed Nitish Kumar on Monday once again asserting that the state deserved grant of special category status from the centre and sarcastically asked him to approach "UN and G-8" to get his demand fulfilled.
Dear Nitish Ji, You must tell, To whom U r asking special status?Don't U know Central Minister @nitin_gadkari very outrightly & profoundly rejected this demand? See the video..It's ur govt at state & centre. Hope U, @AmitShah & @SushilModi won't blame Pakistan for it. pic.twitter.com/nfpMF62xZo

— Tejashwi Yadav (@yadavtejashwi) July 17, 2018
Tejashwi has also posted a video with his tweet in which Union Minister for Road Transport & Highways, Shipping and Water Resources Nitin Gadkari has been shown clearly rejecting the special category status for any state including Bihar.
"There is no provision for grant of special status in the Constitution. And if one state is accorded special status, then others (states) would also start demanding the same,"
Gadkari said in a video posted by Tejashwi.
"Dear Nitish Chacha Ji, Now to seek Special Status for Bihar, you should approach UN & G-8.," he said mockingly while reminding him "to play those videos of PM wherein at several times he had promised Special Status to Bihar in Bihar."
With whom the CM has been pleading his case for grant of special status to Bihar, Tejashwi said that "Its ur govt at state & centre. Hope you, @Amit Shah & @Sushil Modi wont blame Pakistan for it."
Reacting sharply to the leader of opposition's sarcastic remark, Bihar JD(U) chief spokesman Sanjay Singh in his tweet asked Tejashwi Yadav to first explain the reason for his Indonesia trip.
"First of all, you should make it public as how many islands you have bought in Indonesia...Was it not the objective of your secret trip (to Indonesia) to invest assets acquired through black money," Singh, the ex-MLC, said.
"You (Tejashwi) have started buying properties in foreign (country) as central agencies are keeping a close eye on benami assets that you have acquired in the country," Singh said.
| Edited by: Naqshib Nisar
Read full article