Tejashwi Yadav Attacks Bihar Governor For Not Inviting Single-Largest Party RJD to Form Govt
Agitated over setting the time for Nitish Kumar's swearing in at 10 am, Tejashwi Yadav accused the governor of acting at the behest of BJP.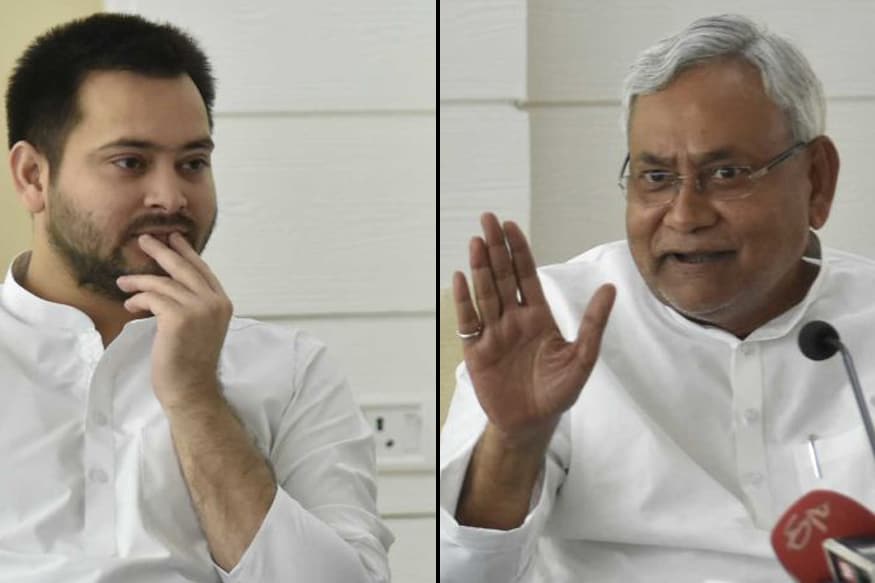 RJD leader Tejashwi Yadav (left) and Bihar Chief Minister Nitish Kumar.
Patna: Rashtriya Janata Dal leader Tejashwi Yadav has lashed out at Bihar Governor Keshri Nath Tripathi accusing him of trying to kill democracy by not inviting the single largest party to explore the option of government formation.
He met the governor to register protest over Nitish being invited to form government. Flanked by his party MLAs, Tejashwi marched towards Raj Bhawan around 2am on Thursday morning.
"RJD being the single largest party should have been invited to form the government. We are taking legal advice and will move court against the governor's decision," he said.
Agitated over setting the time for Nitish's swearing in at 10 am, Tejashwi accused the governor of acting at the behest of BJP. Nitish has been asked by the governor to prove his majority in the Assembly within two days of taking oath.
He described Kumar's resignation as a "pre-planned conspiracy" between the former and the NDA, and also questioned the advancing of the oath ceremony timing from 5 PM to 10 AM.
"This whole drama was planned and Tejashwi was just an excuse for him (Kumar) to go with BJP," he said.
Before the march the RJD leader tweeted, "Why so much hurry & rush Mr. Honest & Moral? A governor should act as custodian of constitution, not as Centre's stooge. He can't ignore single largest party & largest pre-poll alliance."
Tejashwi claimed that half of the JDU MLAs were with him which forced Nitish to rush to the Raj Bhawan at midnight. "I'm confident that most JD(U) MLAs who are committed to social justice will vote against the government in the floor- test." .
He threatened of protests across the state against Nitish "who will find it difficult to move around".
Nitish resigned as Bihar Chief Minister on Wednesday after ally Lalu Prasad Yadav ruled out the resignation of his son Tejashwi Yadav over a corruption scam and dared the CM to leave the alliance. "I have quit in the best interests of Bihar," Kumar told reporters, adding that it was getting difficult to work with the RJD.
Shortly after Kumar submitted his resignation, Prime Minister Narendra Modi tweeted, "For the bright future of India, and particularly Bihar, it is imperative that one goes beyond political differences and fights corruption." Within minutes BJP MLAs of BJP rushed to meet the CM, prompting Lalu to call the whole resignation a well-orchestrated drama.
Get the best of News18 delivered to your inbox - subscribe to News18 Daybreak. Follow News18.com on Twitter, Instagram, Facebook, Telegram, TikTok and on YouTube, and stay in the know with what's happening in the world around you – in real time.
| Edited by: Ananya Chakraborty
Read full article