Ten Defining Factors That May Influence the Battle for Karnataka
This time there is no perceptible anger or anti-incumbency against Siddaramaiah. There may be local level anger against sitting MLAs but not against the CM. Which is why the battle for Karnataka is going to be an aggregate of mini battles in 224 constituencies. Those are the hardest to predict.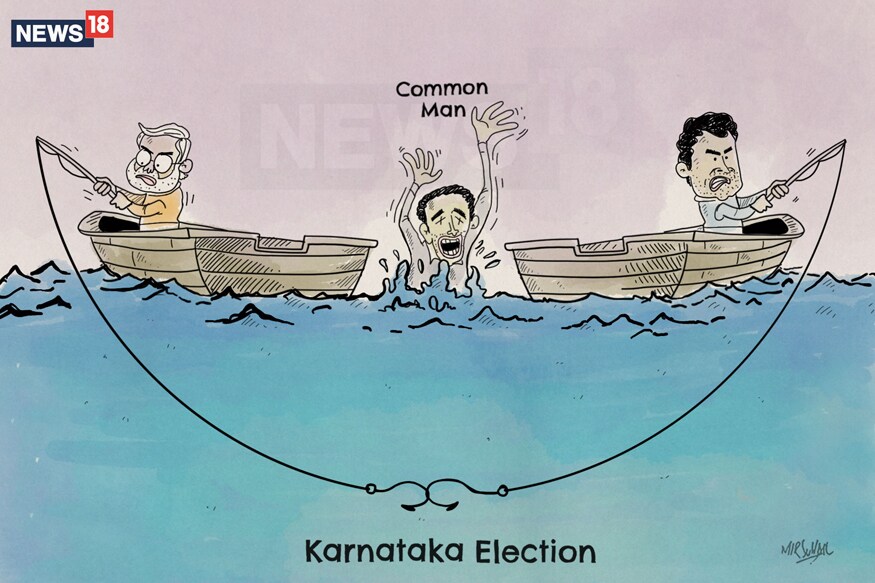 Illustration by Mir Suhail.
The campaign for the Karnataka Assembly elections has entered the last lap. The bigwigs from all the three major players — BJP, Congress and JD(S) — are in the southern state to make the final push. News18 takes a look at the factors that may decide the final outcome.
IT IS A WAVELESS ELECTION
The one thing that normally strikes you whenever there is a perceptible anger or anti-incumbency against a ruling government is that people usually talk about it. Even if they don't talk to you on camera, once the flashlights are switched off, they tend to open up. This time there is no perceptible anger or anti-incumbency against Siddaramaiah. There may be local level anger against sitting MLAs but not against the CM. Which is why the battle for Karnataka is going to be an aggregate of mini battles in 224 constituencies. Those are the hardest to predict.
SIDDARAMAIAH ASSUMES MANTLE OF PAN-KARNATAKA HERO
Win or lose, Siddaramaiah has come into his own in this election. From positioning himself as a Kannada mascot to the trolling of Prime Minister Narendra Modi on Twitter, Siddaramaiah has positioned this as a battle of himself versus the rest. He is setting the agenda, others are being forced to respond to him. He has been out-thinking, out-tweeting and out-strategising the BJP. And it also helps that the opposition has not been able to find any allegations of personal corruption against the CM, which the saffron party, unfortunately, cannot say about their own CM candidate BS Yeddyurappa.
MODI IS STILL BJP'S BIGGEST CALLING CARD
Till 10 days ago the BJP's campaign in Karnataka was looking like a train that was coming off the wheels. A state leader who was lacklustre, a general who simply couldn't come to terms with the local dynamics of the election and the infighting amongst their own. That's when Modi happened. He straightaway drew both huge and responsive crowds which is perhaps why the BJP has increased the PM's rallies from 15 to 21. If BJP has a fighting chance in Karnataka, it is thanks to him.
BJP'S CRUCIAL MISTAKES IN THE LAST TWO WEEKS

While the BJP campaign seems to have regained some mojo in the last two weeks thanks to Modi, they have also made some critical mistakes. For one, denying Yeddyurappa's son a ticket has sent a very negative message both among BSY supporters as well as some sections of Veerashaivas that even if BJP were to come to power BSY would not be CM for a full five-year term. The buzz in the community is BSY could be replaced closer to the 2019 general elections.
RETURN OF THE REDDY BROTHERS
No matter how the BJP spins it, no matter what incremental gains they'll get in and around the Bellary region of 10 to 15 seats, the fact is the return of the Reddy clan is going to hurt the BJP. It makes senior leaders of the party like PM Modi and Amit Shah look hypocritical when they say zero tolerance against corruption and yet 8 members of the Reddy clan have been given tickets.
LINGAYAT CARD IS NOT WORKING FOR CONGRESS
This was billed as Siddaramaiah's last-minute masterstroke to divide the biggest vote bank of the BJP. Unfortunately for him, this strategy is showing little dividends on the ground. Most Lingayats are unhappy at the artificial division created between them and Veerashaivas. Lingayats, particularly in North Karnataka, are far more bothered about local issues than minority religion status.
DEVE GOWDA WILL CONTROL KEYS TO VIDHAN SOUDHA
To me, he is the most important figure. If JDS ends up with any more than 40 seats it will automatically align with the BJP and form the next government. If JDS has less than 40 then it means the Congress has the best shot at coming back to power. By praising Deve Gowda, PM Modi has uncannily played into the Congress narrative that JDS is the B team of the BJP. Other than hardcore Vokkaliga supporters, who are solidly behind JDS, other fence sitter voters may think twice if a vote for JDS is indirectly a vote for BJP.
KANNADA IDENTITY TRUMPS POLARISATION POLITICS
By highlighting issues of a separate flag, removal of Hindi signages on Namma Metro and primacy for the Kannada language in Karnataka, Siddaramaiah has successfully managed to blunt the Hindutva polarisation of the BJP. Communal polarisation, like the kind we saw in Uttar Pradesh, will not work in Karnataka other than in the three coastal districts. Which perhaps explains why UP Chief Minister Yogi Adityanath had a tough time in rallying the masses in Karnataka. His rallies hardly had the kind of resonance they did in Gujarat
'INDIRA-AMMA'S GRANDSON RISES'
Rahul Gandhi has played second fiddle to Siddaramaiah for much of this election. But his rallies too have been attracting substantial crowds, just like they did in Gujarat. His oratory has also improved substantially. On the bus ride from Shimoga to Davengere, the entire road was lined up with people on either side who had come to see 'Indira-Amma's grandson'. Indira Gandhi's resurrection after the Emergency began from Chikmagalur. People in these parts don't seem to care too much about dynastic politics.
NEVER UNDERESTIMATE DALIT-MUSLIM CONSOLIDATION
This is a factor that will never get captured in TV discussions or pre and post-poll surveys. But given the recent events around the country involving persecution and violence against Dalits and Muslims, there could be a very strong undercurrent against the BJP. If these two communities, who make up close to 35 percent of the population, come together, this election is as good as over. Plus Owaisi and Mayawati are not major factors in Karnataka so there's little fear of them undercutting Congress votes in a big way.
| Edited by: Puja Menon
Read full article
Countdown To
Elections Results
To Assembly Elections 2018 Results