Thalaivar The Neta? Two Crucial Questions Before Rajinikanth
Flanked by veteran director SP Muthuraman, Rajini made a statement of intent, saying that god will decide his future course of action in politics.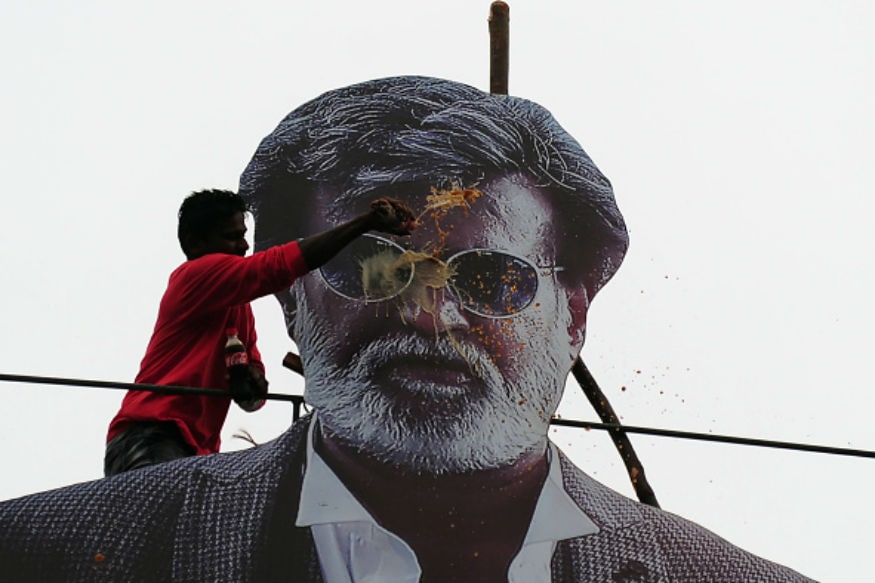 With stalwarts like the late Jayalalithaa and ailing nonagenarian DMK supremo M Karunanidhi out of the picture in the current dispensation, Rajinikanth's fans believe he is the only one who can effectively fill the political vacuum. (Getty Images)
The recent statements by superstar Rajinikanth about his possible entry in politics have set off a frenzy of 'will he-won't he', particularly among the people in Tamil Nadu.
The occasion was a photo session with fans, which the superstar held after a long gap of eight years. Flanked by veteran director SP Muthuraman, Rajini made a statement of intent, saying that god will decide his future course of action in politics.
Right now, god is using me as an actor… but I can't say anything about the future. If god decides that I join politics, then I will do so," he said amid rapturous applause from his fans three days ago.
On Friday again, he dropped yet another hint of a political plunge, perhaps the strongest till date, saying the "political system needs to be changed".
The BJP has, for long, been wooing the Thalaivar. In fact, the party's infatuation with the superstar dates back to over a decade when Lal Krishna Advani was at the helm. Party leaders used to regularly visit Rajinikanth, and Prime Minister Narendra Modi was no exception. Rajini has so far played hard to get.
But since Jayalalithaa's death in December last year, there has been a leadership vacuum in the state.
Attempting to fill this void may be too tempting a bait for Rajinikanth to resist because he would have never contemplated a move into the political spectrum had Amma been alive.
If indeed, Rajinikanth is planning to enter politics, he will need to make up his mind on two key issues. First, does he start a new party, or does he join an existing one — most likely the BJP? Logically, it would seem that starting a new party is a better option. Significant sections of the Tamil Nadu electorate still have Dravidian ideology in their hearts and seeking their votes as the leader of his own political party, rather than on behalf of the BJP, may make more political sense. An alliance is always possible with the BJP and some other parties as the Dravidian majors themselves have had alliances with the BJP in the past.
ALSO READ | With Talk of 'Ultimate War', Rajinikanth Drops the Strongest Hint Yet
The second big thing to do is to have a group of credible faces around him. Right now, all that Rajinikanth has around him are the fans' associations and he needs to present to the electorate a credible team, if he is to succeed. If only members from the fans' associations or the film industry are part of his team, it is unlikely that the electorate will swing in his favour. At the same time, taking too many tainted faces on board from other parties could be counterproductive.
There is also the issue of him not being a native of Tamil Nadu, but that is unlikely to be a showstopper as the state is desperate for good leadership and would be more than happy to embrace him if they view him as a credible alternative to the AIADMK and the DMK.
In any case, the first step is for Rajinikanth to make up his mind and make a formal announcement. If he drags it further, he risks losing credibility as a potential politician. Already, the meme creators have been active in taking a dig at what they see as another publicity stunt to promote his next film. Will Rajinikanth prove them wrong and finally take the plunge?
(The author is a political observer. Views are personal)
| Edited by: Aditya Nair
Read full article
Countdown To
Elections Results
To Assembly Elections 2018 Results